US herd expansion continues
27 July 2017
The USDA released the July 1 cattle herd* estimate last week and it continued to reflect an industry in growth phase.
As of mid-2017, the US cattle herd was estimated at 102.6 million head, up 7% (or almost 7 million head) from where it bottomed out in 2014. The growth has been underpinned by an expansion of the beef cow herd, up 9% over the same period, and subsequent growth in the calf crop.
In fact, growth was above market expectations and CME feeder futures (contracts for the second half of 2017) dropped about 10US¢/lb over the past week.
Peaks and troughs are in-built in the US cattle herd and have been the norm over the past century. The cycle typically lasts ten to twelve years (from peak-to-peak or trough-to-trough) however the last two have been far more subdued, a stark contrast to the volatility of the 1970s and '80s.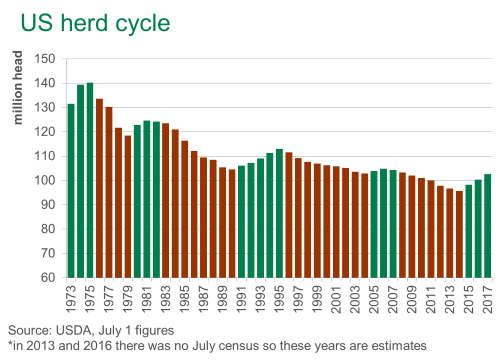 If history was to repeat itself, the US herd could have a couple of years of growth left before it, again, begins to recede. However, long term projections, released in February by the USDA Chief Economist, forecast steady long term herd growth out to 2026.
In the meantime, US beef production continues to grow and challenge Australia's share in key export markets, particularly in north Asia. Australian production is also forecast to grow in the back-half of 2017 and, then, continue to expand over the next four years.
*the July herd estimate is typically larger than the January figure due to seasonal growth throughout the year
Join myMLA today
One username and password for key integrity and information Systems (LPA/NVD, NLIS, MSA & LDL).
A personalised online dashboard that provides news, weather, events and R&D tools relevant to you.
Customised market information and analysis.
Already registered for myMLA?