US imported beef prices hold steady
18 June 2018
US imported beef prices were reported as steady this week, as firm domestic lean beef prices continue to support overall import values - despite US domestic slaughter running notably higher. However, increased grinding beef imports from overseas suppliers has limited any upside and will likely pressure prices lower in the coming weeks, as beef retail feature typically start to slow down at this time.
With the prospect of lower prices – evidenced with fed cattle futures displaying a discount in August – US end users have been encouraged to limit their forward coverage.
The imported 90CL beef indicator remains stable, edging a modest 0.5US¢ higher from week-ago levels, to 198US¢/lb CIF (up 9A¢, to 580.19A¢/kg CIF).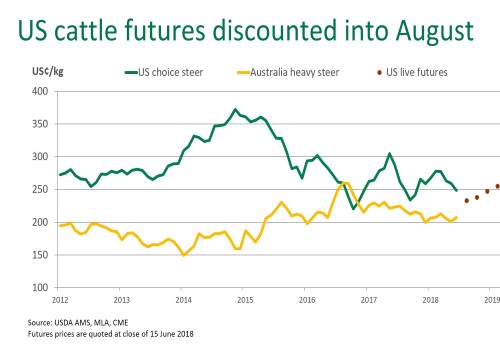 Market highlights for the week ending 15th June:
Fed cattle slaughter for the week ending June 16 is estimated at 525,000 head, 2% higher than a year ago. Non-fed cattle slaughter for the week was estimated at 129,000 head, 4.1% higher than last year.
The strong US dollar has allowed importers to pay steady money overseas while covering lower bids in US$ terms. Current exchange is 75 US cents per 1 AUD compared to 76.5 at the start of the month.
At 13,149 tonnes, imports from grinding beef suppliers were up 7% from last year, reflecting the highest weekly volume so far this year.
Click here to view the Steiner Consulting US imported beef market weekly update
Join myMLA today
One username and password for key integrity and information Systems (LPA/NVD, NLIS, MSA & LDL).
A personalised online dashboard that provides news, weather, events and R&D tools relevant to you.
Customised market information and analysis.
Already registered for myMLA?