US imported beef prices pulled higher
04 May 2017
US imported beef prices lifted this week – the result of extreme local weather and escalating domestic beef prices, and further supported by ongoing supply constraints out of Australia and New Zealand.
The imported 90CL beef indicator lifted 2.5US¢ from week-ago levels, to 213.5US¢/lb CIF (up 6A¢, to 625.51A¢/kg CIF). US fed steer prices have moved higher through April, with the five-marker indicator at 136.3US¢/lb lwt this week. As illustrated in the figure below, both indicators are roughly in line with levels prior to the surge in 2014.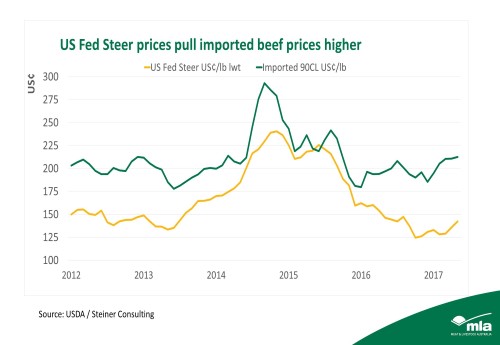 Extreme weather restricts supply
Extreme weather across key cattle producing regions in the US caused major short term disruptions, with Steiner Consulting Group anticipating cattle weights to be lower as a result. Higher prices for domestic cattle have flown through to the imported grinding beef market, further supported by extremely limited spot availability. New Zealand slaughter numbers have remained well below original forecasts and Australian shipments in April were back 38% year-on-year.
Market participants struggle to secure product
Steiner Consulting Group reported that end users are having difficulty securing product, which has created apprehension amongst market participants as the Memorial Day holiday approaches. A significant proportion of supply for delivery in May has already been booked, and bids for product on the spot market are being pushed higher as participants compete for limited supplies. In addition, the availability of beef in cold storage was back 8% at the end of March, at approximately 210,679 tonnes. While it is not uncommon for cold storage inventories to decline heading into the US summer, the fall in frozen beef inventories was the largest registered for the month of March going back to the 1970s.
For further trade data, click here to view the latest export trade summaries and the latest edition of weekly Steiner Consulting Group report.
Join myMLA today
One username and password for key integrity and information Systems (LPA/NVD, NLIS, MSA & LDL).
A personalised online dashboard that provides news, weather, events and R&D tools relevant to you.
Customised market information and analysis.
Already registered for myMLA?