Value of year-to-September beef offal exports ease, despite strong Japanese demand
08 November 2016
A contraction in Australian beef production has underpinned the year-to-September value of beef offal exports decline 3% year-on-year, to $460 million FOB (Global Trade Atlas).
The total value of beef offal shipments to Korea, Hong Kong and South Africa declined 8%, 31% and 18% year-on-year, respectively, however were offset by increases in value to Japan and Indonesia.
Offal volumes to Japan for the year-to-September actually eased 16% year-on-year, to 17,313 tonnes swt, while the value of shipments for the same period jumped 23% to $175.6 million FOB. The rise in value was largely driven by the A$ weakening against the Yen - averaging 12% lower for the year-to-September period than 2015, continuing growth in the yakiniku (Japanese barbeque) sector, along with reduced supplies. Unit values for offal destined to Japan, particularly tongue and other fresh and chilled offal products continued to strengthen. Total offal export to Japan in September averaged $11.90/kg, up 41% - with tongue reaching an average of $17.40/kg for the month, double year-on-year, while fresh / chilled offal (including skirt) lifted 20%, averaging $18.36/kg.
Year-to-September value of offal shipments to Indonesia almost tripled year-ago levels, partially reflecting the nine-fold increase in volumes as a result of changes to the import policy. Exports into Indonesia averaged $1.90/kg for September, back 78% year-on-year (illustrated in the graph below), as the lift in restrictions resulted in the trade reverting from higher value products, back to lower value items, like lips, heart and manufacturing cuts.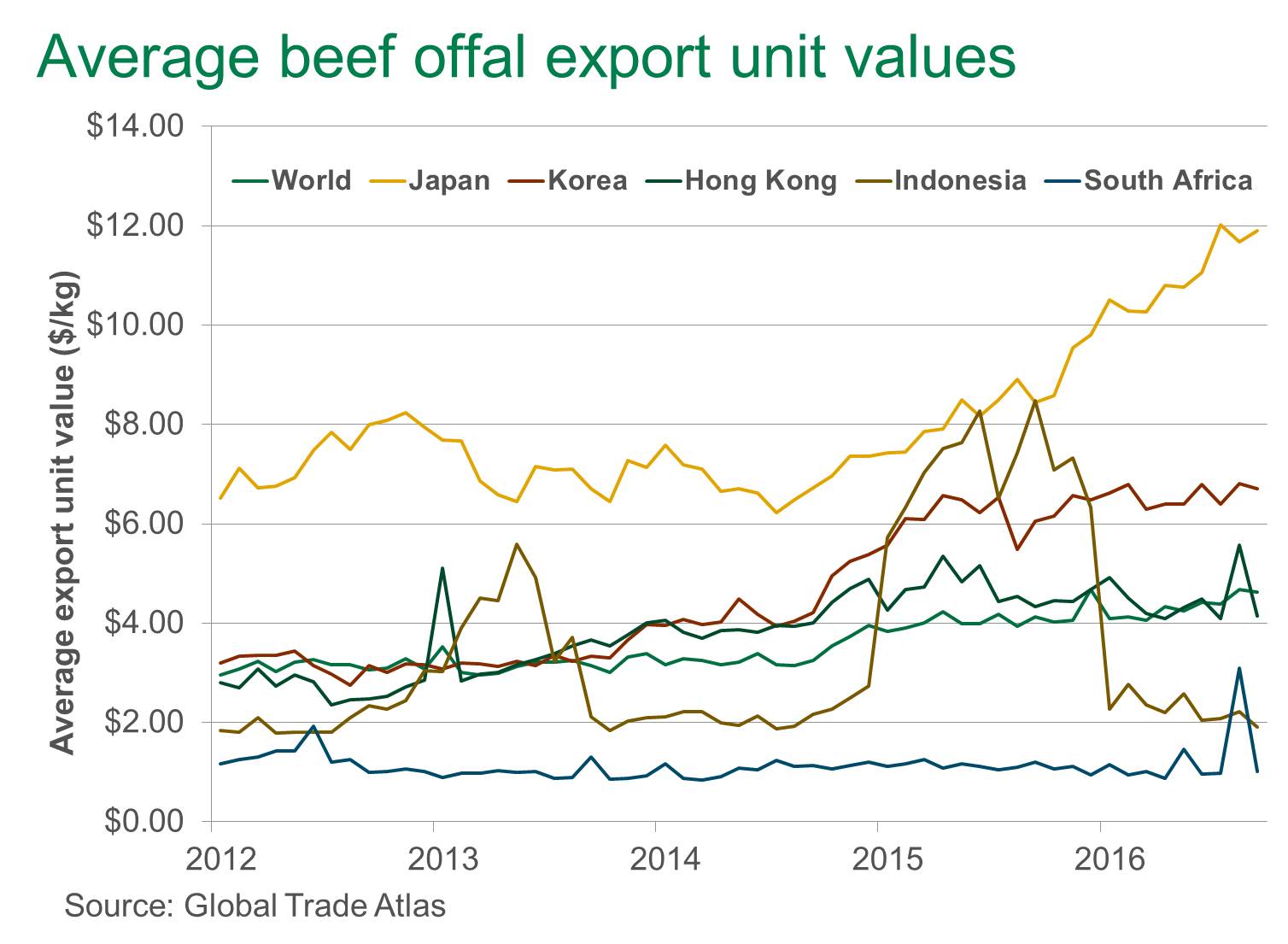 For further information on exports and pricing trends of the Australian offal market, please see the latest monthly MLA Co-product report.
Join myMLA today
One username and password for key integrity and information Systems (LPA/NVD, NLIS, MSA & LDL).
A personalised online dashboard that provides news, weather, events and R&D tools relevant to you.
Customised market information and analysis.
Already registered for myMLA?