Why chilled beef is a hot market in China
21 February 2018
Find out why Australia is well placed to meet growing Chinese consumer demand for premium chilled beef.
Key points
In just the past 10 years, China's direct chilled beef imports have increased from almost nothing in 2007 to 6,558 tonnes shipped weight (swt) in 2017, with Australia supplying the vast majority.
Chilled beef is a relatively new concept for Chinese consumers, even among the more affluent. Demand is expected to continue to grow, with chilled meat potentially making up more than 50% of the market by 2027 (GIRA), supported by factors such as cold chain development and increasing disposable incomes.
Australia is well placed to deal with growing competition in China's chilled beef market by leveraging our market and consumer insights to understand how our product can best meet Chinese consumer needs in certain segments of the market.
China: a valuable destination for chilled beef
Last year, China was Australia's fifth largest chilled beef export market after Japan, the US, Korea and the EU. In fact, the average unit price of Australian chilled beef exports to China in 2017 was 21% above the average of Australia's combined global markets – A$12.94 compared to A$10.69 – and rose 9% on the year before, compared to the average of global markets, which was down 1% (Source: GTA).
As a premium product, chilled beef naturally comprises a small proportion of China's total beef imports. In 2017, imports of chilled beef comprised 1% of total direct beef imports by volume (at 6,558 tonnes swt) but 2.4% by value. It's a similar story for Australian beef exports to China, where chilled beef comprises 5% by volume but just over 9% by value of our exports.
Australian chilled beef is sold to both high-end restaurants, most of which are independent rather than chained establishments, and premium retail outlets, including e-retail.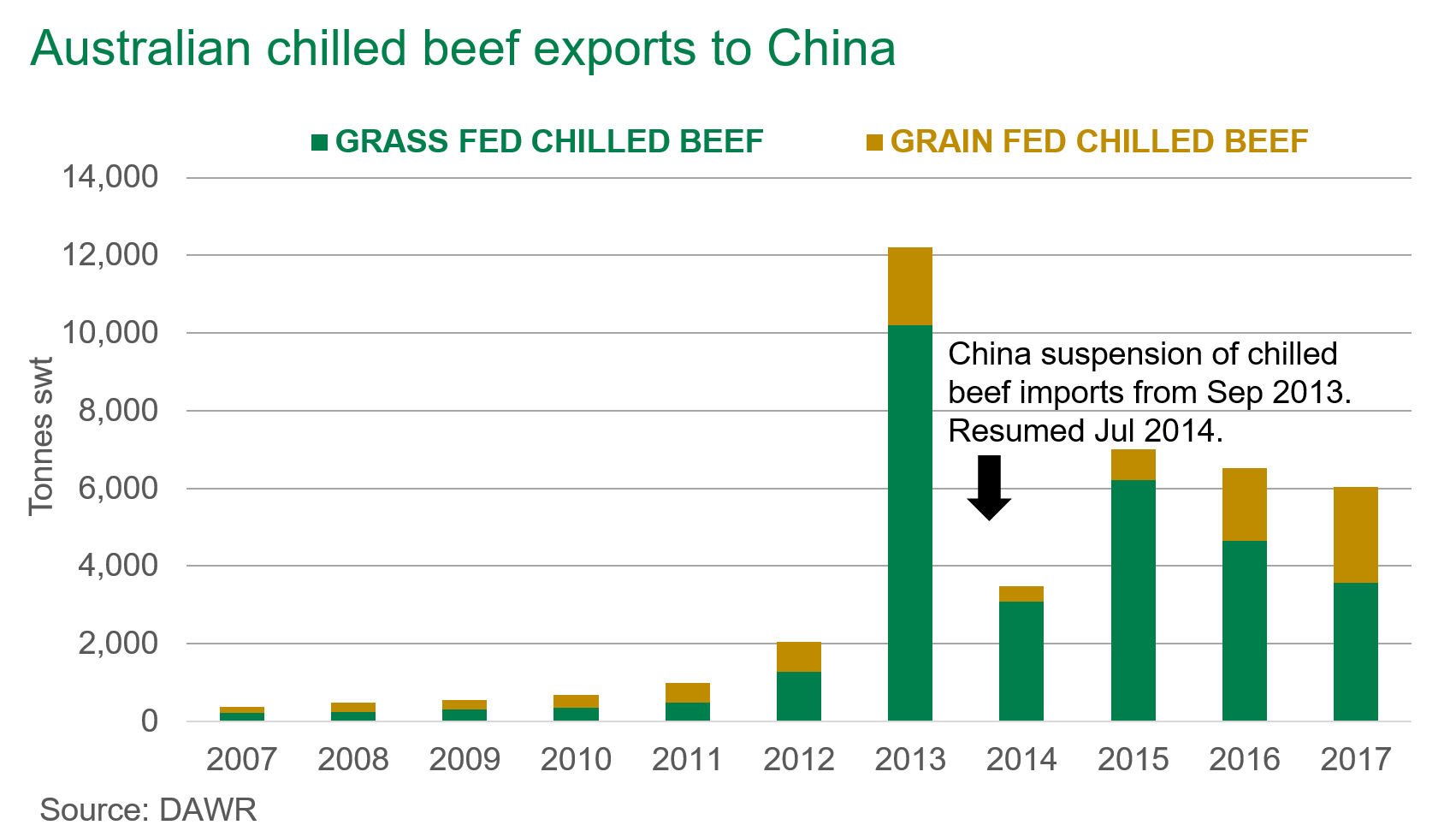 Australia's key role in China's imported chilled beef market
Australia has long been China's main chilled beef import supplier, supplying 90% of all imports by volume in 2017. Over the past 10 years, Australia's chilled beef exports to China have increased 16-fold - from 375 tonnes swt in 2007 to 6,045 tonnes swt in 2017.
Australia's exports of chilled cube roll/rib eye roll illustrate the evolution of this trade: in 2007, China ranked as Australia's 15th largest market for this cut, taking just 64 tonnes swt; by 2017, China is now rankedfourth, taking 729 tonnes swt.
Between 2014 and 2016, Australia was China's sole imported chilled beef supplier, offering a unique opportunity to develop the market. At the same time, the limited number of cold stores and plants approved for chilled beef exports, which currently stands at five and 12 respectively, has been a barrier to increasing volumes. We may see the number of listed establishments increase in future, pending the outcome of an audit process following the March 2017 signing of the Australia and China Joint Statement on Enhancing Inspection and Quarantine Cooperation.
Anticipated growth of China's chilled beef market
China's per capita beef consumption is widely forecast to increase over the next few years.
| | | |
| --- | --- | --- |
| China beef consumption outlook | | |
| | 2018 | 2022 |
| China total beef consumption (cwt) | 7,992,000 tonnes | 8,847,500 tonnes |
| China per capita beef consumption (per person per year) | 5.6kg | 6.2kg |
| Source: BMI Research. Forecast figures. | | |
Domestic production vs demand
Due to a growing gap between domestic production and demand, China will increasingly need to rely on imports to fill this gap – the shortfall between domestic production and consumption will increase 24% from 865,500 tonnes carcase weight (cwt) in 2018 to 1,072,900 tonnes cwt in 2022 (Source: BMI Research).
Chilled meat is currently estimated to make up around 20% of the market; however, GIRA forecast this to rise sharply to 60–70% of the market by 2027.
Traditionally, Chinese consumers have preferred fresh meat over chilled or frozen, due in large part to limited cold storage and logistics. However, Chinese consumers are shifting from both fresh and frozen meat to chilled product. This shift is being driven by several factors: the government is closing down wet markets in large cities, government policy fostering large-scale meat production and centralised animal slaughter, rising food safety standards, animal disease control and improvements in cold chain plus macro shifts such as urbanisation, increased disposable incomes, more eating out and growing acceptance of western-style cuisines.
Over the past decade, Chinese consumers' meat purchasing habits have arguably changed more for beef than for any other protein, due to access (from imports) and the premium positioning of beef, with factors such as provenance, quality standards, traceability and safety playing an important role.
When they purchase meat, average Chinese consumers say their most important considerations are freshness, use-by date, additive/hormone free, meat colour, 100% all natural and price, followed by country of origin and brand. However, these priorities change when consumers can afford premium and imported meat products, many of which have previously been available only in frozen form. Consumers that are more affluent are therefore willing to trade off freshness for provenance and safety – see graphic below.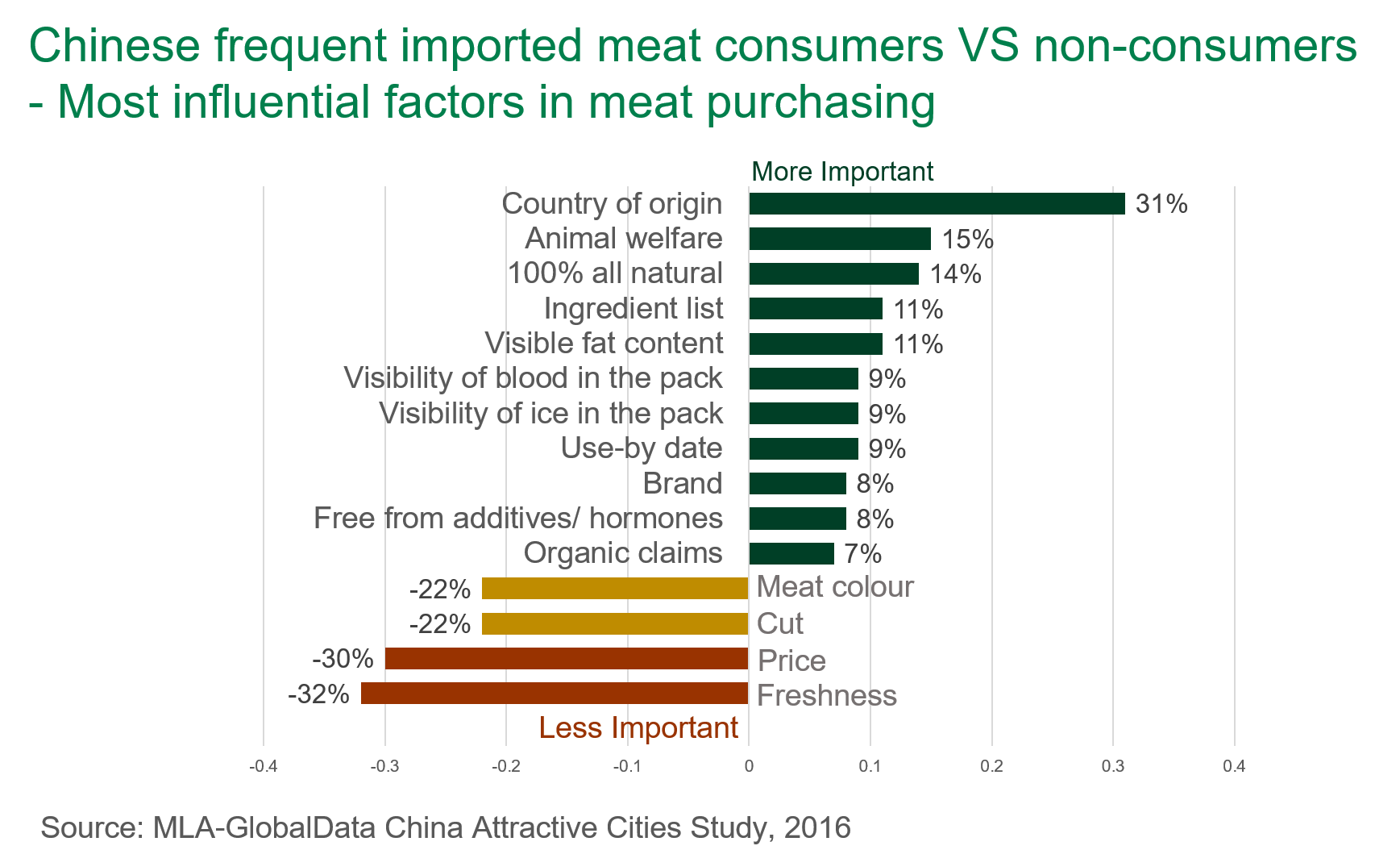 Emerging competition
China began opening up its chilled red meat market again in 2017, granting access to several new suppliers:
The US in 2017, with 37 establishments approved – exports began in June
New Zealand in March 2017, with 10 establishments approved, initially on a six-month trial basis – exports began in June
Canada in December 2017 announced an agreement to begin a trial to export chilled beef
Argentina in January 2018, for chilled bone-in beef. A sanitary protocol has reportedly been approved.
Australia's key role in supplying chilled beef to China has led to Chinese consumers having a very high regard for Australian beef: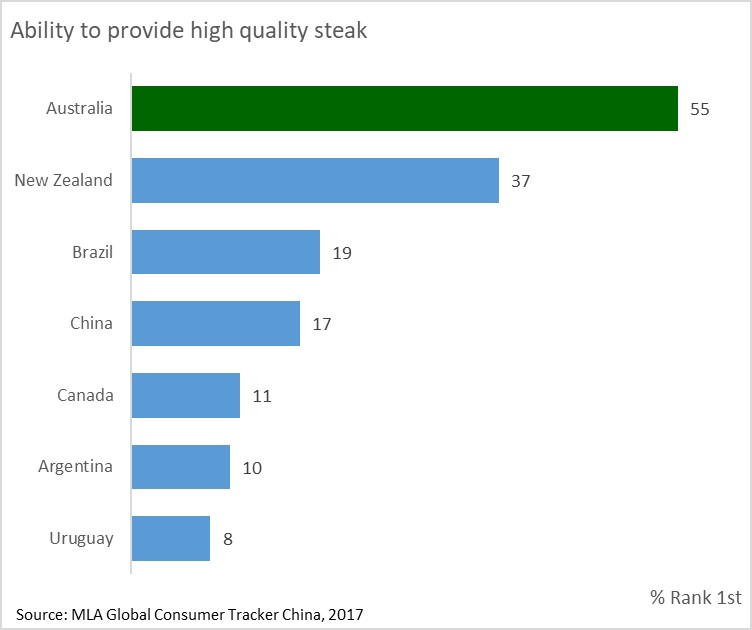 MLA will continue to play a key role in offering China importers, retailers and foodservice sector staff education and training on optimal chilled meat handling, while at the same time raising awareness of and appreciation for the benefits of Australian product over our emerging competitors.
To learn more about the China beef market, click here to access MLA's newly updated China beef market snapshot.
MLA also offers key resources to help you stay in touch with Australia's chilled beef exports to China and our competitor suppliers in the market:
For monthly updates of Australia's beef exports to Greater China click here.
To monitorChina's monthly beef imports click here.
Join myMLA today
One username and password for key integrity and information Systems (LPA/NVD, NLIS, MSA & LDL).
A personalised online dashboard that provides news, weather, events and R&D tools relevant to you.
Customised market information and analysis.
Already registered for myMLA?