Back to

Research & Development
Subscribe to R&D Round-Up newsletter
Stay informed with a short, sharp monthly summary of MLA's latest research reports.
Sign up
CN30 overview
The Australian red meat and livestock industry has set the ambitious target to be Carbon Neutral by 2030 (CN30).
What does CN30 mean?
This target means that by 2030, Australian beef, lamb and goat production, including lot feeding and meat processing, will make no net release of greenhouse gas (GHG) emissions into the atmosphere.
With a commitment from all of industry, the right policy settings and ongoing research investment, the Australian red meat industry can be at the forefront of carbon neutrality.
The CN30 target sends a clear signal to government and consumers that the red meat and livestock industry is proactively addressing emissions and taking action to improve long-term productivity while striving to deliver zero net emissions.
Why is it important?
Staying ahead of current and future consumer, customer and community expectations regarding environmental credentials allows red meat producers to stamp their mark in a competitive global protein market.
Demonstrated commitment to environmental stewardship, through initiatives such as CN30, enables ongoing trust and support for the red meat and livestock industry. It underpins Australia's position as a responsible producer of high value, clean, safe and natural protein.
What are the benefits?
MLA's approach to achieving CN30 is focused on delivering multiple benefits to industry, consumers and the community.
Benefits for producers
novel animal supplements and legumes which can increase live weight gains and dramatically reduce methane emissions
increased soil organic matter from deep rooted pastures and legumes, which improves soil health, feedbase productivity and drought resilience
improvements in genetics and herd management which can reduce methane emissions per kilogram of live weight produced, enabling productivity improvements alongside reductions in emissions intensity.
Benefits for the consumer
the knowledge that purchasing Australian red meat is good for the environment.
Benefits for the community
the red meat industry is making a substantial contribution to Australia's international commitments on climate change.
What will this mean for Australia's national livestock numbers?
Carbon neutrality doesn't need to come at the cost of livestock numbers.
CSIRO analysis shows it's possible to achieve CN30 without reducing herd and flock numbers below the rolling 10 year average (25 million cattle, 70 million sheep and 0.5 million goats).
By 2030, producers will be even more attuned to the influence of genetic, environmental, technological and market factors on red meat production, and will be able to:
access the best information, enabling selection of livestock with multiple attributes to increase productivity and reduce methane emissions per kilogram produced
select supplements, pastures, legumes and trees with multiple attributes, enabling livestock to thrive in more extreme weather and climate conditions
access more established markets for low and zero carbon red meat and co-products.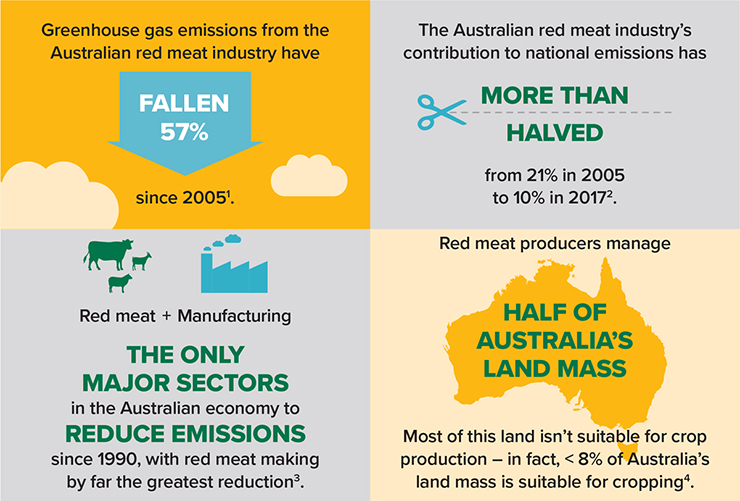 What has been achieved?
The red meat and livestock industry currently contributes 10% of all of Australia's GHG emissions – this figure has halved since 2005.
Greenhouse gas emissions from the red meat and livestock industry have fallen by 57.6% since 2005. In addition to emissions, it now takes 65% less water to produce a kilo of beef.
What is being done?
MLA has developed the following areas of work, to deliver outputs which are required for industry to achieve CN30:
GHG emissions avoidance activities on-farm, feedlots and processing.
Carbon storage on-farm via trees, legumes and pastures.
Integrated management systems linking GHG emissions avoidance and carbon storage activities into farm system thinking.
Leadership building to support growth in capacity and competency among individuals and organisations.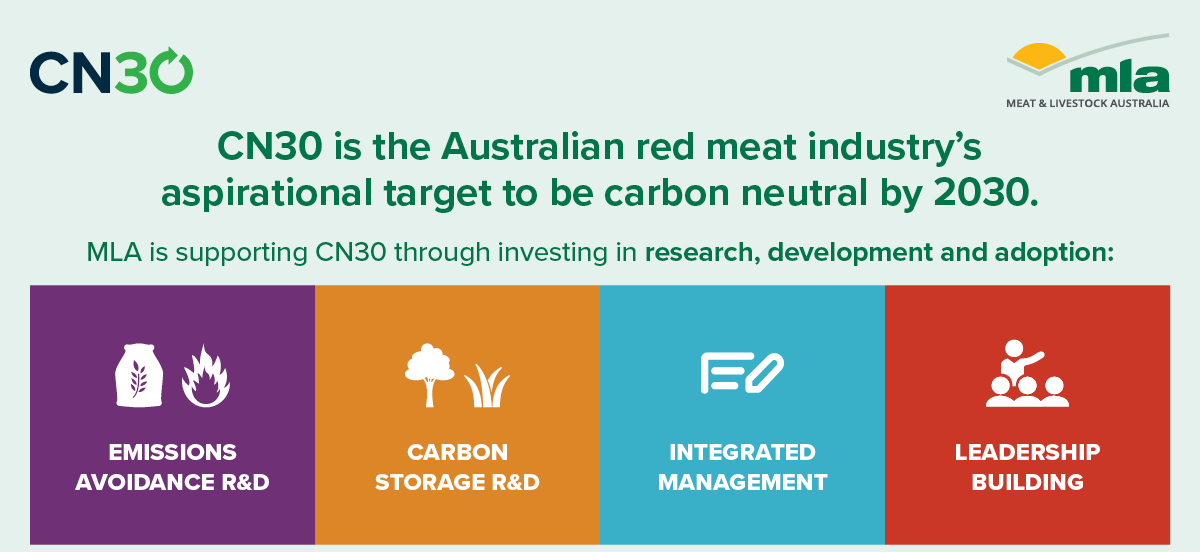 MLA is working on the following tools and technologies for producers to cost‑effectively reduce emissions and boost the value of red meat sales.
Carbon accounting tool and training packages
MLA has been working to develop a carbon accounting tool so producers can determine their net GHG emissions position, identify strategies to reduce these emissions and improve carbon storage on‑farm.
A carbon accounting training manual (due for release in late 2020) is also being developed to help producers get on the front foot and maintain or improve productivity while reducing emissions.
New supplements and feedbase options
More than three‑quarters of emissions from enteric fermentation (digestion) are from beef cattle on pasture. Approximately half these emissions are from cows aged more than two years.
This is why MLA and its research partners are investing in new feedbase options and supplements which reduce methane emissions from livestock and improve animal growth rates and reproduction.
Legumes such as leucaena and desmanthus can raise animal productivity, reduce methane emissions and offer additional soil health benefits by fixing nitrogen.
Several supplements have been identified which provide reductions in enteric methane and improvements in animal productivity, including the following:
3-Nitrooxypropanol (3-NOP) is likely to be available to producers within the next few years and can reduce enteric methane emissions in cattle fed grain-based diets
marine macroalgae such as Asparagopsis app has been shown to substantially reduce enteric methane emissions when incorporated into feedlot rations.