Back to

About MLA
Subscribe to MLA's newsletters
Stay informed with the latest red meat and livestock industry news, events, research and marketing.
Sign up
The red meat industry
Australia's red meat and livestock industry makes a significant contribution to the Australian economy.
In 2017-18, the red meat and livestock industry contributed $18.5 billion(1) to Gross Domestic Product (GDP) – or 1.5% of Australia's key industry GDP - through close to 80,300(2) Australian businesses. Red meat and livestock exports were valued at $13.7 billion(3).
The Australian red meat and livestock industry created (direct and indirect) employment for approximately 404,800 people(2).
Download the State of the Industry Report: The Australian Red Meat and Livestock Industry
Australia's beef industry
The gross value of Australian cattle and calf production (including live cattle exports) in 2018-19 is estimated at A$10.9 billion(6).
In 2017-18, around 172,400 people were diredtly employed in the red meat industry, including on-farm production, processing and retail(2).
Australia was the third largest beef exporter in 2018, behind Brazil and India(4).
Find out fast facts about the beef cattle industry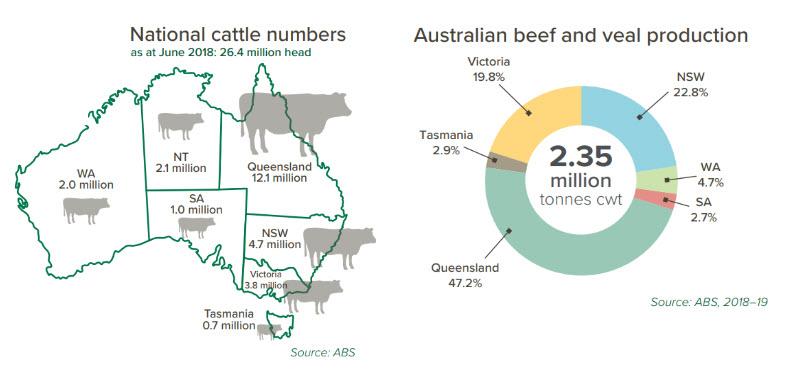 Australia's sheepmeat industry
In 2018–19, Australia exported 66% of total Australian lamb production and 96% of total Australian mutton production(7).
Domestic expenditure was estimated at around $2.6 billion on lamb and $51 million on mutton in 2018–19(8).
Australia is the world's largest exporter of sheepmeat and is the world's second largest producer of lamb and mutton(9).
Find out fast facts about the sheepmeat industry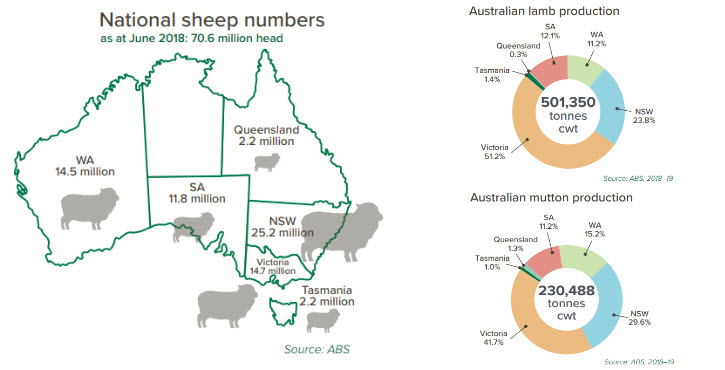 Australia's goatmeat industry
Goat production in 2019 was 4% lower on the previous year, totalling 22,381 tonnes carcase weight (cwt)(10).
Goatmeat is a niche protein in Australia, with approximately 10% of production utilised domestically.(11)
Average carcase weights lifted 8% year-on-year, to 15.3kg/head in 2019, offsetting some of the decline in slaughter(10).
Find out fast facts about the goatmeat industry
Sharing red meat's story
In August 2018, MLA launched a new online platform that provides consumers with an open and trusted source of information about the production of beef, sheep and goat meat in Australia.
Good Meat demonstrates how Australian red meat is produced sustainably, in high welfare systems and is an important part of a healthy balanced diet.
Good Meat is also home to a range of educational resources including study guides, classroom posters, lesson and activity sheets, virtual farm visits, digital lessons and online board games.
Sources
(1) IBIS World, ABARES
(2) IBISWorld, ABS
(3) IHS Markit, GTA
(4) DA, IHS Markit, GTA
(5) DA, IHS Markit, GTA, Comtrade
(6) ABARES Agricultural Commodities June 2019
(7) DA, ABS
(8) MLA estimate
(9) DA, IHS Markit, Comtrade, FAO
(10) ABS
(11) ABS, DA, IHS Markit