The red meat industry
Australia's red meat and livestock industry makes a significant contribution to the Australian economy.
Through close to 82,500(1) Australian businesses, the red meat and livestock industry contributed $18.4 billion(1) to Gross Domestic Product (GDP) – or 1.6% of Australia's key industry GDP – and generated $13.3 billion(2) in export revenue through the supply of products to more than 100 global markets in 2016-17.
In 2016-17, the Australian red meat and livestock industry created (direct and indirect) employment for approximately 438,100 people(1).
Australia was the world's third largest beef exporter (after Brazil and India) in 2017(3), and the largest exporter of sheepmeat in 2016(4).
Download the State of the Industry Report: The Australian Red Meat and Livestock Industry
Australia's beef industry
Australia's beef cattle industry includes a mix of grassfed and grainfed livestock to supply domestic and overseas beef markets, as well as the live cattle export trade.
Around 57% of all Australian farms carry beef cattle, making it the most common and widely dispersed agricultural activity in the country. Farms running beef cattle manage more than 75% of the total area of the nation's agricultural land*.
Find out fast facts about the beef cattle industry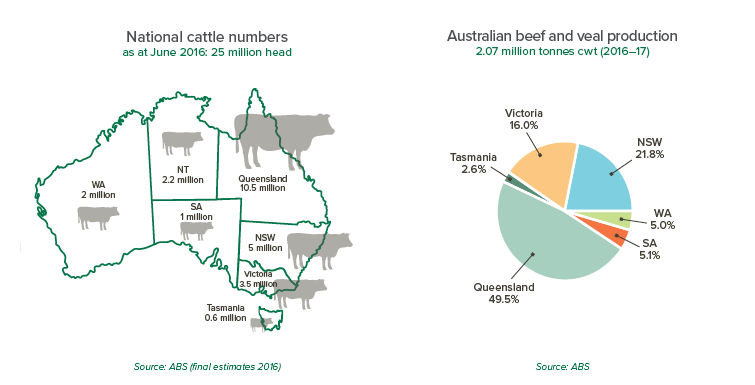 Australia's sheepmeat industry
Sheepmeat includes a range of products including lamb, mutton, and a mix of both chilled and frozen cuts to supply domestic and overseas markets. Australia also supplies livestock for the live sheep export trade.
The industry accounts for 36% of all businesses with agricultural activity in Australia.*
Australia is the world's second largest producer of lamb and mutton behind mainland China.
Find out fast facts about the sheepmeat industry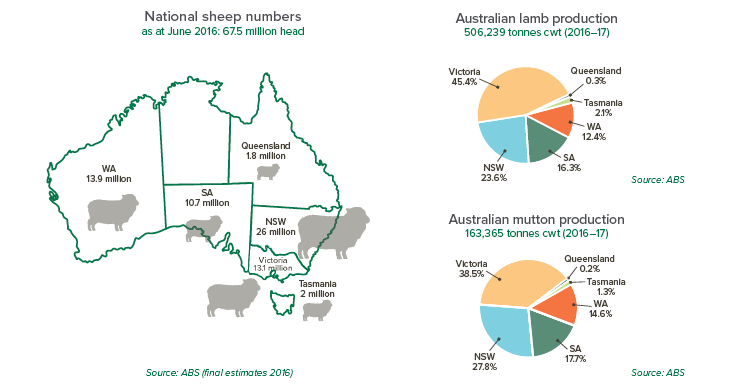 Australia's goatmeat industry
Australia is a leading supplier of goatmeat across the globe(5). In 2017, 31,414 tonnes carcase weight (cwt) of goatmeat was produced(6), with 91% of this exported(7). Australia also supplies goats for the live export trade.
Rangeland goats account for approximately 90% of production. They have traditionally been opportunistically harvested by producers but there is a shift to more managed production systems to increase supply and improve quality, carcase weights and consistency.
Find out fast facts about the goatmeat industry
Sharing red meat's story
In August 2018, MLA launched a new online platform that provides consumers with an open and trusted source of information about the production of beef, sheep and goat meat in Australia.
Good Meat demonstrates how Australian red meat is produced sustainably, in high welfare systems and is an important part of a healthy balanced diet.
Good Meat is also home to a range of educational resources including study guides, classroom posters, lesson and activity sheets, virtual farm visits, digital lessons and online board games.
Sources
* Australian Bureau of Statistics, 2015-16 Agricultural Census
(1) EY, ABS, IBISWorld
(2) GTA/ABS
(3) DAWR, USDA
(4) DAWR, Stats NZ, FAO
(5) DAWR, FAO
(6) ABS
(7) DAWR, ABS
Join myMLA today
One username and password for key integrity and information Systems (LPA/NVD, NLIS, MSA & LDL).
A personalised online dashboard that provides news, weather, events and R&D tools relevant to you.
Customised market information and analysis.
Already registered for myMLA?