Profitable Grazing Systems
Information for producers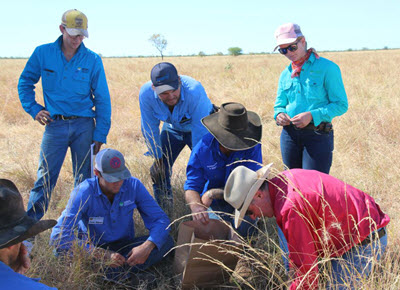 Do you want to learn about genetics, the value chain, feedbase or managing people and business?
Specialist coaches are available to develop and deliver training courses tailored to your needs.
Three good reasons to get involved in Profitable Grazing Systems:
It is a flexible program that enables you and your coach to develop a training package responsive to your area, your needs and your conditions.
PGS takes a whole-of-farm business approach to improve business performance and drive profit.
You work with small groups of like-minded producers with an experienced coach to support you.
Read our factsheet or watch our video resources to learn more.
Information for deliverers
Profitable Grazing Systems takes small groups of like-minded producers – who want to improve their whole-farm performance – and matches them with coaches who share their knowledge, skills and experience.
What has PGS achieved?
Profitable Grazing Systems has been delivered to 20 groups of cattle, sheep and goat producers across Australia, working with 13 coaches.
210 red meat producers engaged
Producers averaged a 39% increase in profit achieved *
Producers averaged a return on capital from 1.8% to 2.5%.
Why should I get involved?
As a coach, you will have access to:
Quality professional development;
Skilled and motivated producers;
Opportunities to license training packages of your own;
A network of skilled and motivated extension personnel; and
MLA support and promotion.
Applications can be made at any time. To apply or find out more about becoming a PGS coach, contact your State Coordinator for more information.
Events
Lifting Lamb Survival - Potential into Product
May 2020, NSW Riverina
A unique program designed to help you:
Develop strategies to improve lamb survival and reduce ewe wastage
Implement best practice management for lambing
Better allocate resources through planning your lambing paddocks
Increase the kilograms of wool and/or lamb you produce/ha.
Includes one on one on-farm coaching.
Find out more information or register to attend.
Contact
State Coordinators:

National Coordinator:
Angela Hammond
E: ahammond@mla.com.au
T: +61 (2) 8055 1810

*Based on the results from the pilot where participating producers saw an increased return on capital from an average of 1.8% to 2.5%.
Join myMLA today
One username and password for key integrity and information Systems (LPA/NVD, NLIS, MSA & LDL).
A personalised online dashboard that provides news, weather, events and R&D tools relevant to you.
Customised market information and analysis.
Already registered for myMLA?