Join myMLA
One username and password for key integrity and information Systems (LPA/NVD, NLIS, MSA & LDL).
Sign Up
Back to

Marketing beef & lamb
Community programs
The community has high expectations about the way both livestock and the environment are managed through farming and production practices. To ensure a prosperous red meat and livestock industry it's important that the community has confidence in our industry and its practices. We can help to achieve this by consistently demonstrating how we are meeting community expectations around these topics.
MLA's Community Communication program proactively promotes the industry's credentials under the Australian Good Meat brand – generating robust, evidence-based information focused on our world-class animal health and welfare, demonstrated leadership in environmental sustainability, and the role of red meat in a healthy lifestyle. To enable our stakeholders with easy access to this information Australian Good Meat focuses primarily on digital communications.
Since 2010 MLA has been conducting annual research to help us understand the Australian community's perceptions of the red meat industry. We use these insights to inform our community messaging in sharing the story of Australian red meat from paddock to plate. For details on the 2022 community sentiment research see Community sentiment research.
Our objective:
To ensure the community recognise the vital role our industry plays in food production and trust us to deliver high value, high quality products and feel good about eating red meat.
Community programs are delivered across three streams under the Australian Good Meat brand.
Community education – providing trusted information and targeted communications through a dedicated online platform (goodmeat.com.au) and its associated social media channels to inform consumers about the production of red meat and livestock in Australia.
Community engagement – targeted community programs to inform consumers about the provenance of Australian red meat and the positive production practices that produce our nutritious products.
School education – providing an engaging suite of curriculum-aligned school education resources and programs that utilise red meat industry content to educate students about red meat from the paddock to the plate.
Community education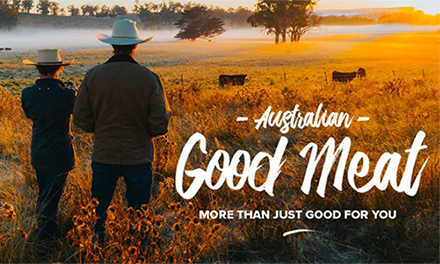 The Australian Good Meat platform provides important information about cattle, sheep and goat production in Australia with a focus on animal welfare, protecting the environment, and health and nutrition. It informs consumers how Australian red meat is produced sustainably, in high-welfare systems and its nutritional value as part of a healthy balanced diet.
Producer videos
An extensive series of short, engaging videos shared widely on social media that play an integral role to show how Australian red meat producers care for their animals, their land and the environment, and what they are doing to contribute to the climate solution.
Animations
Short animations designed to educate about sustainable red meat production, the red meat industry's carbon neutral goal, the role of cattle and the natural carbon cycle, how the red meat industry can be part of the climate solution and plant-based meat. Available on the Australian Good Meat website or via the Red Meat Green Facts resources page.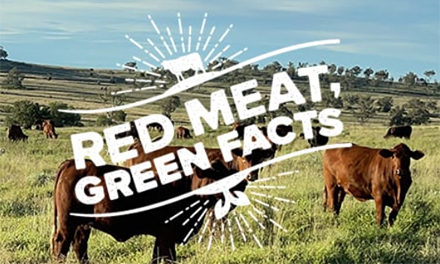 Red Meat, Green Facts 
Red Meat, Green Facts is the industry's pocket guide to sharing positive, fact-based information about the Australian red meat and livestock sector covering topics such as the environment, animal welfare, plant-based alternative proteins, and red meat nutritional information.
Community Engagement
The Paddock to Plate Story in virtual reality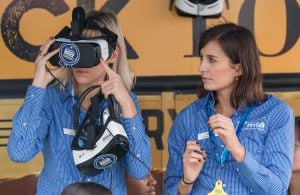 The Australian Beef and Lamb Paddock to Plate experience shares with consumers the story of Australian red meat production in immersive 360-degree virtual reality. Viewers are taken on a journey from the farm right through to the restaurant, learning how Australia produces the greatest beef and lamb in the world.
MLA has shared the experience with over 100,000 members of the community since launch in 2017.
View the experience for yourself – download the virtual reality app at the Apple and Google stores.
Australian Beef Paddock to Plate Story - 360º video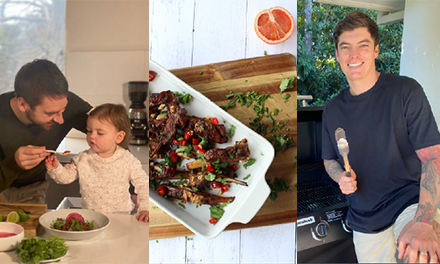 Social media influencers 

 
MLA's Australian Good Meat platform partners with respected social media influencers to engage Australians with information on red meat production and its environmental, nutritional and ethical credentials. 
Up until June 2022, these influencers created more than 357 pieces of content sharing positive information about Australian red meat. These reached more than 12.5 million people and attracted more than 326 thousand positive reactions, comments, shares and saves. As the initiative gains momentum, a diverse range of influencers active across channels including TikTok and YouTube will be engaged to support messaging shared, with influencers involved creating content focused on sustainability and animal welfare in the industry.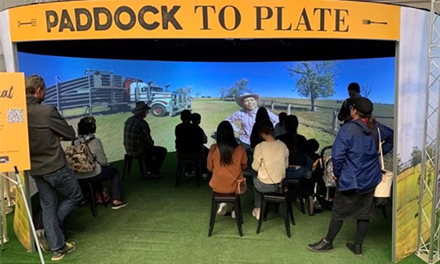 Royal shows
MLA hosts the Australian Good Meat Paddock to Plate Experience at premier agricultural shows to help attendees learn more about sustainable red meat production practices, animal welfare and product nutrition. The experience provides attendees with an immersive look at the paddock to plate journey of Australian beef and lamb, along with the chance to chat with a red meat industry ambassador to learn even more.
More than 2,500 visitors attended the experience at the 2022 Sydney Royal Easter Show with attendees rating a 40% increase in their red meat industry knowledge after taking part in the experience.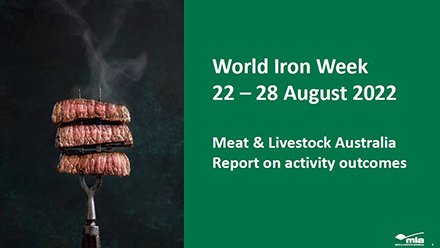 World Iron Awareness Week
World Iron Awareness Week (22 – 28 August) promotes the positive relationship between meat and optimising iron levels in those most vulnerable to deficiencies. Originally a NZ initiative, MLA created a range of promotional material to support the now global initiative to promote the importance and role of iron in red meat as part of a healthy balanced diet. Leveraging MLA's membership of the Global Meat Alliance (GMA) and content ideas, MLA promoted a video advertisement, infographics, a Papercut animation and website blogs across our community, domestic and international marketing and nutrition communication channels, with a heavy focus on social media platforms such as Facebook and Instagram. A report on the results of the week long focused campaign can be downloaded.
School education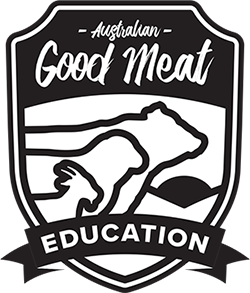 Good Meat Schools hub
The Australian Good Meat Schools hub helps to improve teachers and students' understanding of the Australian red meat and livestock industry by delivering a range of curriculum-linked resources and programs. Working in collaboration with education experts, MLA's school education program is key to bridging the gap for Australian educators and students to learn more about where their red meat comes from and the Australian red meat industry.
All of our resources are free and available on goodmeat.com.au/education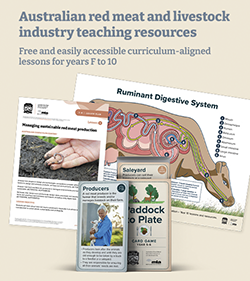 Teaching resources
Australian Good Meat's teaching resources provide educators with over 170 cross-curricular materials for use across Foundation/Prep to Year 1. Developed in collaboration with the Primary Industries Education Foundation Australia the materials are designed in a 'ready-to-teach' format, and supported with supplementary classroom posters, card games and teacher guidance videos to support teacher adoption. Free and accessible via an easy search filter the materials are useable in both digital and hardcopy format.
Aligned to the Australian Curriculum 9.0, the resources include a focus on Sustainability as a curriculum priority area and cover key aspects of the red meat and livestock industry including:
red meat production
animal welfare and environmental management
the supply chain
marketing and advertising
red meat nutrition.
Virtual classrooms
Australian Good Meat's Smart Farming virtual classroom has been educating Australian primary school students for over twelve years and is one of our most popular and effective school education programs.
This free, interactive and curriculum-linked program brings a red meat producer into the classroom for students to engage via a livestream session. Each 30-minute session is facilitated by a qualified teacher and includes student quizzes and Farmer Q&A chat time. The sessions are supported with pre and post learning via activity sheets and a Kahoot program, along with vocabulary key word lists.
Hosted at regular intervals across the school year, the virtual classroom is tailored for both lower and upper primary students with these classes on offer:
Farm Life (F-2 class)
Provides lower primary students with an introduction to farming, life on the farm, who works on the farm and how to care for the animals.
The Sustainable Farm (Year 3-6 year bands)
Explores how farmers care for their environment and their animals along with the benefits that come with using sustainable farming practices.
Technology on the Farm (Year 3-6 year bands)
A focus on how farming technology has changed over time, the types of technology farmers now use and how these technology advances improve a farming business.
Learn more about Smart Farming Virtual Classrooms at www.mlavirtualexcursions.com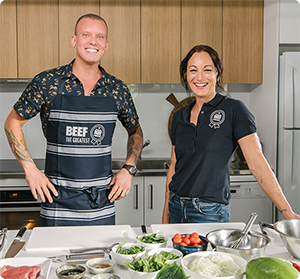 Be Your Greatest virtual classroom resource hub
The Be Your Greatest series was a live virtual classroom hosted by Australian Beef in the lead up to the Tokyo Olympic Games aiming to highlight health and well-being for primary school students.
We believe healthy minds and healthy bodies are fundamental to ensure students are at their best! We've created this resource hub to access the session video recordings showcasing Australian Olympic and Paralympic heroes inspiring primary school students to stay mentally and physically fit while cooking up their favourite Australian beef meals with Chef Matt Sinclair.