Back to

Extension, training & tools
BredWell FedWell (BWFW) is a practical, one-day introductory workshop on how productivity and profitability can be improved through good breeding and feeding over the livestock production cycle, with a specific focus on profit drivers.
Producers can use the outcomes of the workshop to develop a genetics and nutrition regime suited to their environment and markets to boost profitability.
Event details
Date

Location

Workshop type

Deliverer

More information

6 December

Jandowae, QLD

Beef cattle

Brownyn Roberts -
B R Rural Business
No workshop in your area? Register your interest here. We will let you know when a workshop is on in your area.
BWFW workshop cost: Introductory price of $200.00 per person (GST incl.) will be offered for a limited time. This is a discount of $150 per person so register now to take advantage of this discount.
New workshops in 2023
On the back of a decade of success, the BWFW workshops have been redeveloped to reflect evolving best practice genetics and nutrition management.

The structure of the workshop will utilise the BWFW breeding and feeding production cycle – see right – which covers pre-joining and joining, pregnancy, calving/lambing, weaning and beyond, and selection.

Each 'wedge' in the cycle represents a major decision point in a producer's commercial enterprise, where consideration of both breeding (genetics) and feeding (nutrition) is required.

The new highly graphical, easy to follow one-day workshop will continue to be delivered on-farm and producers will gain fresh knowledge about the latest research and management strategies in the field.
The BWFW workshops are:
What will I learn
Workshops are hosted on-farm and aimed to improve the knowledge and skills of producers so they can:
develop a customised breeding plan for their livestock enterprise aligned to their profit drivers

identify sires and select animals that help them meet their objectives

feed animals well to achieve their objectives and maximise their genetic investment.
What other producers say after attending BWFW
"Is it worth using EBVs for our cattle? Today tells me it is." – Andy Hayes, The Garden Station NT.
Benefit to your business
So far, BWFW has delivered $17.2m* in total net benefits to participating producers as a result of workshops delivered between 2015–2021. Participants can expect an average annual net benefit of $2.48/ewe joined for sheep producers, and $2.98/cow mated for beef producers.
*calculated as net present value of adoption to 2045, discounted at 5% annually.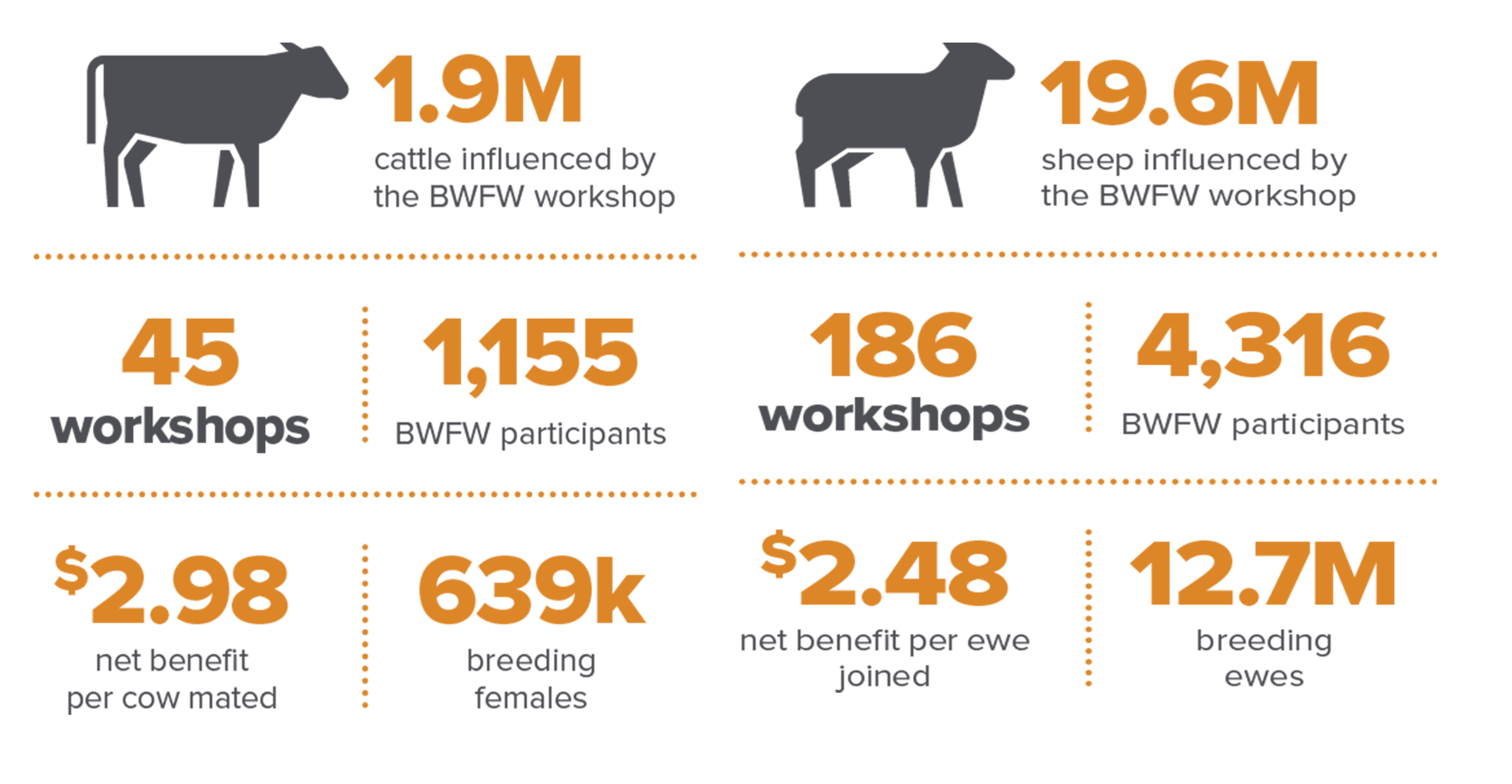 Learn more about genetic tools
Visit MLA's Genetics hub for easy to use online resources to find out how better breeding values can help you accelerate your herd's or flock's productivity.

LEARN MORE