BeefUp forums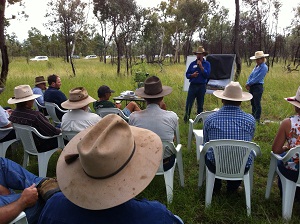 MLA BeefUp Days are held throughout northern Australia and are developed by Regional Beef Research Committee (RBRC) members in colaboration with the BeefUp Coordinator and MLA staff.

MLA's BeefUp Days have been developed to:
Create awareness of what MLA is and does
Create awareness of what R&D is occuring that is relevant to producers in attendance
Create awareness of the role and responsibilities of the RBRC
Create awareness and participation in regional R&D
Have input into regional R&D needs
Practical tools and information to beef up your business
Expert discussions focus on the key profit drivers of beef businesses and sustainability practices that can make a significant difference o an enterprise bottom line.
While the specific content of the BeefUp Day varies, the aim is to deliver programs with clear, practical information and tools which have been developed from sound R&D outcomes. This ensures that producers can take home and put into practice on-farm immediately, therefore helping northern beef producers make more money from their beef production enterprises.

Check the MLA events calendar for upcoming BeefUp forums
Join myMLA today
One username and password for key integrity and information Systems (LPA/NVD, NLIS, MSA & LDL).
A personalised online dashboard that provides news, weather, events and R&D tools relevant to you.
Customised market information and analysis.
Already registered for myMLA?