Who we serve
Our stakeholders
MLA works in partnership with the red meat industry and government to deliver marketing, research and development products and services to the beef cattle, sheep and goat sectors, with the core purpose of fostering the prosperity of the red meat industry.
The Australian Government sets high-level research and development priorities covering community, industry and environmental concerns. This is done through its Science and Research Priorities and the Rural Research, Development and Extension Priorities.
Peak industry councils provide policy direction, scrutinise budgets and monitor MLA's performance on behalf of the red meat and livestock industry. These are the Australian Lot Feeders' Association, Cattle Council of Australia, Sheep Producers of Australia and Goat Industry Council of Australia.
MLA also works closely with other industry stakeholders the Australian Meat Processor Corporation, Australian Meat Industry Council, LiveCorp and Australian Livestock Exporters' Council to develop programs that address key industry issues and opportunities through the supply chain, manage projects and communicate outcomes.
Industry structure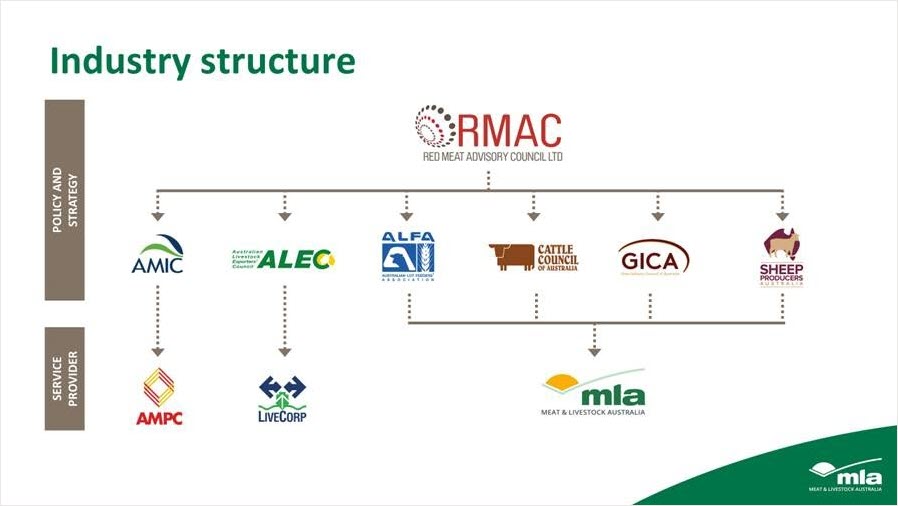 Membership
Membership of MLA is voluntary and free to all levy-paying grassfed cattle, grainfed cattle, sheep, lamb and goat producers. MLA had 50,128 members at June 2018.
How we consult
MLA does not make decisions about how levies are spent in isolation.
We consult extensively with producers, the government, peak industry councils and other industry organisations to guide our investments in research, development and adoption and marketing.
Find out more about regional consultation.
Join myMLA today
One username and password for key integrity and information Systems (LPA/NVD, NLIS, MSA & LDL).
A personalised online dashboard that provides news, weather, events and R&D tools relevant to you.
Customised market information and analysis.
Already registered for myMLA?