Back to

News & Events
Building a better business
A desire to better understand their own enterprise before starting succession planning was a catalyst for change in how the Piggott family does business.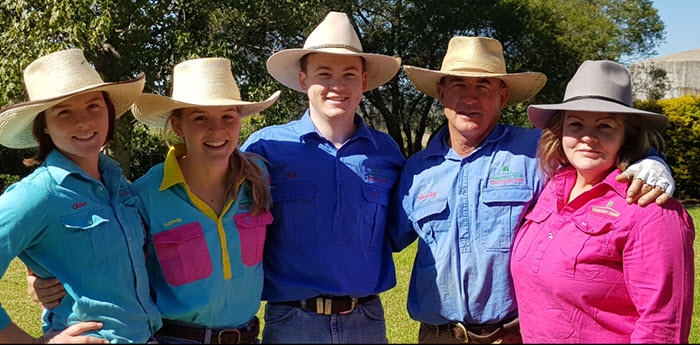 The producers attended an MLA-supported Business EDGE workshop, which opened the gate to tactics to reduce debt, embrace technologies and set their sights on new markets.
Kerryn and Bradley Piggott run commercial and registered Droughtmaster herds on two properties – Christmas Creek and Fairhaven – in the foothills of Carnarvon Gorge, 40km south of Rolleston, Queensland.
With their three children all contributing to the business in on or off-farm capacities, the family hoped Business EDGE would help them take a critical look at their long-term sustainability.
In 2016, Kerryn and eldest daughter Chloe attended the two-day financial and business management training Business EDGE workshop, backing it up with two follow-up sessions. Here are some of the actions they've implemented following the training:
Succession planning
The family has started succession planning with an independent advisor.
Chloe said Business EDGE has helped her bridge gaps in her financial knowledge, which came to light during early meetings.
"Understanding where the business sits allows us to move forward and ensure it's sustainable to support our succession plans," she said.
The Piggotts are assessing different scenarios, such as restructuring their herd and off-farm investments, to support the business into the future.
Business confidence
Chloe and Kerryn said Business EDGE gave them clarity in financial terminology and using it to make meaningful business decisions.
"I feel more confident with the information I have at hand and how to present a stronger case when we meet with our bank or accountant," Kerryn said.
As a result the family have renegotiated their core debt, reduced finance cost and interest and more than halved their repayments.
"Understanding where our business sits has given us more control," Chloe said.
Smarter marketing
The Piggotts produce steers for Meat Standards Australia (MSA) and Teys Grasslands programs and send surplus heifers to Australian Country Choice's Brindley Park feedlot for finishing. Empty and cull cows are finished and marketed direct to works.
"Business EDGE challenged us to re-evaluate the markets we were targeting to see if there were other opportunities," Chloe said.
The Piggotts are now going through the process of becoming EU and PCAS-accredited, which Kerryn said is a good fit for the programs they already comply with, such as Livestock Production Assurance On-Farm Quality Assurance.
"Business EDGE encouraged us to think about how we could utilise the data we already collect for LPA QA and our on-farm biosecurity plan to potentially access premiums for our cattle," she said.
Improved data collection
With input from Kerryn's accountant and bank manager, she's introduced a more user-friendly software package with smart phone capabilities to improve data collection and management.
The Piggotts also re-evaluated their herd record keeping system.
"Dad has been doing a great job of keeping records but they were paper-based and we felt this left us vulnerable if something happened to him," Chloe said.
They now use a Gallagher T Si system with panel readers and stick readers to collect information about livestock, including genetics and performance data.
Kerryn and Chloe said they also benefited from meeting like-minded producers at the Business EDGE events and relished the opportunity to access information and support.
Time to take stock
Producers have a handle on the lifecycle of their stock and pastures, but Business EDGE challenges them to look at another critical lifecycle, that of their business.
Bush AgriBusiness director Ian McLean, who delivers Business EDGE workshops for MLA, said understanding what stage a business is at is important for analysing profitability and identifying financial risk.
"All businesses – not just agribusinesses – move from establishment and start-up, to early maturity, to late maturity," he said.
"If succession planning does not happen at the right time or business owners take their foot off the pedal, it can enter the 'decline' phase."
He said businesses can also move between phases – for example, a business in late maturity can re-enter early maturity through expansion or intergenerational change.
Characteristics of the stages of a business lifecycle include:
Start-up: lower equity, high capital expenditure, lower cash flow, flock or herd underperformance, difficulty with debt reduction
Early maturity: cash surplus begins, capital expenditure falls, flock or herd performance improves, debt reduces more rapidly
Late maturity: maximum equity, cash surplus increases, herd or flock outperforms, minimal capital expenditure, low or retired debt
Decline: cash surplus shrinks, capital expenditure rises, herd or flock performance good but falling, debt increases but is not a concern.
Business EDGE was developed in recognition of the fact that while grazing businesses traditionally required owners and managers to have a good understanding of production aspects such as animal husbandry and pasture management, financial literacy was often lacking.
Ian said grazing business owners and managers already have the numbers they need at their fingertips, but Business EDGE provides a roadmap so producers can be the main beneficiaries of the information they collect.
Concepts covered in the two-day Business EDGE workshops include:
identifying what you want your business to achieve, e.g. children's education, a certain quality of life or specific retirement plans
setting key performance indicators for the whole business to achieve these goals
understanding profit and how to calculate it for your business
understanding the level of financial risk your business is carrying, and whether this debt is productive or placing your business in a risky position
performing a cost–benefit analysis for different business activities such as capital expenditure
extracting and analysing accounting information, such as operating expenditure compared to capital expenditure and overheads
recognising and responding to issues in multi-enterprise grazing businesses, such as scale and resource competition and diversification.
This information can be applied to individual businesses and understood in the context of its lifecycle to assess long-term business performance, regardless of what stage the business is in.
More information:
Check the MLA events calendar for upcoming Business EDGE workshops near you.
Upcoming EDGE workshops in 2019 will be held at:
Queensland
Hughenden, 11-12 March
Mareeba, 14-15 March
Longreach, 10-11 June
Clermont, 13-14 June
Warwick, 18-19 September
Click here to register for any of these events
South Australia
Adelaide, 13-14 March
Naracoorte, 19-20 June
Coomandook, 21-22 August
Bordertown, 18-19 September
Robe, 16-17 October
Click here to register for any of these events
New South Wales
Orange, 24-25 July
Click here to register for this event
MLA Edge Network: mla.com.au/edge