Back to

About MLA
Keep watch for fall armyworm
Red meat producers are advised to be aware and alert for the invasive moth pest, fall armyworm (Spodoptera frugiperda), which has recently been detected in Australia.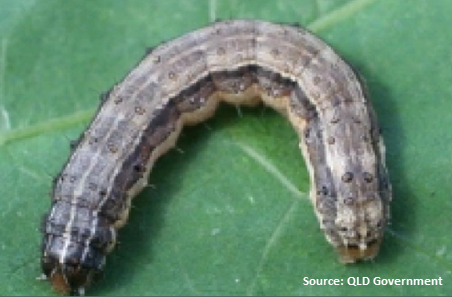 With the pest first detected in northern Australia, the Queensland Department of Agriculture & Fisheries has developed key resources for producers, including information about fall armyworm detections in Queensland, crop and pasture impacts, current geographic spread, identification tips and management advice.
MLA continues to monitor the situation, including any potential impacts for the livestock sector, whilst keeping industry up to date with the work being led by the Queensland Department of Agriculture and Fisheries.
Below we address some key questions on fall armyworm. For the latest information and advice from the Queensland Department of Agriculture and Fisheries, visit business.qld.gov.au/fallarmyworm.
What is fall armyworm?
Fall armyworm is an invasive pest, which has been reported to feed on more than 350 plant species, and impacts economically important cultivated grasses such as maize, rice, sorghum, sugarcane and wheat, as well as fruit, vegetable and cotton crops.
Fall armyworm is native to tropical and subtropical regions of the Americas, and since 2016 has spread to Africa, the Indian subcontinent, China and South East Asia.
Adult moths are highly mobile and can fly long distances with suitable weather conditions. This pest is also prolific, reproducing at a rate of several generations per year.
The larvae can attack leaves, shoots, stems and fruit. Plants of different ages, from seedlings to mature plants, can be affected.
Australia's climate and the production of suitable hosts are favourable for fall armyworm to establish and spread. Australia's environment and native flora may also be impacted.
When was fall armyworm detected in Australia?
Fall armyworm was first detected on two Torres Strait islands in January 2020. The first mainland detection in Australia was at Bamaga in February 2020.
Subsequent detections of fall armyworm were on a property in the Gulf country of north-western Queensland, and in South Johnstone, Tolga and Lakeland in North Queensland. The latest detection is in the Burdekin area in North Queensland.
What is the Queensland Government doing?
Traps have been established or are being established by the Queensland Department of Agriculture and Fisheries (DAF) at many sites in Queensland, including:
Burdekin, Bowen, Mackay, Richmond, Rockhampton, Longreach, Kingaroy, Emerald, Biloela, Bundaberg, Gayndah, Nambour, Dalby, Goondiwindi, Gatton, Toowoomba and Brisbane.
DAF will continue surveillance and monitoring of the spread of this pest, including for any new introductions/population changes.
In the medium to long-term DAF will work with industry to:
- identify the crops most favoured by the pest
- assist industry to access appropriate chemical controls
- help industry manage any pesticide resistance.
DAF has:
1. disseminated information on the pest and the detections (via email alerts, social media, media releases, fact sheets)
2. developed eight fact sheets, covering:
- wheat
- maize
- cotton
- sugarcane
- sorghum
- sweet corn
- vegetable crops
- pastures
3. drafted fact sheets on sweet potatoes and melons
4. established a Queensland website landing page with information about the pest. The address is qld.gov.au/fallarmyworm
5. convened an industry/government communications working group to share information
6. held a technical workshop with key industry players on Monday 9 March 2020
7. held an open, industry webinar on Friday 13 March 2020.
Will fall armyworm affect pastures?
Fall armyworm is reported to feed on tropical and subtropical grasses in grazing systems overseas. It is certain that fall armyworm will be a permanent year round population in northern Australia and that tropical and subtropical pastures in Queensland are primary hosts. Fall Army pressures will be variable in most other regions depending on seasonal conditions.
It is unclear what impact fall armyworm might have on pasture productivity, but outbreaks of dayfeeding armyworm (Spodoptera exempta) have caused significant short-term defoliation in buffel pastures. This defoliation can kill seedlings and retard the growth of established plants. Infested pasture may be reinfested by the offspring of the first infestation.
Grasses that fall armyworm infest overseas include:
1. Sorghum haleepense, common name Johnson grass
2. Chloris gayana, common name Rhodes grass
3. Agrostis spp., collectively called bent grasses
4. Digitaria spp., collectively known as pangloa, digit or finger grasses
5. Cynodon dactylon, common names include: couch, green couch, couch grass
6. Poa spp., common names in Queensland include: annual Poa, winter grass
7. Panicum spp., collectively known as panics.
8. Tall Fescues
9. Ryegrass
Most of these are common across Queensland, in grazed pastures, hay production, and urban situations.
The potential for fall armyworm to infest other important native (e.g. Mitchell grass, spear grass, blue grasses) and sown pastures (e.g. buffel grass, Rhodes grasses) is unclear, but it is possible these could be suitable host plants.
Hay production, including lucerne, may be at risk of production loss caused by fall armyworm infestation, including irrigated production over winter in warmer regions.
What are the symptoms of fall armyworm and what should graziers look out for?
Depending on the plant, fall armyworm can cause significant and sudden crop damage and collapse if left unchecked.
Symptoms of fall armyworm include leaf damage such as pinholes, windowing, tattered leaf margins and defoliation of plants.
Graziers should also look out for tiny larvae, less than 1 mm, that are more active at night, eating pin holes and transparent windows in leaves and bigger larvae grazing on leaves, stems and fruit, and leaving behind insect excrement.
In grass-like plants, larvae are often in plant whorls where leaves branch from the stalk. A cover of frass (poo) in the whorl can protect the larvae from effective chemical control measures.
What can producers do?
Graziers and producers should already have strong on-farm biosecurity measures to protect their crops from pests and diseases.
Crops should be monitored for signs of leaf damage leading to defoliation of the crop and report suspected sightings to assist with early detection, and potential treatment. Infestations often establish after rain when there is fresh pasture growth.
Good farm hygiene should be implemented for weed control to remove hosts that could build populations.
Biological control agents such as predators (birds, ladybugs and nematodes), parasites (wasps and flies) and naturally occurring diseases are important and effective strategies for managing Fall Army especially when chemical control is impractical or uneconomic.
What if I suspect fall armyworm is on my property?
Anyone who comes across fall armyworm is strongly encouraged to photograph and report suspected sightings to the Department of Agriculture and Fisheries on 13 25 23, their agronomist, local biosecurity officer or extension officer.
Images can be sent to the DAF Customer Service Centre; call them on 13 25 23 for advice on how to do this.