Back to

News & Events
Subscribe to MLA's newsletters
Stay informed with the latest red meat and livestock industry news, events, research and marketing.
Sign up
Ewe nutrition: summer feeding and pre-joining webinar
27 Nov 2019 08:00PM - 27 Nov 2019 08:45PM

Sheep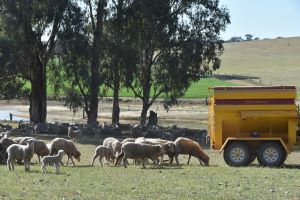 Location: In the comfort of your own home.
Cost: Free
Time: 8.00-8.45 pm (SA time)
Planning your pre-joining ewe nutrition is crucial to achieve a satisfactory joining result. This webinar will broaden your understanding of nutritional requirements pre-joining and how to maximise results over summer when grazing dry pastures and stubbles.
Presented by Deb Scammell, Consultant, Talking Livestock.
Topics:
target condition score pre-joining and increasing lambs conceived
planning pre-joining nutrition to increase % multiples
what to consider when grazing dry pastures and stubbles
effective supplementation on dry feed
alternative feed sources such as spuds and grape marc.
Event flyer