Back to

News & Events
Subscribe to MLA's newsletters
Stay informed with the latest red meat and livestock industry news, events, research and marketing.
Sign up
Livestock Advisors Professional Development workshop | Darwin, NT
16 Mar 2020 08:30AM - 17 Mar 2020 03:00PM

Grain-fed Cattle

Grass-fed Cattle

Sheep

Goat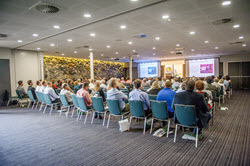 Location: Vibe Hotel Waterfront, 7 Kitchener Drive Darwin NT
Cost: $255 per participant. This includes: 2-day workshop, catering for both days and networking drinks 16 March.
Are you a red meat industry advisor wanting to improve the quality and impact of your service delivery to your clients?
Do you want hands-on training like you've never experienced before?
This two-day intensive program will improve your ability to:
deliver high impact training and support to your clients
make your training rich, inclusive, multi-sensory and invigorating
effectively engage and inspire your clients
get clients 'curious' in training and advisory services
grow your business
explore business models that suit you and your client base.

Day 1 8.30am - 5pm
Spend a hands-on day with Laurie Kelly, highly regarded extension and delivery trainer, learning about brain-friendly delivery skills to engage, accelerate and make learning stick. Finish the day with a social occasion to network with other industry professionals.

Day 2 8.30am - 3pm
The focus will be on exploring further engagement techniques and you will hear how successful advisors have developed and grown their business. This is also an opportunity to work with Laurie and consultants to investigate how new business skills and ideas can work for you, to delve into building advisory businesses and skills and ask the hard questions during a panel discussion about different consultancy models.
This is an opportunity to network with successful livestock advisors. Not to be missed.
Speakers:
Cam Nicholson – Nicon Rural Services
Ed Riggall – AgPro Management
Laurie Kellie – Brain Friendly Training