Back to

News & Events
Subscribe to MLA's newsletters
Stay informed with the latest red meat and livestock industry news, events, research and marketing.
Sign up
Nuffield Australia National Conference | Bowen Hills, Queensland
17 Sep 2019 06:00PM - 19 Sep 2019 05:00PM

Grain-fed Cattle

Grass-fed Cattle

Sheep

Goat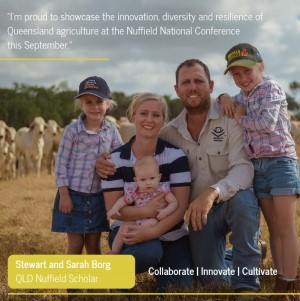 Location: Royal International Convention Centre, 600 Gregory Terrace, Bowen Hills
Cost: There are a range of pricing options for each segment of the conference
In 2019, the Nuffield Australia National Conference program will provide attendees with in-depth insights into Australian and global agriculture along with a detailed look behind the scenes of agriculture in Queensland as only Nuffield can provide.
Presentations from 24 Nuffield Scholars will focus on themes such as:
Effective branding to attract a premium.
Facilitating the uptake of new agricultural technology.
Strengthening business and strategic planning capability.
Business risk management in a variable climate.
Soil health and regeneration principles in agriculture.
Strategies for agriculture in Northern Australia.
The theme this year is 'Collaborate, Innovate, Cultivate', showcasing scholars' ability to learn
from farmers around the globe, identify cutting edge farming practices and technology, and sow the seeds of change that see individuals, businesses and the wider agricultural industry flourish.
Other presentations will focus on Queensland and its primary industries including livestock, grains and horticulture. It will be a very diverse and exciting program.