Back to

News & Events
Business EDGE: a fresh approach to business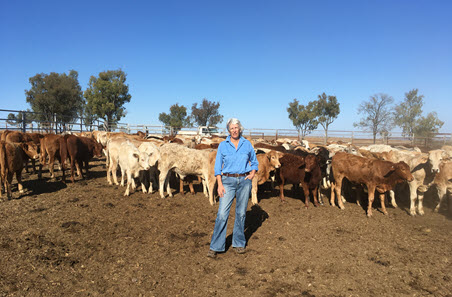 A course in business management isn't only beneficial for enterprises going through a growth phase or succession planning.
Business EDGE training has helped Nelle Stevenson keep a finger on the pulse of the established grazing business she runs with her husband Simon, which is going through a consolidation phase.
Simon and Nelle took over 'Villamosa' in 1983 after separating from a family aggregation.
With their two daughters working off-farm, the Stevensons are now assessing what direction to steer the business in. The Stevensons run 1,500 Brahman breeders, joined to British/Euro bulls, on 4,250ha at Baralaba in central Queensland.
Nelle signed up for a two-day MLA Business EDGE workshop in 2016 to gain a deeper insight into how to use financial information to measure business performance.
Although Nelle had attended other business skill development programs, she came home from Business EDGE with a new focus.
"It provided the framework to tie together all the data we've been collecting so we could analyse it objectively without the emotion of the season or any other factors impacting us," she said.
"It's never been so important for producers to run professional businesses to demonstrate to consumers and the wider community that we are invested in managing our land sustainably."
Nelle has since attended two follow-up sessions, and said the supportive environment and information provided helped to motivate her and grow her confidence to adjust their business model.
Here are the areas Nelle has worked on in their enterprise following Business EDGE:
Nelle credits Business EDGE with providing tools to drill into the numbers so she can work through scenarios with Simon, particularly budgeting for drought scenarios.
"The ability to analyse our business performance and run different models against financial formulas has given me greater confidence that the numbers support decisions such as selling down stock when it's dry," she said.
Understanding debt and profit
The workshop reinforced that debt from an extensive capital expenditure program when they took over Villamosa was not a reflection of poor management, but rather a necessary investment in the productivity of their real estate.
"It would have been handy to have Business EDGE 30 years ago," Nelle said.
"It's given us the confidence to say: yes, in spite of the dry or beef prices, we are running a good, profitable business."
"Very few farming family allocate themselves a wage or recognise the financial contribution of their time, but it reinforced to us that if we change our business model in the future we will need to reflect our own labour component," Nelle said.
"Sound business management is so important, especially in family businesses, as without it the land or the people have to make up the shortfall.
"Business EDGE really reinforced the importance of not eroding our environmental capital – it might be tempting to run more stock to be more profitable, but it could have a negative impact in the long-term on land productivity."
Intergenerational involvement
Nelle and Simon's daughters Holly and Josey have off-farm careers but are still interested in the property, so after attending Business EDGE the family sat down together to look at the business plan.
"We showed them some of the analysis I had done and we talked about ways they could be involved in the business," Nelle said.
"It gave our daughters confidence the family business is in a good place and opened a discussion about different business models in the future."
One of the biggest changes the Stevensons have made as a result of Business EDGE is adjusting their herd composition.
Over the past 18 months they have moved away from just breeding to start backgrounding cattle.
"Information from the Northern Beef Report was presented to us in the workshop, and it encouraged us to take a critical look at our herd profitability," Nelle said.
Information:
Nelle Stevenson
MLA EDGE Network: mla.com.au/edge
Interested in Business EDGE? Upcoming courses are at Bundaberg, Queensland, 12–13 November, and Biloela, Queensland, 15–16 November.
Register with Ian McLean of Bush Agribusiness
T: 0401 118 191