Nutrition campaigns
Meat & Livestock Australia produces a range of resources on healthy eating which include three to four healthy beef and lamb meals a week consistent with Australian dietary guidelines.
The Trinity Experiment
Australians are leading increasingly busy lives, driven by increased workloads and family commitments. With the increased prevalence of fad diets, numerous reality TV cooking shows, and the tendency to solve diet-related issues with a pill; getting the right nutrition information can be complicated.
MLA's Global Tracker study shows that 24% of Australian male meal preparers 18+ believe "it is important to limit consumption of beef or lamb to avoid possible health problems", which is up from 20% in 2015 and 2014.
With an increase in men shopping and preparing meals, it is important that we find ways to reach this highly valuable audience with the right information. Younger male audiences are notoriously hard to reach and are in fact active avoiders of nutrition-based information.
The Trinity Experiment is a story about a set of triples, separated at birth and raised under incredibly similar circumstances, with the only difference being their diets. The story is executed in 'mockumentary' style to highlight that a healthy balanced diet (featuring Beef and Lamb) helps humankind be the best it can be.
The campaign features a 30 sec teaser film, a long-form 'hero' video and 3 x 60 second cut-downs, focused on each of the 3 characters from the long form video.
The purpose is to create content that the audience will engage with, weaving in messaging that supports a healthy balanced diet. The audience are then directed to healthy balanced meal information through digital media partners, and via Beef and Lamb's owned and social media channels.
With nutrition and versatility being the number 2 and 3 drivers of choice (behind price) when it comes to red meat purchase in the domestic market, the campaign ensures key nutrition messages and product versatility are showcased in a way that younger male audiences can relate to. The more practical elements of the campaign ensure that Beef and Lamb are represented as key elements of a healthy balanced diet.
Dinner Three Ways
Everyone loves to find new, healthy and interesting ways to take one key ingredient and deliver a tasty, satisfying dinner. MLA's new nutrition based digital series Dinner 3 Ways will deliver just this through an 18 episode series designed to ignite inspiration, information and most importantly choice around cooking with beef and lamb.
Hosted by popular Aussie home cook Hayden Quinn, the series sees Hayden inviting well known guests into his kitchen to participate in a simple challenge; take one key beef or lamb cut and deliver three outstanding dishes. The dishes are all nutritious, easy and quick to cook, addressing key barriers that effect consumption of beef and lamb in Australia.
Each episode will feature one key cut three ways, delivering 18 informative and entertaining episodes in total. Each of the six episodes will be supported by a 60 second interactive promo.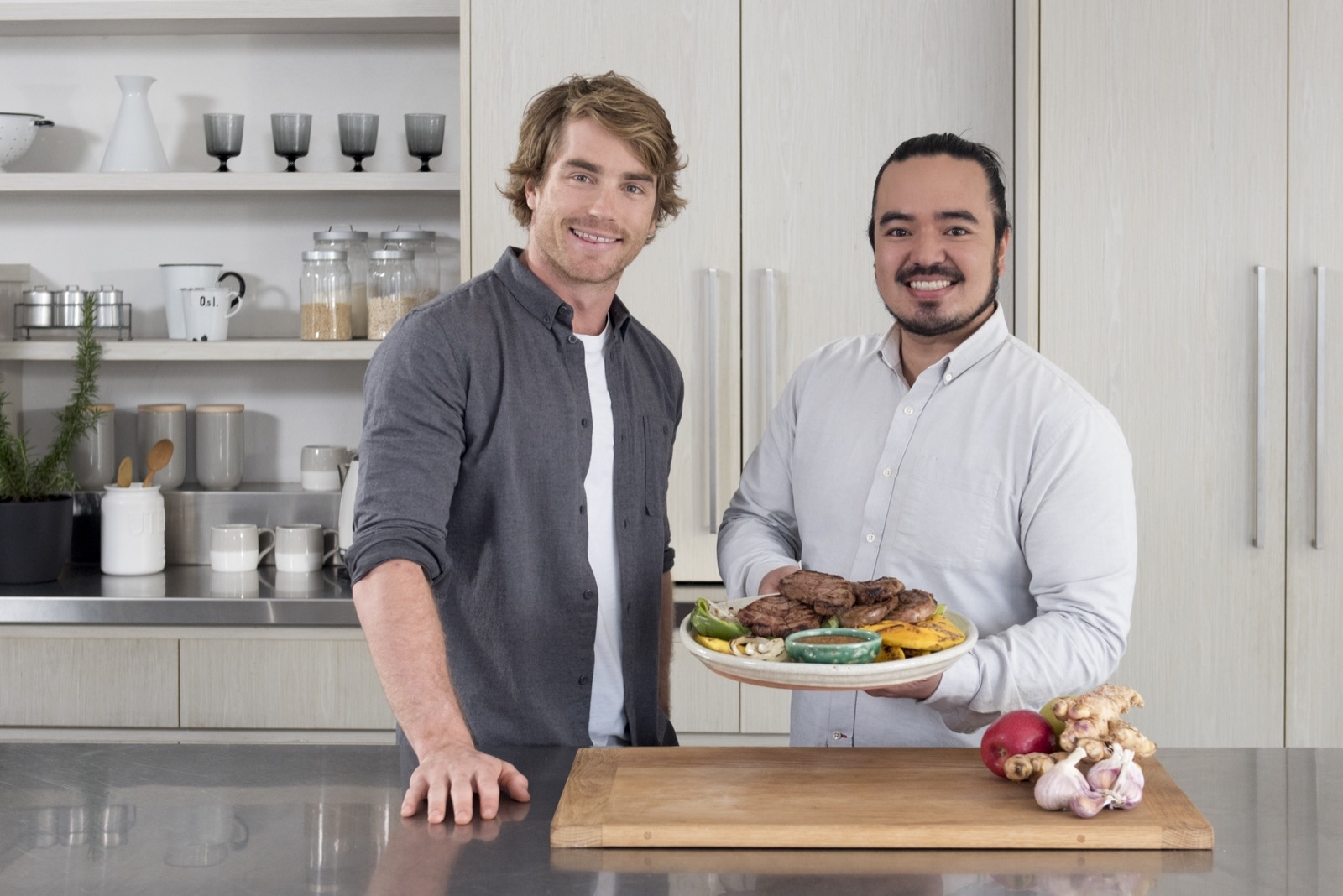 Entice Magazine
Entice is a free magazine that is distributed in key retailers and Australian Butcher's Guild butcher stores. It exists to create cultural awareness of the importance of eating a balanced beef or lamb meal 3-4 times a week and how this can be achieved.
Entice educates consumers on how to cook quick, healthy and popular dinners for their family as well as inspiring them with easy to make meals helping them to build their confidence in the kitchen.
Entice is produced twice a year to cater for the warmer and cooler months.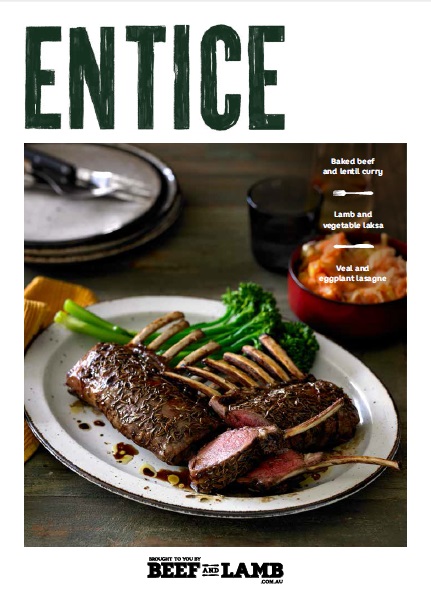 Beefandlamb.com.au
Beefandlamb.com.au is a hub that provides consumers with education on how to cook beef and lamb, nutritional information to help them make the right choices, as well as a vast array of inspirational recipes that they can try at home.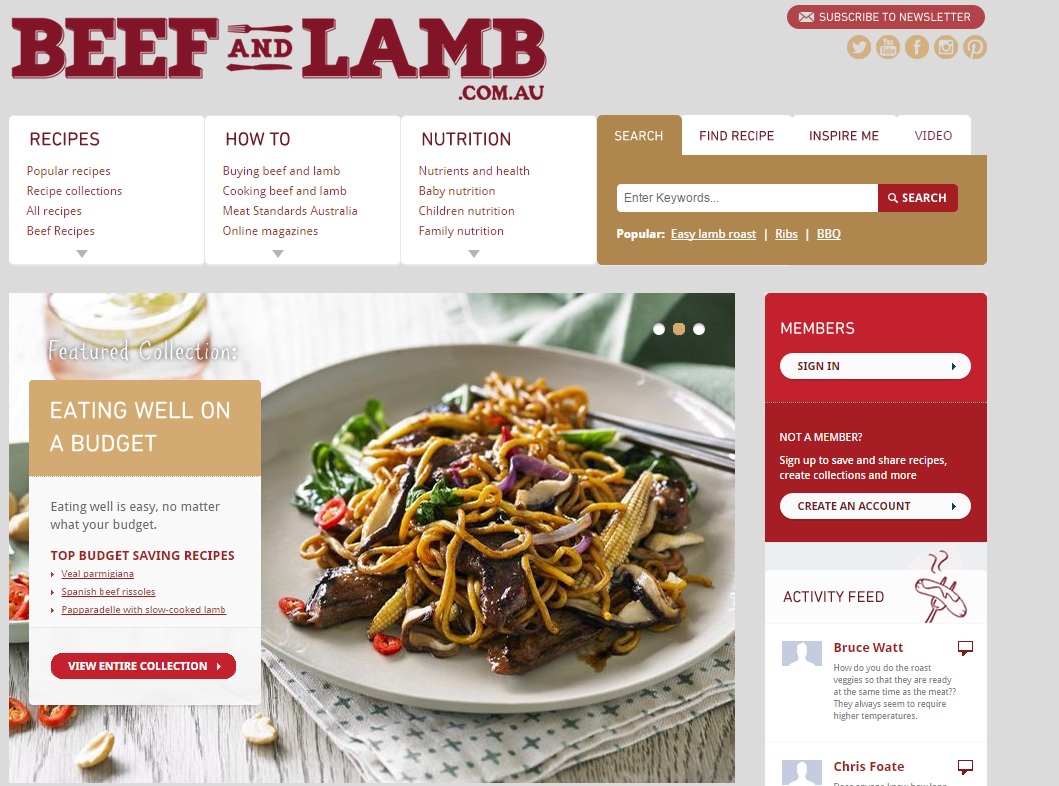 Smartphone Applications
MLA's three smartphone apps, LambRoast, SteakMate and Meat Cuts, helps consumers take the guess work out of buying and preparing red meat.
The LambRoast app makes roasting easy. You can achieve the perfect lamb roast in three simple steps. 1. Select your cut 2. Input the weight of the cut 3. Start cooking. This app dispels the myth that lamb roasts are only for long Sunday lunches by also showing mid week mini roasts that can be cooked in half an hour. Any day of the week is perfect for a lamb roast with the LambRoast app.
With consumer confidence at a low when it comes to cooking the perfect beef steak, the SteakMate app can turn is most cautious chef into the most confident. With an inbuilt timer and handy prompt displays, users simply enter the cut of steak they're cooking, the cooking method being used, the doneness they're after and the thickness of the steak, and SteakMate will tell them exactly how to cook it.
The sheer range of red meat cuts can create confusion with consumers – especially how to cook each of e.g. should a chuck steak be grilled on the barbecue? To overcome this, Meat Cuts is an easy to use cuts guide complete with information about each cut including where it comes from, it's recommended cook methods, alternative cuts if it is not available and recipe applications.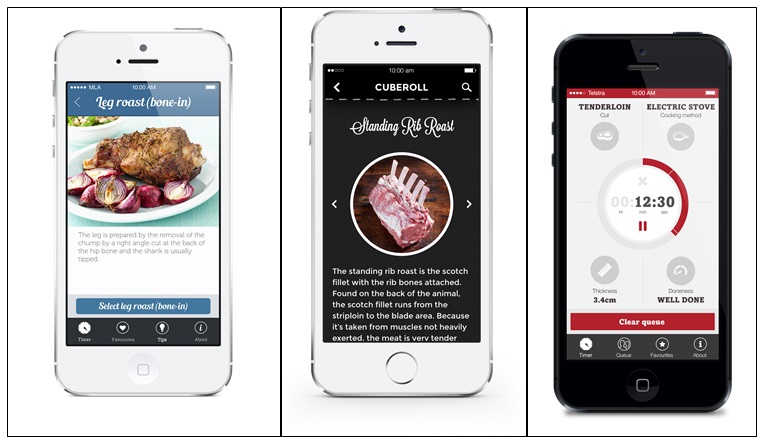 Join myMLA today
One username and password for key integrity and information Systems (LPA/NVD, NLIS, MSA & LDL).
A personalised online dashboard that provides news, weather, events and R&D tools relevant to you.
Customised market information and analysis.
Already registered for myMLA?