Back to

News & Events
Subscribe to MLA's newsletters
Stay informed with the latest red meat and livestock industry news, events, research and marketing.
Sign up
Australian Agriculture Immersive Technology Conference | Melbourne, Victoria
10 Jul 2019 09:00AM - 11 Jul 2019 03:00PM

Grain-fed Cattle

Grass-fed Cattle

Sheep

Goat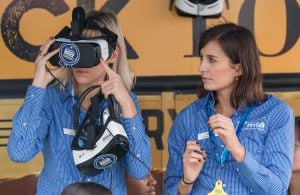 Location: Melbourne Convention and Exhibition Centre, 1 Convention Centre Place, South Wharf, Melbourne
Cost: $100
Augmented and virtual reality (mixed reality) is predicted to be the next disruptive technology and will be as common as smartphones in 5-10 years. Although the agriculture sector is lagging with the deployment of this technology, it can look towards other sectors that have implemented this evolving technology in operations today and learn from what they have planned for the future.
To understand the potential of mixed reality systems to Australia's agriculture supply chains (production systems, processing facilities, value adders and retailers), a group of Australian Research and Development Corporations (RDCs) are delivering a two day mixed reality conference and trade show.
The program will enable solution providers to demonstrate what is possible today and what might be possible in the future. Along with the presentations, attendees can immerse themselves in available technology at the tradeshow and provide valuable input on the application of mixed reality systems for each of Australia's agriculture sectors.
Who should attend / participate:
end users
hardware providers
developers and integrators
universities and students.
Conference:
The conference will consist of presentations that will demonstrate end-use applications of various mixed reality deployments from both Agriculture and non-agriculture applications under the following six themes:
Marketing and consumer messaging
Engaging with consumers at retail (making choices easier)
Education and training
Manufacturing operations (and auditing)
Maintenance and safety
On-farm (operations)
Tradeshow:
Mixed reality is an offering that can only be truly understood by immersing yourself in the technology. A mixed reality tradeshow will be held within the same venue as the conference to enable attendees to hear about and then experience the potential of mixed reality to your business.
Developing end-use applications:
Australian agriculture supply chains are currently contemplating the use of data and deployment/adoption of sensors, and are lagging behind the US and other nations leading to a productivity gap. RDC's will invest in developing the value proposition of real time information systems specific to their industries, surveying industry stakeholders and performing detailed economic and ROI analyses to identify the best opportunities to implement this technology.
Based on the results of this analysis, off the shelf technology will be deployed or prototypes developed and adoption activities undertaken by RDC's.