Alibaba down under
14 March 2019
From chilled beef that meets the fast-growing demand for fresh food to premium brands and diversified cuts, the opportunities for Australian red meat in China are enormous – particularly if you add online retail to the mix.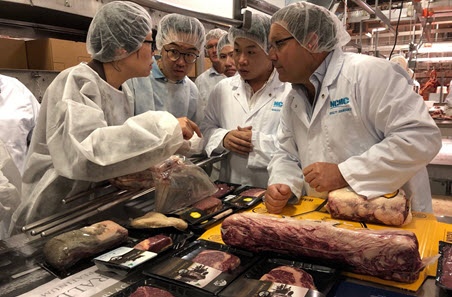 That's how a group of key staff members from one of the world's largest online retail platforms, China's Alibaba, see the emerging potential and why they're keen to learn more about how Australian beef is produced.
Alibaba's beef tour
Meat & Livestock Australia hosted delegates from Alibaba's new retailing and catering operations facilitator, Win-Chain, this month. The group visited exporters, abattoirs and farms throughout the country.
Win-Chain focuses on sourcing fresh food globally and distributes to a variety of channels including wholesale, retail (e.g. Hema Fresh, RT-Mart, Auchan, Lianhua, TmallFresh) and foodservice in China. The delegates said chilled Australian beef was a perfect fit.
MLA's Joe Zhu, Country Manager – Greater China, said Alibaba represents tremendous opportunities for industry growth in China and MLA was particularly keen to support their efforts in consolidating needs for Australian meat products and streamlining the supply chain.
The focus of the trip was to familiarise the delegates with the Australian red meat industry's integrity, capability in both processing and livestock production, and diversity, along with the premium nature of the product.
The land of opportunity
China represents the most outstanding opportunity for Australian red meat in the e-commerce space, according to Joe.
"Not only is China Australia's fastest growing international market for red meat, its e-commerce market represents a huge opportunity in both speed and size perspectives," he said.
The buyers said understanding the background to Australian beef production and how the supply chain operates was the main purpose of the visit.
Jayden Feng, Hema Buyer Manager for Meat Category, said investigating the difference between exporters, including product categories and openness to collaborate, was important.
Qili Gu, Sales Director of Restaurant and Catering for Win-Chain, said the foodservice sector had achieved tremendous development in China in recent years.
"The penetration of the internet into the sector has brought many changes and an increasing number of foodservice companies expect to look deeper into the supply chain and communicate directly with Aussie beef producers," Qili said.
"We were able to confirm Australian beef is the correct target across the Alibaba distribution channels, thanks to good breed selections which ensure a constant quality and taste, farming techniques to control the end result and professionals in the meat processing plants," said Benoit Vaillant, Fresh Purchasing Head at Auchan.
Win-Chain's Animal Protein General Manager Richard Wang said Australia's comprehensive quality control system meant our grainfed and chilled Australian beef plays an irreplaceable role in his business.
"Additionally, Australia's special geographic location has made chilled products more competitive," Richard said.
What did the buyers find most surprising?
Just how much Australian beef was already targeting China, the scale and level of management in the lot feeding game, the extent of product traceability and the rich dataset at MLA, to name a few.
Richard said Alibaba was already doing business with some grainfed producers, which mostly supply the clients from the foodservice end.
"As our clients have diverse demands of the meat cuts, Win-Chain provides a platform to consolidate purchasing and distribute products upon needs, in order to further reduce supply chain costs," he explained.
"In the future, we will continue to integrate demand and purchasing, to help on the value chain reconstruction and upgrade consumer consumption."
Alibaba Tmall, meanwhile, will be opening an Australian Country Flagship Store later this year which will bring together brands across meat, seafood and fruit categories.
More information:
Joe Zhou
MLA Country Manager – Greater China
E: jzhou@mla.com.au
Join myMLA today
One username and password for key integrity and information Systems (LPA/NVD, NLIS, MSA & LDL).
A personalised online dashboard that provides news, weather, events and R&D tools relevant to you.
Customised market information and analysis.
Already registered for myMLA?