Back to

News & Events
Foraging for feed options
18 March 2020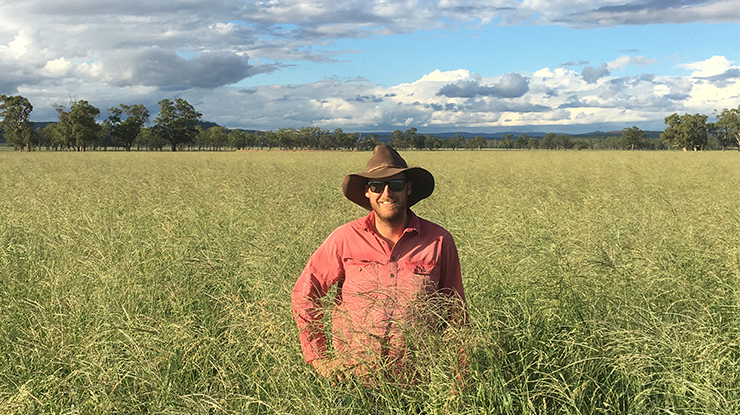 Boggabri, NSW producer Aidan Rodstrom has seen good results after adding forage brassicas to his pasture mix.
NSW producer Aidan Rodstrom has ventured into forage brassicas in a bid to find a reliable solution for autumn and spring feed gaps for his trade steer enterprise.
He's trialled Winfred forage rape for the past two years and started out small, planting 12ha in the winter of 2018.
"There wasn't enough moisture for anything else," Aidan said.
"We received around 35mm in March 2018 and the Winfred just drove its roots down and took off. I had 56 steers over three grazings that season, with a little bit of supplementary grain in the feeder."
Encouraged by these results, last year Aidan added another 12ha of Winfred and also included raphanobrassica, a kale-radish hybrid, in the mix.
His planting mix was:
Paddock 1: 6ha Winfred forage rape and 6ha Moby barley
Paddock 2: 6ha Moby barley, 3ha Winfred and 3ha raphanobrassica.
Aidan observed older, more 'educated' animals go straight to the brassicas, but young cattle took a little longer to acquire the taste.
Aidan has been very pleased with the animals' performance on his trial paddocks, particularly in a season as tough as 2019.
"We had 200kg steers on the brassicas and Moby barley and they put on an average of 1.6kg/day over 30 days – that's pretty handy, especially in a hard year."
This year, Aidan is part of a formal network of 14 on-farm demonstration sites as part of a Livestock Productivity Partnership project led by CSIRO.
Producers will sow forage brassicas in late July or early August and graze it off when the crop is 15–20cm high, with the aim of filling the late winter/early summer feed gap as well as the following autumn feed gap.
"This year we'll try to graze to a suitable height then lock it up over summer to keep the grass weeds out, so by March next year, there'll be feed when we sow oats.
"Next year, we'll start sowing more brassicas on bigger blocks. The cattle do really well off it."