Back to

News & Events
Growth weight data providing valuable insights
19 May 2020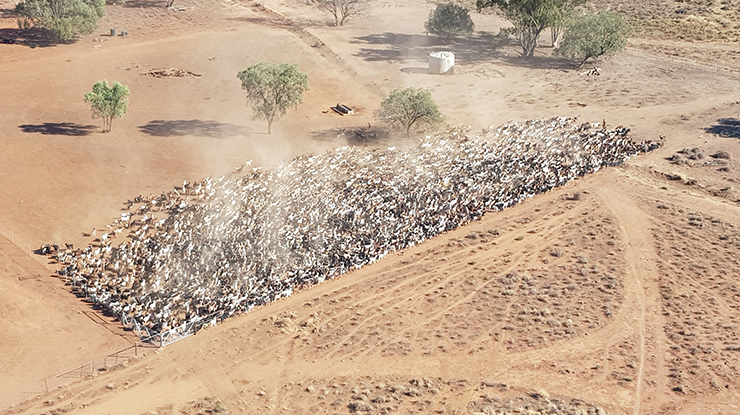 Key points:
When purchasing trade goats, check if growth rate data has been captured for the herd.
It's important to put weight gain results into perspective, particularly regarding the season in which the weight gains were recorded.
Capturing growth rate data is providing valuable insights for goat producers Bob and Amy Brown as they seek to target ideal weights in their goat trading and backgrounding enterprise.
Bob and Amy manage a 12,000ha mixed livestock business at 'Heather Station' near Bollon, Queensland. Until four years ago, the business comprised a Merino wool breeding enterprise which was supplemented by a sheep and cattle trading operation to manage feed surpluses and deficits.
In 2016, after erecting a dog exclusion fence to prevent wild dogs from entering the property and reduce native animal grazing pressure, the Browns decided to diversify into goats.
They found that the goats generated a more consistent and better return than alternative enterprises and made the decision to focus more heavily on goat trading and backgrounding.
They now run between 6,000 and 10,000 goats, and also try to seize any sheep and cattle trading opportunities that arise.
The importance of weight gain data
Bob and Amy started their herd from a wild goat population, but the bulk of goats bought in were under processing weight.
The aim was to manage both the male and female trade goats on pasture to meet weight specifications acceptable to processors.
Bob was looking to trade goats but struggled to find data supporting the growth rates he was likely to achieve.
Growth rate data is important when purchasing trading goats as it helps producers understand:
What the target purchase weight should be to meet time of sale.
The time taken to put the weight on to reach the target weight.
The margin over time of the trade.
Whether they need to carry goats during a period where weight gains typically slow in other livestock classes.
In mid-October 2017, Bob purchased 675 mixed sex young goats weighing an average of 17.8kg live weight. The billies weighed 18.25kg live weight, which was 5.7% heavier than the nannies who averaged 17.25kg live weight.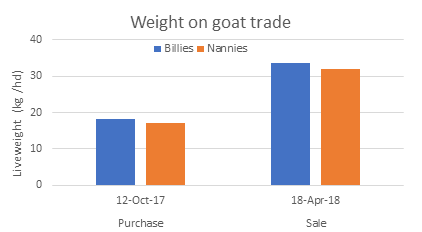 The trade goats were weighed again 188 days after purchase. The billies weighed 33.7kg live weight while the nannies weighed 31.9kg live weight. This equated to an average weight gain of 82.2g/head/day for the male goats and 78g/head/day for the female goats.
"This just gave us a bit of a guide on the weight gains that can be achieved so we could target a purchase weight for trading animals," Bob said.
He said it was important to put the results into perspective in relation to the season in which the weight gains were experienced.
"The seasonal conditions from October 2017 to April 2018 weren't the best but they certainly weren't poor. Cumulative rainfall was just above median from when the goats were on," Bob said. See figure below.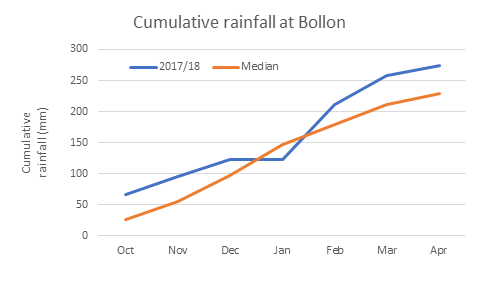 Next steps
"In the future, we'd like to look at how heavy we can get the male portion of goats before the weight gains start to plateau out," Bob said.
"The greater the rate of weight gain, the lower the cost to us. We don't feel that we can do this with the females as they start to reproduce at a very young age."