Back to

News & Events
Guaranteed eating quality keeps red meat aboard ship menus
03 March 2020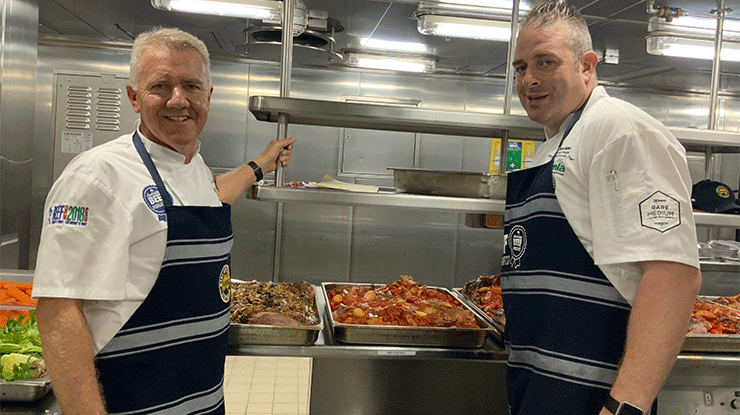 Red meat set sail when MLA's Corporate Chef Sam Burke and MSA End User Training Facilitator Kelly Payne boarded a P&O cruise to help chefs put more beef and lamb on ship menus.
P&O Australia's three ships are floating food destinations, serving around 37,000 meals a day in casual dining outlets and premium restaurants, including celebrity chef Luke Mangan's Salt Grill.
"Operators like P&O influence consumers' meal decisions, so MLA aims to increase their knowledge and use of quality red meat," Sam said.
Sam and Kelly joined forces with cruise chefs onboard the Pacific Explorer to present 12 innovative recipes using Australian red meat, serving up to 2.5 tonnes of beef and lamb to 2,500 passengers during the four-day cruise.
MSA know-how
The workshop gave culinary and restaurant staff basic butchery skills to build their awareness of MSA and carcase utilisation, as well as the chance to try new recipes using secondary red meat cuts.
"We usually deliver workshops for chefs who then take the menu inspirations back to their own kitchens, but on this cruise, we worked alongside the culinary team," Kelly said.
"Using the MSA model we know that in conjunction with the right days' ageing and recommended cooking method, MSA graded four-star product, will eat like a four-star product, regardless of where on the body the cut came from.
"By focusing on the predicted eating quality outcome and recommended cook method, P&O are able to take out the guesswork of buying red meat for their procurement team, reduce costs and still guarantee an eating experience that will meet their consumers' expectations."
MSA accurately predicts the eating quality of 169 individual beef cuts and provides up to eight recommended cooking methods including roast, casserole, stir-fry, thin slice, grill, shabu shabu, yakiniku and corn.
Dining out to sea
Here are some insights into what it takes to feed cruise passengers:
The three ships in P&O's fleet (Pacific Explorer, Pacific Aria and Pacific Dawn), serve on average 37,000 meals a day to guests.
In 2019, 350 tonnes of beef and 80 tonnes of lamb were consumed on P&O Australia's three ships
Daily consumption of red meat on the Pacific Exploreralone is around 400kg of beef and 80kg of lamb, depending on the menu.
Australian red meat makes up 25–30% of cruise menus, and according to MLA insights, 'red meat and veg' remains to be domestic consumers' favourite meal.
The Pacific Explorer serves 15,000 meals a day, in 20 restaurants and food outlets, for up to 2,400 guests and 960 crew, staff and officers.
There are 120 chefs, including bakers, butchers and pastry chefs and 50 kitchen hands, plus 150 restaurant staff.
P&O Australia's Corporate Executive Chef Uwe Stiefel said factors such as cut and cooking method are an important part of menu development on cruises.
"Purchases for cruise ships take months to plan and include a food tender process, product sourcing and testing as well menu development," he said.
"For example, the grocery list for the Explorer has up to 1,400 different food items, so thorough planning is vital to make sure that by the time the ship sets sail, nothing is forgotten and the products are of the right quantity and quality."
He said the new red meat dishes needed to be easily replicated across thousands of meals, using economic cuts such as beef brisket, beef cheeks, beef blade, lamb leg and lamb shoulder and using cooking methods such as slow braising to maximise yield.
"Having had Sam and Kelly onboard the cruise was an exceptional experience for the culinary and restaurant teams – they learned a lot, including tips and cooking techniques and useful insights about Australian red meat especially the selected cuts we focused on during the voyage," Uwe said.
What's for dinner?
As a result of the MLA culinary immersion, the menu on the Pacific Explorer's on-board restaurant, The Pantry, now features:
slow-cooked Texan BBQ beef brisket
Adobo-style beef cheeks
Philly steak cheese sandwich
Korean Bao beef buns
Beef cheeks Bourguignon
Sichuan-style lamb leg
Harissa lamb shoulder
Vietnamese beef and herb salad with tamarind.