Back to

News & Events
Heifers going to feeder buyers
Key points:
Heifer yardings have been increasing steadily this year as calves born in the rebuild reach the market.
The number of sales going to feeders has risen as well as the premiums paid over restockers in the last seven months.
As more supply hits the market and restocker demand continues to soften, feeders will be able to purchase heifers more readily than they have in the past three years.


Heifer yardings through the saleyards declined significantly after the break of the drought when the cattle rebuild began. During the successive La Niña weather conditions, restocking demand was very high with tight supply as producers held breeding heifers on farm. A change in the season and a movement to a growth phase of the herd in 2023 has seen the number of heifers through the saleyards increasing again.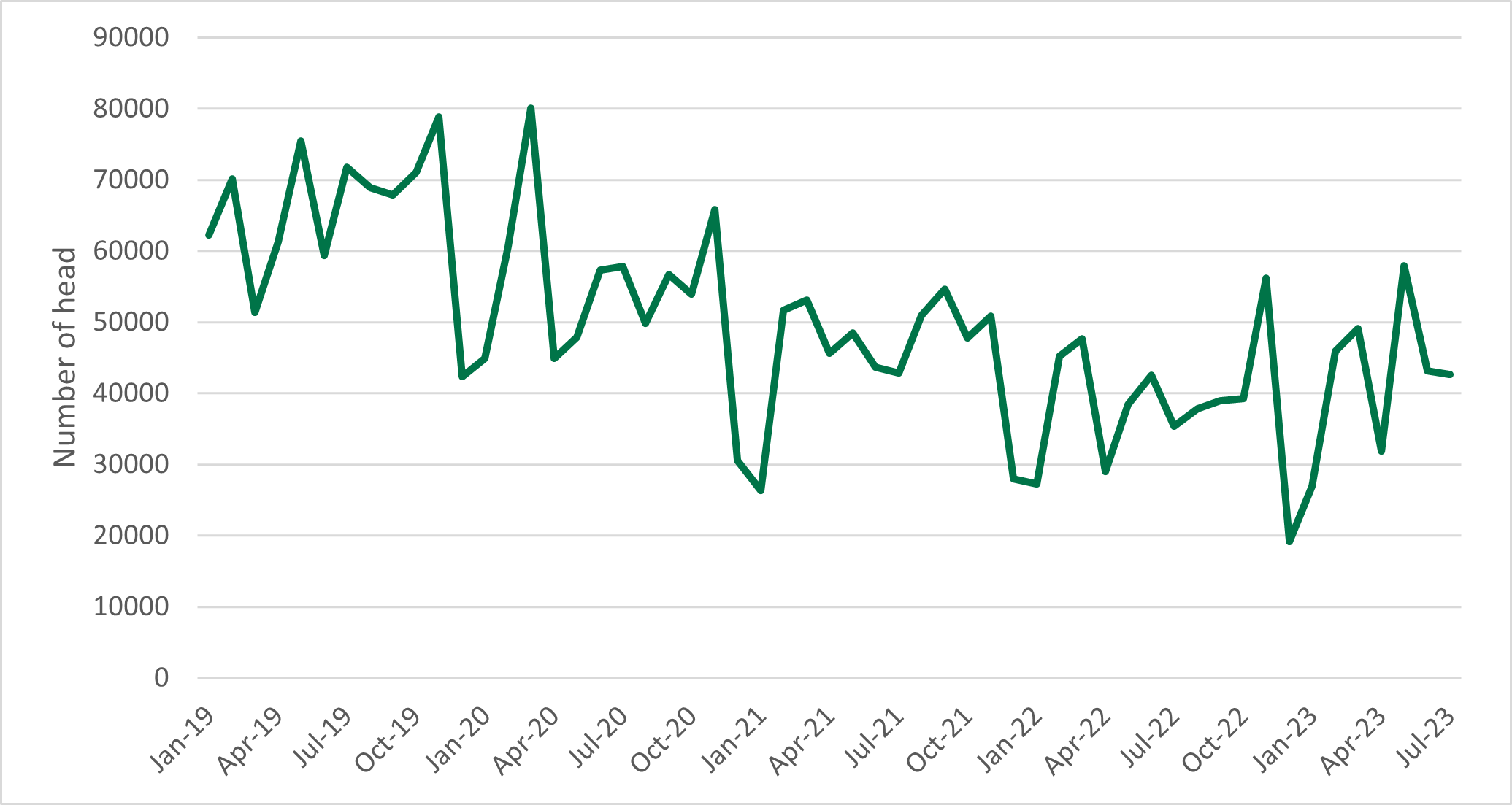 Figure 1: Heifer yardings
Year-to-date, the number of heifers yarded this year has increased by 13.5% or 36,046 head. Dampened restocker demand in many cattle producing regions due to expected seasonal changes and a sentiment of adequate numbers on-farm are driving this increase.
What is interesting is the type of buyers that are currently purchasing heifers at the saleyard and the prices they are willing to pay.
The restocker yearling heifer indicator gives an indication of what restockers are paying for heifers or future breeders. This indicator only includes restocker buyers but a look at all sale prefixes can show where these heifers are going as numbers increase.
In the last few years, the number of heifers going to restockers has been consistently greater than the numbers going to feeders and processors, as expected during the rebuild. At this time, restockers were willing to pay more to increase breeding numbers on-farm.
This year however, the number of heifers going to feeders has risen and, in some cases, overtaken restocker numbers. Generally, feeders look for steers to background or finish on grain before processing.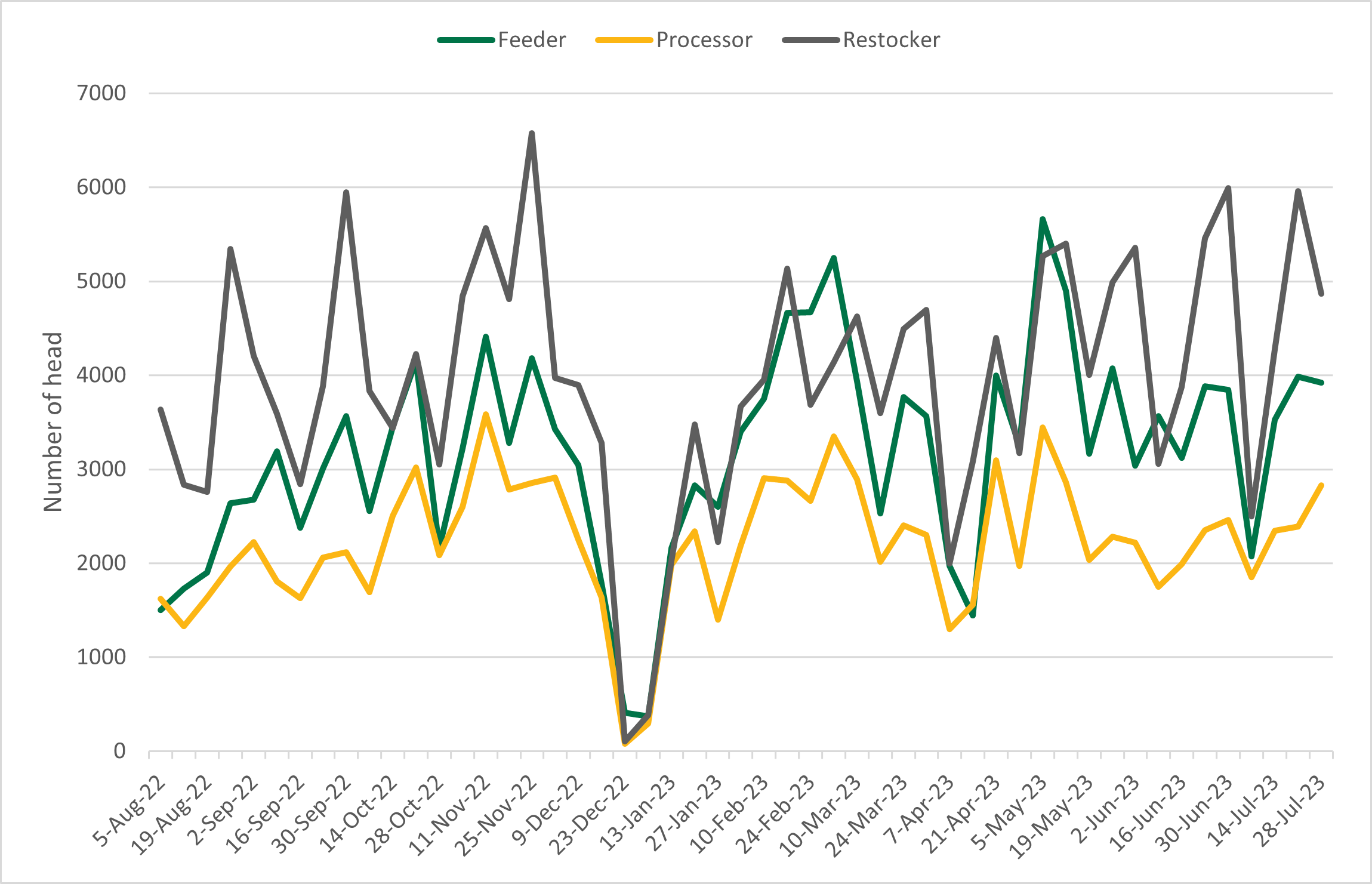 Figure 2: Yardings by sale prefix
Prices have come back for heifers across all buyer prefixes, but the premiums have changed since last year. When restocker demand was strong, the premiums that restockers were paying for heifers reached over 90¢ at the beginning of 2022. Now, feeders and processors are consistently paying a premium over restockers in a much softer market.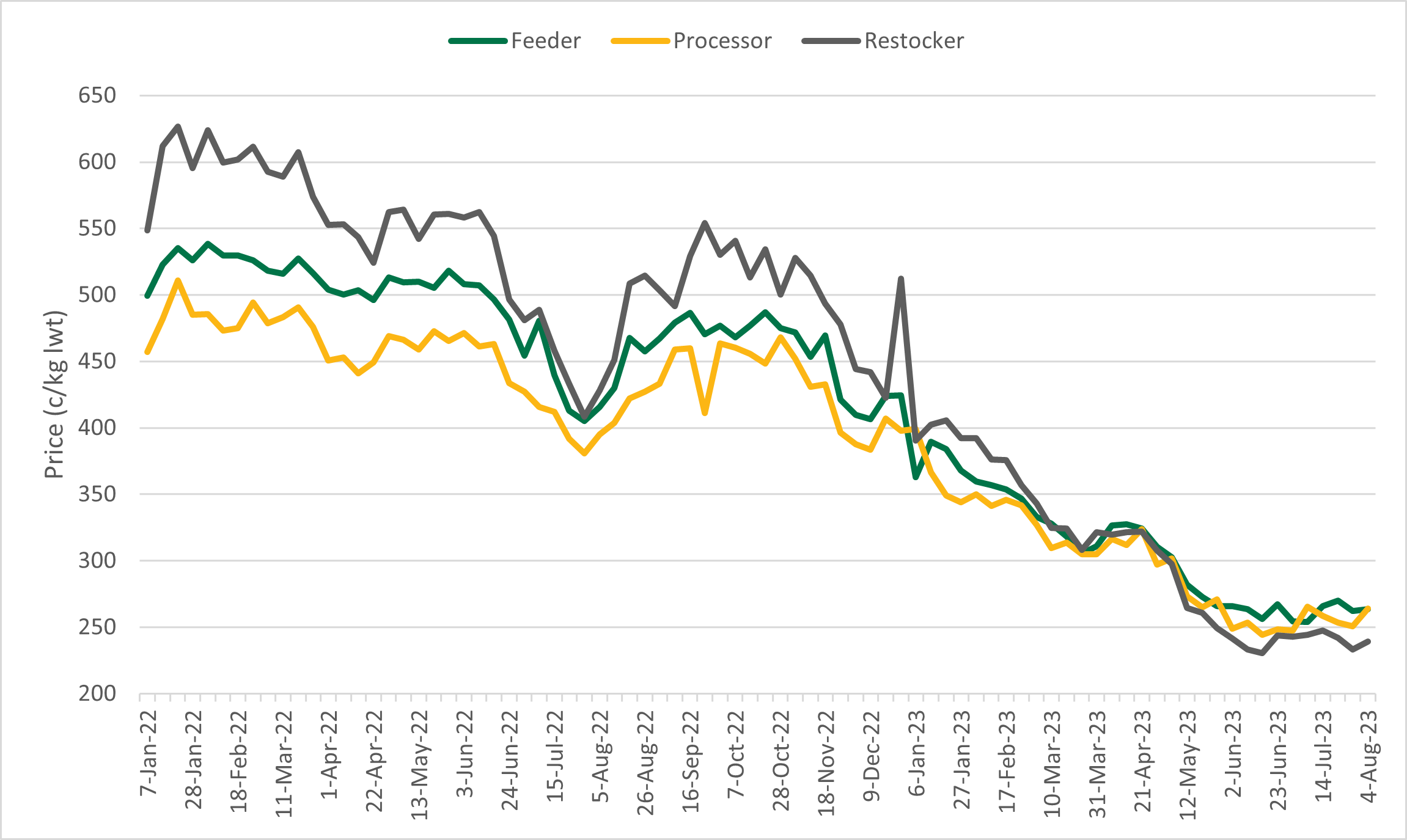 Figure 3: Heifer prices
This is due to an increase in the supply moving through the saleyards and less demand. Buyer activity from feeders has picked up in some saleyards as the price for cattle has bounced back. Not having to compete with restockers has allowed them to purchase stock more easily and at a more affordable price.
The supply of heifers hitting the market is expected to continue as calves born during the rebuild reach saleable weights. Many producers have reached adequate stocking densities and are not looking to increase heifer numbers further, relying on their current supplies to maintain herds.
Feeders can buy up these cattle, add additional kilograms and resell into a market that is paying for weight and condition. During the rebuild, feeder buyers were paying very high prices for cattle as supply tightened. Now, they can afford to be pickier with their purchases and utilise other cattle in the market, not just steers.