Back to

News & Events
MLA stands with Wuhan
12 March 2020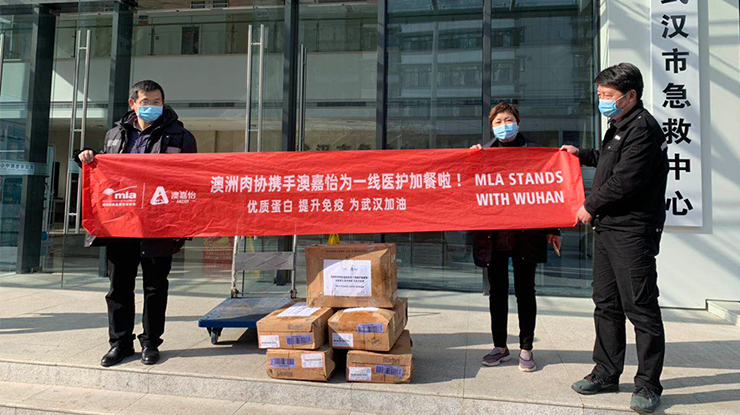 Amid the global battle to contain the coronavirus, an MLA China initiative has seen Australian beef fuel medical staff at the epicentre of the COVID-19 outbreak in Wuhan.
MLA's Shanghai-based Country Manager – Greater China, Joe Zhu, explains the 'MLA Stands With Wuhan' initiative.
Q: What is the 'MLA Stands With Wuhan' initiative?
A: MLA China collaborated with Wuhan-based Australian beef importer, ANZJoy International, on 28–29 February to launch the 'MLA Stands With Wuhan' initiative to support frontline medical staff in the city.
With the local assistance from ANZJoy, MLA delivered two tonnes of Australian beef to a total of eight hospitals, supplementing a power meal to 11,570 medical staff.
The initiative has received widespread media coverage, with 23 articles published across a range of channels including online and social media platforms, generating more than 301 million impressions to date.
Q: What prompted the initiative?
A: We've obviously been watching developments in Wuhan but also across China very closely. Not only is it a humanitarian disaster, but it will impact our industry significantly.
Dr Zhong Nanshan, who is very famous in China and is leading a government-appointed panel of experts to help control the coronavirus outbreak, made a statement that hit the headlines and inspired us.
He had noticed a delegation from Inner Mongolia who had visited Wuhan, later tested negative to COVID-19. Dr Zhong made the comment that having eaten beef and lamb must have had a positive impact on the delegation's immune system.
When that statement hit the headlines, we thought we should capture that message and at the same time, show our support to the medical staff, who are really the soldiers at the frontline of this battle. More than 3,300 healthcare workers have contracted coronavirus in mainland China.
On top of that, we were planning to do a collaboration ANZJoy in Wuhan but couldn't proceed because of the coronavirus situation.
Q: What were the logistics involved?
A: Fortunately, the distributor was already in Wuhan with the meat in their warehouse. Otherwise, we wouldn't have been able to access Wuhan as it's in lockdown.
Because it's a fresh product, we couldn't give the beef directly to hospital staff, so we had to go through the supply chain, through the catering company for the hospital system.
We selected eight hospitals which are right at the epicentre of dealing with coronavirus and supplied it to the catering company for the hospital canteens. At the same time, we made sure the supply could work in with their meal plans.
The impact of the coronavirus on the red meat business is huge – 50% of the beef consumption in China is from foodservice, which has obviously been hit hard by coronavirus.