Back to

News & Events
New Spring Lamb campaign Shares the Lamb with Aussie legends
07 September 2020
Meat & Livestock Australia's (MLA) Spring Lamb campaign has launched with a new content series which aims to demonstrate the ease and versatility of cooking with lamb by celebrating local Aussie heroes with renowned Aussie chefs cooking them legendary lamb meals to say thanks for their inspiring work.
The Lamb Legends series kicks off with a three-part video series, where top chefs – MasterChef star Hayden Quinn, Mr Wong legend Dan Hong and Three Blue Ducks chef Darren Robertson – say thanks to a deserving legend with a tasty lamb meal.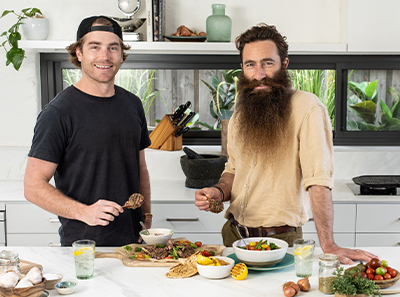 MLA Domestic Market Manager, Graeme Yardy said the Lamb Legends campaign demonstrates the everyday ease and versatility of Australian lamb whilst encouraging Aussies to cook and share a lamb dish with a legend in their own lives.
"At a time when we need it most, the series highlights the positive impact of connecting and sharing a delicious lamb meal with others," Mr Yardy said.
"The feel-good campaign showcases inspiring legendary stories shared over a quick and easy lamb dish that can be easily prepared at home.
"In order to meet the needs of the evolving consumer during the COVID-19 period, the campaign will provide simple and practical cooking information in an engaging and inspiring way through relevant digital channels. The series aims to build confidence amongst consumers to cook with lamb and increase lamb meal consumption through a range of diverse cuts and cuisines."
Utilising the 'Share the Lamb' platform, the six-week Spring campaign will appear across digital video, on demand TV video broadcast, YouTube and social channels. Retailers will be promoting Australian Lamb through various in-store and catalogue activities.
A social competition will drive audience engagement with a chance to win a personal online cooking tutorial with Merivale Head Chef, Dan Hong.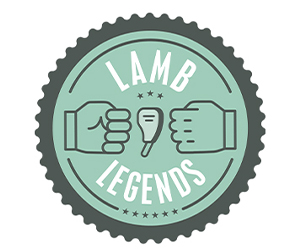 Lamb Legends Spring series features:
Hayden Quinn treats his mate, Jimmy Niggles, to a plate of Mediterranean Lamb Cutlets. Founder of Beard Season, a charity that encourages skin checks to combat melanoma, Jimmy was inspired to start the movement after the tragic loss of a friend to melanoma. Having grown up on a lamb farm, Jimmy knows the importance of a yarn over the BBQ and uses his famous beard to start conversations and spread awareness. Growing up in the surf, Hayden understands the value of early melanoma detection; "We're the sunburnt country, so to be able to spread the word about getting skin checks and saving lives is pretty amazing – and I wanted to say a big thanks to Jimmy for all the work he's done."
Byron chef Darren Robertson cooks a delicious Spiced Butterflied Lamb Leg for environmental entrepreneur, Pete Ceglinski. Having been around the ocean his entire life, in 2014, Pete began a mission to free oceans of pollution. He founded the Seabin Project, a revolutionary method of cleaning up oceans with a floating bin designed to catch rubbish, oil, fuel, detergent and micro plastics. Darren says, "Pete is definitely a legend that deserves some love. He's someone making genuine change to the environment around us. It's amazing."
Merivale Executive Head Chef, Dan Hong, treats Colombo Social co-founder, Shaun Christie-David, to his famous Grilled Lamb Forequarter Chops. Enmore based social enterprise eatery, Colombo Social, supports immigrants, providing employment opportunities and supporting their integration into Australia. "I'm in awe of what Shaun does for everyone, for the community, for asylum seekers, for refugees. It's a small gesture to cook up some lamb chops for Shaun, but it's nice to give back to someone who gives so much," Dan said.
To watch the spring component of the Lamb Legends series visit www.australianlamb.com.au/lamblegends.