Back to

News & Events
Rumen modifiers: what combination should you use?
27 April 2020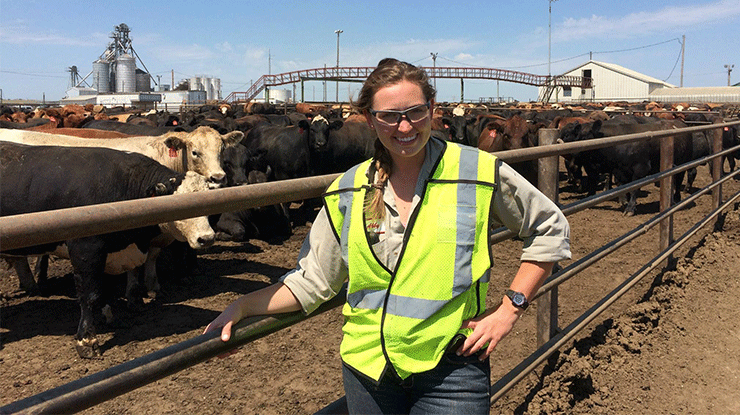 Key points:
Rumen modifiers (feed additives) have an extremely important part to play in protecting grainfed cattle from rumen acidosis. They also help to maximise feed use efficiency.
The combination of Monensin and Lasalocid was found to be the most advantageous in the fight against rumen acidosis in fermentation studies.
While modifier inclusions didn't affect daily feed intake, steers receiving Monensin alone were more feed efficient than cattle on Lasalocid alone or daily rotation of ionophores.
The impacts of combining or rotating rumen modifiers on the performance/carcase attributes of feedlot cattle have been examined in a recent research project. Check out the key findings below.
Rumen modifiers (feed additives) have a pivotal role in protecting feedlot cattle from rumen acidosis and in maximising feed use efficiency.
With few new rumen modifiers in the pipeline, the Australian feedlot industry is developing new management strategies to get better performance out of existing rumen modifiers.
Research trials funded by MLA in consultation with the Australian Lot Feeders' Association (ALFA), have recently evaluated performance responses to the combination or rotation of different rumen modifiers in grainfed cattle.
Protecting against rumen acidosis
Taking place at the University of New England's Tullimba feedlot, this project was motivated by recent Canadian research which saw the use of rumen modifiers and the daily rotation of Monensin and Lasalocid result in a 4.8% increase in growth rate and a 2.7% increase in gain to feed.
Led by Professor Roger Hegarty, the research team conducted initial studies evaluating fermentation effects of combining or rotating Monensin with Lasalocid or Bambermycin, and then completed a major grow-out trial of 450 head.
The team compared growth, efficiency and carcase attributes of providing Monensin alone, Lasalocid alone or Monensin and Lasalocid in daily rotation.
"Monensin and Lasalocid are both ionophore-type antimicrobials. While they're not used in human medicine and the World Health Organization doesn't include them as critical antibiotics, they're used widely in Australian feedlots," Roger said.
"A greater understanding of possible synergies could identify new feeding possibilities, while respecting the Antimicrobial Stewardship Guidelines for the Australian Cattle Feedlot Industry."
The initial study showed preferential fermentation responses to the pairing of Monensin with Lasalocid, compared to pairing with Bambermycin. Advantages were seen in:
higher pre and post feeding rumen pH
lower acetate and ammonia concentrations in the rumen.
Roger said while differences in rumen fermentation between the modifier combinations and daily rotations were small, the most advantageous combination for avoiding rumen acidosis was Monensin and Lasalocid.
Measuring cattle performance
The pairing of Monensin and Lasalocid was also evaluated for cattle performance responses, with 15 pens comprising 10 head/pen offered either Monensin alone, Lasalocid alone or each modifier on alternate days in rotation," he said.
University of New England Graduate Student Research Assistant, Abigail Nortrup from Nebraska, US, conducted the research as part of her PhD program and said the team interfered with the cattle as little as possible in order to replicate commercial conditions.
"By working with MLA's Dr Joe McMeniman, we settled on a 'top end' finisher ration based on tempered barley and providing 13.7MJ ME/kg DM and 13.5% CP," Abigail said.
Across all treatments, the performance of the largely British and British/Euro cross cattle was excellent, with average growth rates of 2.5kg/day and feed to gain (kg feed dry matter eaten: kg of gain) of 4.45:1.
"We were impressed by the performance of the cattle, but this high baseline may have contributed to finding few effects of modifier treatment on performance," Abigail said.
"In the Canadian study, cattle idled along gaining 1.69kg/day over 109 days. Rotating Lasalocid and Monensin improved growth by 0.08kg/day.
"In our study, even the 'Monensin alone' group grew at 2.57kg/day over 109 days (being close to the animal's genetic potential), so there wasn't great scope to see improvement to that via modifier change."
While modifier inclusions didn't affect daily feed intake, steers receiving Monensin alone were more feed efficient than cattle on Lasalocid alone or rotated ionophores, having a lower feed:gain ratio and tending to grow a little faster.
Roger said the team didn't see any advantage from moving beyond a single rumen modifier in this high-performance feeding environment.
"Certainly, we saw no differences in rumen pH during finishing or in faecal starch percentage with modifier treatment," Roger said.
Similarly, use of Lasalocid or the Monensin/Lasalocid rotation didn't affect carcase weight, fatness or value compared to when Monensin alone was provided.
"This study was exploring whether modifier rotation offered a new opportunity to a feedlot already embracing best practice and achieving high growth and feed efficiency.
"At this stage, we recognise modifier rotation has been advantageous when performance is moderate (as part of a package to improve overall nutritional management), but we don't see ionophore rotation as 'pushing back the upper boundary' of performance at yards already performing strongly," Roger said.