Back to

News & Events
Summer Lamb campaign encourages Australians to leave their screens and reconnect face-to-face with Lamb
Meat & Livestock Australia's (MLA) annual summer campaign for Australian Lamb has launched, urging Aussies to look up from their screens and share the Lamb.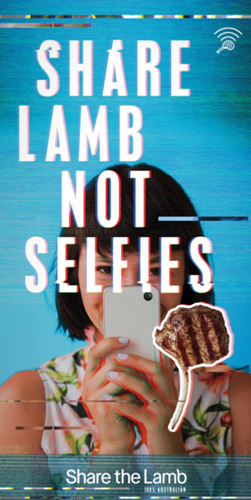 The integrated campaign utilises the 'Share the Lamb' brand platform and sets out to remind a tech-obsessed nation, distracted by their phones, screens and social media, to seek out real life connection and unite over delicious Aussie Lamb.
In the satirical 'Lambalytica' ad we see an elite team disrupting people's devices to bring them together face-to-face. From a couple who spend more time looking at their phones than each other, to a teenage gamer glued to the TV, 'Lambalytica' taps into the phones of unsuspecting Aussies and unites them over an epic Lamb barbie.
MLA Domestic Market Manager, Graeme Yardy, said this year's campaign will again build on a topical issue while showcasing our quality Aussie Lamb.
"As a brand, Australian Lamb is famous for unity. In this digital age, we wanted to show how Lamb could disrupt social media, peel people away from their screens and get them together over a tasty meal," Mr Yardy said.
"Our consumer insights show us Lamb is the meal that Australians love to come together over and share. The campaign is focussed on reminding consumers of the great opportunities to enjoy high quality Lamb with family and friends this summer.
"The integrated campaign has been designed to support continued strong sales for Lamb and ultimately provide strong returns for Australian Lamb producers."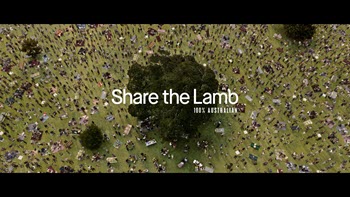 The ad aired on free-to-air TV and Foxtel last night and the campaign will be pushed out across digital, social media and radio. The broader campaign will include content across national media partners Southern Cross Austereo (SCA) and Taste.com.au who will support the campaign across multiple channels, encouraging Aussies to get together and cook some tasty Lamb.
This year, MLA has partnered with SCA and Hit Network's Carrie and Tommy, who will bring the 'Lambalytica' idea to life on-air, culminating in an epic Aussie Lamb BBQ, connecting and reuniting people over Lamb.
The broader campaign also includes in-store, product-focused point-of-sale materials, outdoor advertising, digital displays and in-store radio.
Watch the film via the Australian Lamb Facebook and YouTube page or view the content at www.australianlamb.com.au.
---
Photo caption 1: One of the digital displays from MLA's annual summer campaign for Australian Lamb.

Photo caption 2: The satirical 'Lambalytica' ad taps into the phones of unsuspecting Aussies and unites them over an epic Lamb barbie.