Back to

News & Events
Vets and producers unite to tackle goat health
25 August 2020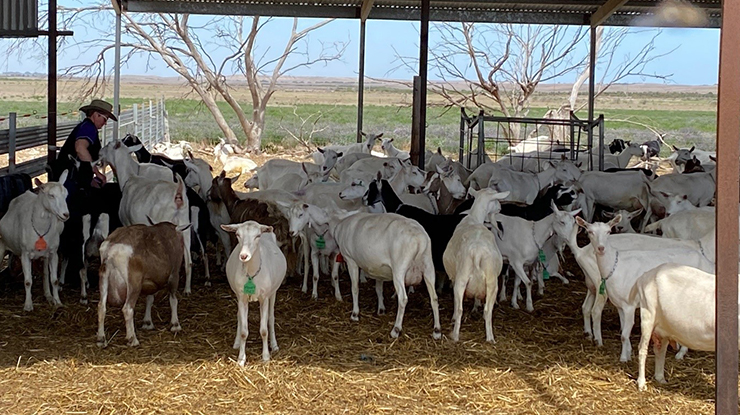 Adult milkers at Idealview Goat Dairy as seen by Goat Health & Production Day attendees.
Key points:
Goat health and biosecurity issues were a key focus at the goat workshop.
The Goat Health and Production Day was an initiative of the FMD Ready Project's Goat Innovation Platform pilot group.
The FMD Ready Project aims to strengthen preparedness for an emergency animal disease outbreak and facilitate an earlier return to trade for Australia following control of such a disease, using FMD as a model.
Goat producers and industry stakeholders had the opportunity to boost their skills in goat health and biosecurity at an on-farm Goat Health and Production Day in SA earlier this year.
Hosted in February by John and Bec Falkenhagen, Idealview Goat Dairy, the workshop was an initiative of the FMD Ready Project's* Goat Innovation Platform pilot group, a producer-led group exploring livestock surveillance and biosecurity on-farm.
Goat producers, industry representatives, vets from private practice, representatives from government and research institutes, and veterinary students were among the 21 participants at the workshop.
Dr Barton Loechel, CSIRO research scientist and leader of the FMD Ready Project's Goat Innovation Platform pilot group, facilitated the day.
The workshop featured several informative presentations which included:
an industry overview from John Falkenhagen, President of the Goat Industry Council of Australia
a review of significant exotic diseases from Dr Celia Dickason
a summary of goat endemic disease reporting by Dr Jeremy Rogers
worm control and vaccination from Dr Colin Trengove
a review of mycoplasma by Dr Rob Paterson
nutrition for a high producing goat herd by Anthony Pearce of Hills Farm Supplies.
Anthony Pearce's presentation was a standout for the group, providing a refreshing account of evolving nutritional advice based on the dairy industry, to suit the specific needs of a leading goat dairy.
After the presentations, workshop participants were treated to a tour of the kid and weanling shed, the 500-head adult milking herd and dairy.
The workshop was an engaging and practical way for attendees to access a comprehensive overview of the goat industry and health issues, and reflect on the promising outlook for goat milk, meat and live export.
Vigilance essential
While there are a number of opportunities for Australia's goat industry, the group agreed that vigilance is required against a number of endemic diseases, such as caprine arthritis encephalitis, Q fever, Johne's disease and mycoplasma.
The attendees recognised a need for a shift in mindset about biosecurity to increase the awareness of exotic disease risks, in order to minimise the chance of an incursion.