Back to

News & Events
Weekly cattle and sheep market wrap
23 September 2021
Key points:
The Eastern Young Cattle Indicator (EYCI) rolls on, hitting 1,033c/kg cwt on Tuesday 21 September, breaking the record it set on
25 August
Sheep supply in 2021 is operating 169,000 head stronger than 2020 levels as national flock growth takes shape
Strong increases in young lamb yardings from Ballarat and Horsham indicate the spring flush in Victoria may have started


Queensland restockers
In the cattle market this week, cattle supplied and purchased by restockers in Queensland saleyards have increased significantly as premiums for restocker types continue to rise.
At the Roma store sale on Tuesday, restockers purchased 52% of the offering, or 2,920 head – an increase of 1,113 head on the previous month and 206 head in a week. This supply increase did little to dampen demand, with the average restocker price lifting by 16c/kg cwt week-on-week under the EYCI rolling average for Roma.
It was this dominance from Roma that drove the EYCI to break its previous record set on 25 August, reaching 1,033c/kg cwt on Tuesday 21 September.
With a very favourable three-month outlook for several cattle regions throughout Queensland, the potential to secure stock may have induced a grass fever scenario for buyers at the Queensland saleyards.
Seasonal sheep supply fluctuations
In year-to-date terms, mutton saleyard supply in 2021 is 18% softer, or 258,000 head less, compared with the five-year average. However, when compared with 2020, the current yarding volumes are operating 11% stronger, or 169,000 head more. This shows the immense value producers were placing on retaining female sheep during 2020 to rebuild flock numbers.
While sheep-producing regions have arguably experienced stronger seasons in 2021 and a large lamb cohort delivering future breeding females than in 2020, analysis demonstrates the national flock has moved beyond its rebuilding phase for the most part and growing flock numbers is now occurring.
Seasonal supply is not just exclusive to lambs, with sheep also experiencing supply shifts driven by the spring lamb flush (see graph below). It is evident that in each of the past four years, during the months of the spring flush sheep supply has also seen a large uptick (green graph line).
From a production perspective, as producers wean and turn-off lambs, those ewes removed from the flock post weaning also are pushed onto the market.
The current spread between the average mutton price and supply volumes has not been larger in five years, driven by insatiable demand internationally and the flock growth, which are both motivators for producers to retain stock to grow numbers.
Looking ahead
With current market conditions for mutton remaining buoyant, there is strong potential for an uptick in supply over the last three months of the year to capitalise on favourable selling conditions.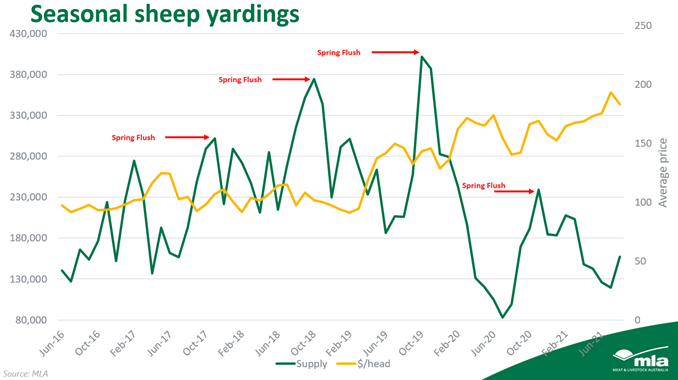 Victorian spring flush comes online
Victorian new season lamb supply in recent weeks has been isolated to Bendigo, which has delivered most of the supply.
This week, Ballarat and Horsham young lamb yardings lifted 50% and 20%, or 2,296 and 637 head, respectively. These are the first signs that the spring flush is beginning in Victoria.
Traditionally, the Victorian new season flush starts and peaks later than NSW (see graph below), which is expected due to different climates resulting in altered production management.
As was discussed in last week's article, the lamb supply lull recently experienced is not uncommon and traditionally indicates the spring flush properly begins in the weeks after supply softens. Due to the large volume of lambs expected in coming months this year, a period of hot, dry weather may induce the spring flush earlier than usually seen for Victoria.