Back to

News & Events
When Curtis Stone headed west
Production from Annabelle Coppin's Yarrie Station in WA's Pilbara results in about three million meals for domestic and export consumers a year.
Curtis Stone is a chef in charge of two US-based restaurants which both serve Australian beef, and food media enterprises which influence how and what consumers are eating.
When Curtis paid Annabelle and her 5,000 head of cattle a visit recently while filming his new television series focused on produce from WA, it was a two-way street of learning from each end of the beef supply chain.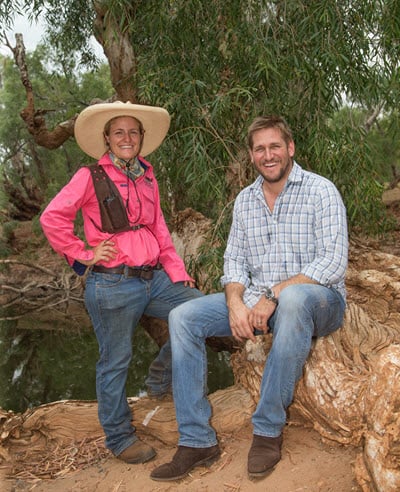 MLA supported the 'Field Trip with Curtis Stone' by connecting Curtis and his team to producers to illustrate the quality of Australian beef and the on-farm stories behind its production. He also visited Stuart McCormack's coastal beef farm south of Perth.
Coppin's Station is 140km from Marble Bar and 250km from Port Hedland and encompasses 250,000ha (with a further 1,300ha in WA's mid-west, leased by Annabelle from her parents).
Here Friday Feedback talks to fifth generation producer Annabelle about Curtis's visit.
1. Why is it important that producers share their story with food influencers like Curtis Stone?
As food producers we must be connected with the whole supply chain – it doesn't stop at our gate. If we think it does stop there, we won't have a future.
There are many reasons for this, a big one being product integrity and feedback. Our story will also sell our beef and our social licence is of growing importance. Beef is a competitive market so we must stay ahead of our game globally.
2. What did you learn from Curtis? What was he interested in?
He's passionate and supportive of Australian beef. He loved the story of our beef and the natural mineral-style flavour.
Curtis was also interested in the country and how we live our life.
It's such a great thing to have a prominent bloke like him be genuinely interested in the beef industry and where his product is from. We need more of this.
I also learned he needs to learn how to wear a hat and drive a manual car again (ha ha).
More information:
Annabelle Coppin
Email: annabelle@yarriestation.com
Learn more about Yarrie Station on Central Station.