Back to

Prices & Markets
Subscribe to Prices & Markets e-newsletter
For in-depth red meat market news, information and analysis.
SIGN UP
EYCI loses momentum but still at eye-watering high
11 February 2021
Key points:
Highest weekly throughput since November 2019 at 18,592 head
Producers capitalise on demand for young cattle
Heavier feeder cattle make up 32% of EYCI yardings
Large shifts in supply aren't reflecting significant changes to price.
Despite an expectation that cattle supplies will continue to tighten in 2021, the Eastern Young Cattle Indicator (EYCI) experienced its highest throughput in just over 12 months for the week ending Thursday 4 February 2021. 18,592 EYCI-eligible cattle were sold through MLA reported saleyards, well above average January levels in 2020, at 10,545 head. The return of many key saleyards after the Australia Day public holiday has resulted in more cattle being offered as producers look to capitalise on red hot prices.
The bulk of cattle sold offers a truer reflection of the market, further highlighting the strength of young cattle prices. When the indicator hit its current record of 888.25¢/kg carcase weight (cwt) two weeks ago, 6,615 head of cattle went through for the week, a third of the current level. In that two-week period to now, the EYCI has eased just 13¢/kg cwt. This highlights that large shifts in supply aren't having a significant impact on price given the current high levels, reinforcing that there is strong buyer intent within the supply chain to attain a market share.
Restockers continue to drive the premium for young cattle. As can be seen in the graph below, the price restockers are willing to pay for young cattle directly mirrors fluctuations to the EYCI. The restocker margin widened in January to break away from feeders and processors, but has started to realign again recently.
Upwards pressure on price continues to be predominantly fuelled by restocker demand out of southern Queensland yards, with cattle still heading south to fill grass-heavy paddocks.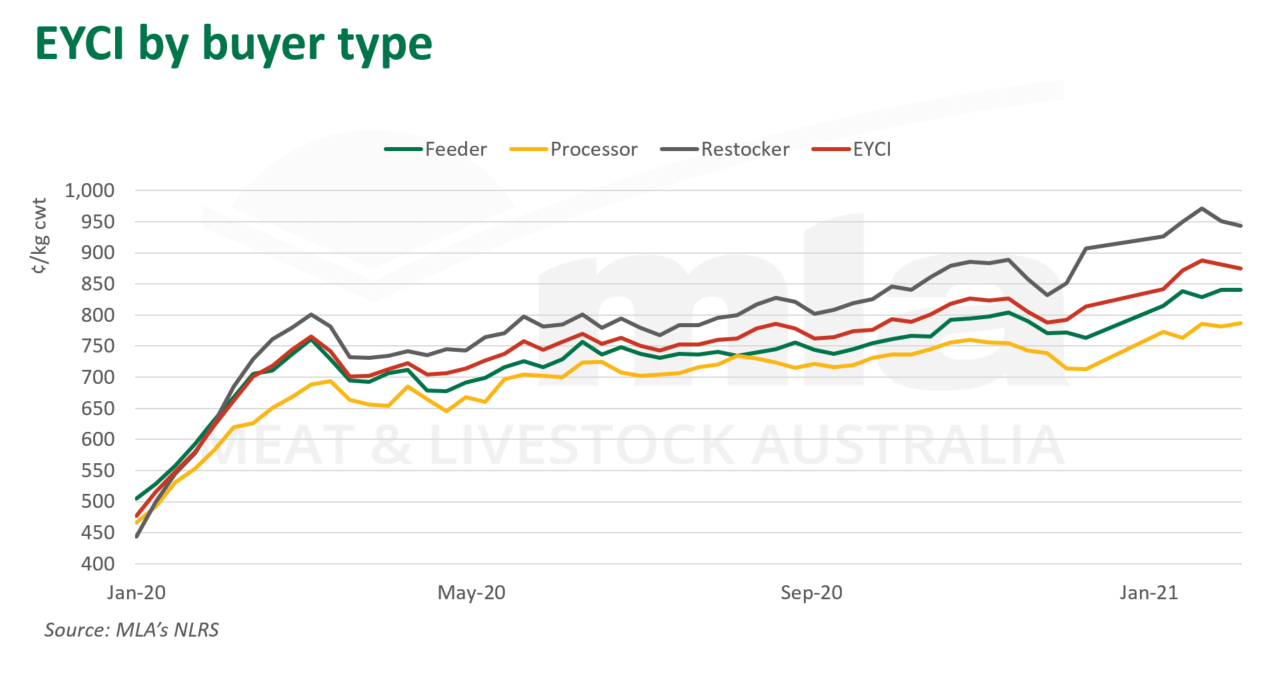 The recent underlying EYCI data also shows a greater number of heavier cattle destined for feedlots coming forward in recent weeks. Last week, the 400kg+ category made up 32% of EYCI-eligible cattle, with feeders buying 87% of these cattle. Key southern New South Wales yards are contributing to the increase, along with southern Queensland, with the higher proportion of heavier cattle contributing to the EYCI losing momentum.
© Meat & Livestock Australia Limited, 2021