Performance recording the key
Location: Mortlake, Western Victoria
Enterprise: Angus seedstock producer
Producer: Tom and Lucy Gubbins, Hamish and Amanda McFarlane
Pasture type: Phalaris, sub clover, rye grass, white clover
Property name: Merrang
Property size: 2,700 ha
Average herd: 1,500 stud cows
Rainfall: 600mm
Target markets: Commercial cattle breeders
Tom and Lucy Gubbins, together with Hamish and Amanda McFarlane, are the latest generation of the Te Mania vanguard which was established in New Zealand in 1928 and introduced to Australia in 1971. Together with a team of dedicated staff, they aim to make the most of the genetic tools available to the cattle breeding industry to produce Angus bulls that meet the needs of commercial producers, the broader beef industry supply chain and ultimately, consumers. Central to this ambition is performance recording.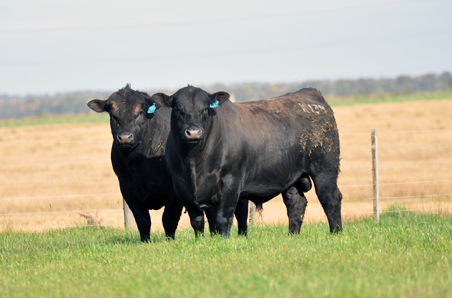 All about the data
How an animal performs, or its phenotype, is a product of genetics and environment. Tom Gubbins, Director and Farm Manager at Te Mania, believes it is important to cut through the environmental interference to gain an idea of an animal's true genetic merit. Once this is known, selection decisions can be made in response to market signals to produce bulls capable of delivering a greater return to commercial producers.
"Most of the visible variation in a contemporary group is due to feed management and the environment. This is the reason we use Estimated Breeding Values (EBVs) so that our selection is based more on the animal's genes, which are passed down through the generations, rather than all the other environmental factors which are not," Tom said.
"A commercial beef producer's ultimate goal is to improve their profitability. To do this, they should select EBVs that complement their specific breeding objectives. These objectives are formed by the target market of the producer and the environment they farm in.
"For example, if a beef producer is aiming to produce a grass finished product, they should probably look for a bull with the best possible $Index for the Heavy Grass Index to use over their herd. This bull should of course tick all the boxes for structure and temperament as well."
Bulls are currently being selected for the 2016 joining at Te Mania based on data, with 1,500 stud cows and 400 embryo recipients to be joined between October 15 and Christmas.
"We select the cream of the crop from prior years and statistically mate them to all the cows using the Total Genetic Resource Management software (TGRM)," Tom said.
Candidates are selected on economic merit with bulls and cows with the highest profitability being selected.
Establishing economic merit – Team Te Mania
To improve the accuracy of the data used in making selection decisions, Te Mania engages directly with commercial producers through the Team Te Mania partnership. This partnership facilitates progeny testing and carcase feedback across a much greater base than would be possible through the stud itself.
This data, combined with the data collected from the large contemporary groups under management at Te Mania which comprise up to 300 head per group, allows more reliable estimations of breeding values to be established.
"The carcase records we are receiving through Team Te Mania are giving us valuable information which is helping to increase the accuracy of carcase EBVs. It is also telling us, very specifically, what the profitability of the steers is for the supply chain and what we need to fine tune in our breeding program to make it even more profitable," Tom said.
Advances in technology and data recording, including whole of life traceability and real-time cloud based data transfer, is further reducing lag time and allowing Te Mania to move to the next level.
Key points
Remember what you see in the paddock is a combination of genetics and environment
Understanding genetics and what is passed on is an investment in the future
Understanding the market is important in making selection decisions
Join myMLA today
One username and password for key integrity and information Systems (LPA/NVD, NLIS, MSA & LDL).
A personalised online dashboard that provides news, weather, events and R&D tools relevant to you.
Customised market information and analysis.
Already registered for myMLA?