Back to

News & Events
2019 Nuffield scholars announced
19 September 2018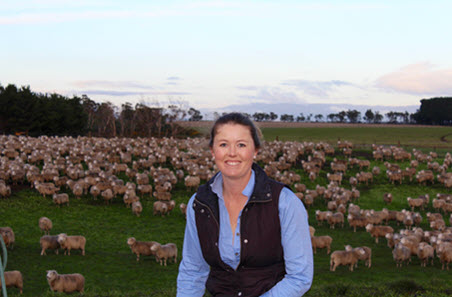 Clare Peltzer from Tasmania has been awarded the MLA-supported Nuffield Farming Scholarship for 2019.
Announced at the Nuffield National Conference Awards Dinner in Melbourne, Clare will receive $30,000 bursaries to travel the globe. She'll be researching how the Australian agriculture sector can attract and retain the talent it needs through better alignment with schools and tailored agricultural education programs.
Chair of Nuffield's Tasmanian State Committee and 2015 Scholar Abby McKibben said the selection of Clare reflects the innovative and future-focused direction of the Tasmanian agriculture industry.
"The Tasmanian agriculture sector is renowned for its innovative and ground-breaking characteristics, and it's exciting to see the selection of two scholars who demonstrate these qualities so clearly," Abby said.
"Clare will be researching topics of great importance to the future sustainability of our industry, and that's a core theme that has run through the Nuffield program for nearly 70 years now."
Joining Clare as a 2019 Nuffield scholar are:
Victoria
• Natasha Shields from Baxter, supported by the William Buckland Foundation, will investigate alternative packaging options and shelf-life outcomes for organic fresh produce in the current drive to minimise the use of plastics in Australia's retail environment.
• Anthony Close from Culla, supported by Australian Wool Innovation, will investigate ways that the Merino can once again become a prominent feature of the Australian farming landscape.
South Australia
• Richard Leask from McLaren Vale, supported by Wine Australia, will research best practice regenerative farming systems across the wine sector to understand how to successfully transition to less chemically intensive models.
• Thomas Green from Tintinara, supported by Rabobank, will research ways to build consumer confidence in intensive agricultural systems through the implementation of best practice in animal welfare.
• Ellen Litchfield from Marree, supported by Westpac Agribusiness, will investigate the impacts of climate change on red meat production and profitability in arid and semi-arid rangelands.
• Andrew Sargent from Crystal Brook, supported by the Grains Research & Development Corporation (GRDC), will investigate how farm sensors and the Internet of Things can improve the efficiency and profitability of cropping and mixed farming enterprises.
NSW
• Christina Kelman from Kemps Creek, supported by Hort Innovation, will investigate ways the Australian horticulture sector can increase outputs while reducing inputs and farming sustainably.
• Thomas Moore from Tenterfield, supported by the Royal Agriculture Society of NSW Foundation (RASF), will investigate innovative housing methods to promote the growth of Australia's free-range egg industry.
Queensland
• Renée Anderson from Emerald, supported by Cotton Australia and the Cotton Research and Development Corporation (CRDC), will investigate management practices that improve the social, environmental and economic sustainability of agriculture, and communicate positive farming practices to consumers.
• Rebecca Comiskey from Eidsvold, supported by The Yulgilbar Foundation, will investigate modern technologies that can be incorporated into beef production systems to increase the rate of genetic gain and enhance key profit drivers such as fertility, market compliance and production efficiencies.
• Kerri-Ann Lamb from Killarney, supported by Hort Innovation, will investigate emerging trends, risks and opportunities in the fresh cut potato, sweet potato, onion and pumpkin market to determine what the industry should be doing now to prepare itself for the future.
• Alistair Corr from Moura, supported collectively by Australian Agricultural Company, Consolidated Pastoral Company, Elders, North Australian Pastoral Company and S. Kidman & Co, will investigate the effect that a range of wellbeing factors before, during and after transport can have on the production value of cattle.
• Tamara Uebergang from Miles, supported by the Sylvia and Charles Viertel Foundation, will investigate alternative fuel sources and energy solutions for Australia's agricultural sector.
Northern Territory
• Frank Miller from Rapid Creek, supported by ANZ and the Northern Territory Government, will investigate ways to realise the optimal value of Northern Australian timber investments.
Western Australia
• Johanna Tomlinson from Kalgan, supported by the CBH Group, will investigate global soil and production management strategies with a focus on how soil acidity has become a significant threat to Western Australia's broadacre industry.
Tasmania
• Jake Newnham from Campania, supported by Woolworths, will investigate how to advance Australian cherry production, most notably post-harvest packaging and handling procedures.