Back to

News & Events
Behind the farm gate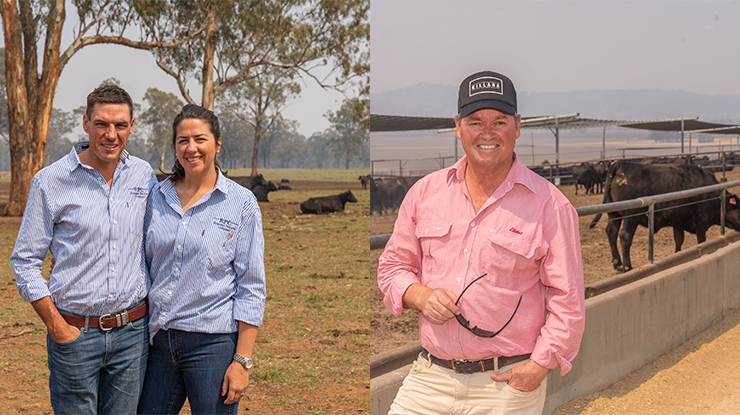 Producers got an inside look into the operations of Romani Pastoral Company's 'Windy Station' and Elders Killara Feedlot when they opened their gates for the Red Meat 2019 producer tours this week.
Romani putting ag-tech to the test
Boosting on-farm efficiencies through the use of digital technology was the focus of the tour to the 21,500ha beef and cropping enterprise, Windy Station, on the Liverpool Plains near Quirindi.
A range of digital service providers gathered in the station's 118-year-old wool shed to showcase the on-farm technology which Romani has partnered with MLA to test over the next three years as part of the Digital Livestock 4.0 pilot project.
Ag-tech – covering everything from remote water and pasture monitoring, weather/climate mapping and animal monitoring to commodity and input management – has been installed across Windy Station and Romani's 9,600ha cattle, sheep and cropping property, 'Garangula', near Harden.
Windy Station Manager David Lee said they were particularly keen to see the impact remote water monitoring will have on reducing the costs of bore running and preventing water loss.
"All of our water is bore water which is pumped to tanks and reticulated back to troughs," David said.
"We spend four days a week monitoring water and the cost of that is about $100,000 a year.
"Then there's the cost if you lose a tank of water from a cow knocking a trough float off and draining a tank of water.
"Through this pilot project, we've installed monitors on every tank and about one-third of the troughs so far at Windy Station. Once we see which solutions are working the best, we'll install more monitors on more of our troughs.
"For us, the pilot project is a great opportunity to test digital technology in a commercial setting and at scale," David said.
Killara: a red meat industry barometer
The sheer logistics of keeping the 20,000-head Elders Killara Feedlot ticking over and the strategies behind its buying and marketing decisions provided plenty of food for thought for producers.
With feeding programs ranging from 70 days through to 150 days or more, Killara feeds out 340 tonnes of feed a day, turning off 1,500 head a week, supplying both domestic and export markets.
About 12,000 of the 20,000 cattle on feed at Killara supply the premium beef brand 'Jack's Creek'.
Elders Killara Feedlot Manager Andrew Talbot, the Killara team and Jack's Creek Managing Director Patrick Warmoll discussed all aspects of the feedlot's operations and what they're looking for when buying cattle from producers, with 100% of cattle bought out of the paddock.
"Killara is an interesting barometer of the vigour of the beef industry, because while a lot of feedlots are owned by vertically integrated companies, Killara isn't. It means that everything we buy, we've got to find a customer for – so all the cattle in the feedlot are already marketed before they get here," Andrew said.
"If our short-fed domestic inventory or long-fed inventory starts to grow, it gives you a gauge as to strength in those different markets."
Killara exports 70% of their beef to international markets including South-East Asia and Europe. The remaining 30% of Killara cattle supply the domestic market, with the feedlot being Woolworths' biggest supplier.
"We purchase Angus heifers for the domestic market. Supply at the moment is plentiful, and we're seeing a lot of good breeder cattle coming forward as a result of the drought. They're fed for 80 days and finish a lot easier than steers," Andrew said.
The business has learnt a lot through the ongoing drought, including reassessing what commodities it utilises in its feed rations as soft commodities became harder to find, and dropping the minimum induction weights of some cattle from 380kg to 350kg.