Back to

News & Events
Bushfire recovery program continuing to support red meat producers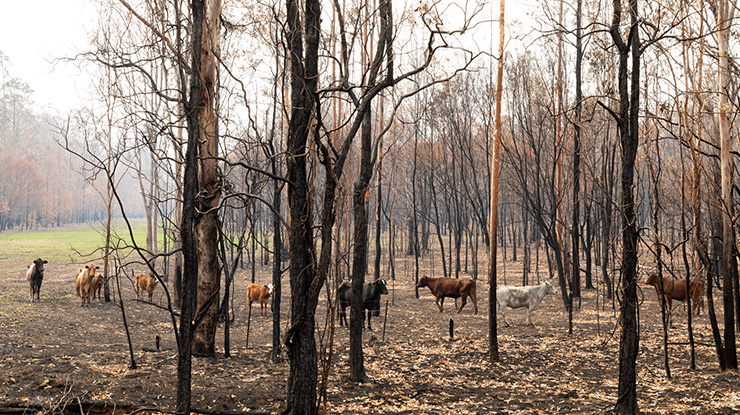 Community groups and organisations that support bushfire-affected red meat producers are being reminded to apply for funding through Meat & Livestock Australia's (MLA) ongoing Bushfire Recovery Sponsorship Program.
Grants of up to $2,500 are available until the end of June for industry events that raise awareness of information and resources that will support producers recovering from bushfires.
MLA Managing Director, Jason Strong, said bushfires across Australia had been devastating for many red meat and livestock producers, and navigating through information while trying to recover can be overwhelming.
"There are so many things to do and think about post bushfire and that's why MLA is continuing to support community groups, councils, departments and other organisations across Australia who hold events to help producers recover," Mr Strong said.
"It's really important that our funding of this initiative also delivers ongoing support for producers to overcome the social impacts of the bushfires through activities and events that will provide wellbeing and social benefits as well as broader recovery and future disaster resilience."
MLA has also made available online a series of free webinars for livestock producers with practical tips to help rebuild as part of its response to the series of extreme weather disasters over recent years that culminated in the national bushfire crisis over the 2019-20 summer period.
"The webinars provide information from experts to help build resilient livestock businesses and provide tools and advice on decision making, rebuilding, and setting business priorities. There is also information on health and wellbeing as well as how to access financial and government assistance," Mr Strong said.
Click here to view the webinars
Principal advisor at RaynerAg, Alistair Rayner, held a 'Back to the Beef Business' event in Cobargo and said it helped bushfire impacted producers look to the future.
"During a really difficult time, the 'Back to the Beef Business' event provided relevant information and resources that enabled producers to navigate a plan going forward," Mr Rayner said.
"We provided producers an opportunity to assess and discuss pasture recovery strategies for cattle production and establish production targets for livestock.
"The event funding from MLA assisted with hiring speakers, toilets, tables and chairs as well as printing materials and covering accommodation costs."