Back to

News & Events
Diversity: the key to a resilient business
03 February 2020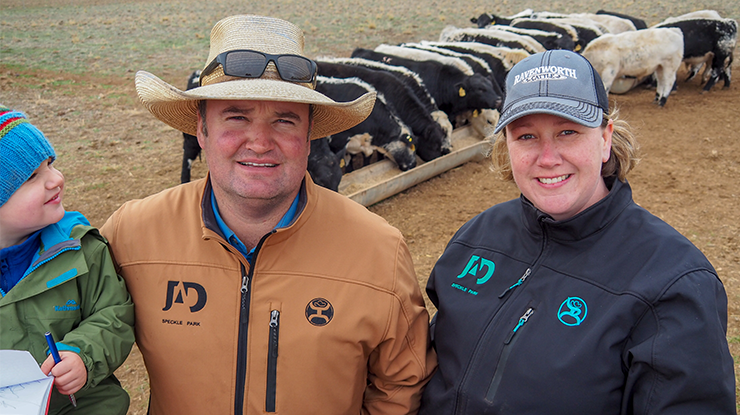 Understanding profit drivers is a non-negotiable skill for producers if they're to maximise opportunities in their business and adapt to seasonal variability.
That's according to NSW producers Justin and Amy Dickens, who credit this simple but important lesson with their ability to grow and diversify their business, despite a run of tough seasons.
The Dickens run seedstock and commercial livestock operations across neighbouring properties, 'Coolah' and 'Greenvale', near Yeoval in central-west NSW.
A resilient business in any season
Justin and Amy's diversified business, which includes cattle seedstock, sheep trading and lamb lot feeding, reflects the couple's efforts to build a business that's resilient, regardless of season.
"Over the past ten years, we've received our long-term average rainfall, but the majority fell in three great years, closely followed by three terrible years," Justin said.
"We quickly realised we needed to be adaptable in our decision making and put some robust systems in place to allow us to leverage every opportunity."
Near-record high rainfall in 2016 demonstrated the importance of making the most of the good times.
"When we get high rainfall years, like we had in 2016, we need to be proactive and convert this rainfall into profit," Justin said.
"We've refined a trading model focused on maximising return per DSE (dry sheep equivalent) annualised. Grass is a perishable item and we must keep it actively growing while we have moisture available.
"We try to maximise herd impact and pasture utilisation, then introduce rest to allow pasture recovery."
Disaster to diversity
The Dickens faced no shortage of challenges in the early days, such as market volatility and having to resow 160ha of pasture after they lost it to unpredicted heavy rainfall, but these shaped the diversified business they run today.
"These big bills were daunting but helped us realise the value of turnover and having high cashflow in a low equity business."
Technologies such as artificial insemination and embryo transfer have provided an exciting challenge. Diversifying into a Speckle Park cattle seedstock enterprise using embryos imported from Canada has allowed the Justin and Amy to maximise their return from grass.
As they build their breeding herd, they're mindful not to let their seedstock enterprise take up more than 50% of overall carrying capacity, so they have room for other classes of stock to readily sell in a dry period.
"Protecting our land resource is critical. We've containment-fed our recipient cows for the past two years, and weaned calves early at around 4–5 months.
"We've learnt a lot from doing this, including what not to do, and it has strengthened our decision-making processes."
Lessons learned
Establish a robust business which captures the potential of good years to reduce the financial and mental stress of dry years.
Education and mentorship are important. Use resources available to you, including other people, to develop your business acumen and financial literacy.
Focus on where you want to go and set clear goals.
Prioritise forward planning, decision making, good communication and reporting.