Back to

News & Events
eNVD app another step in digital journey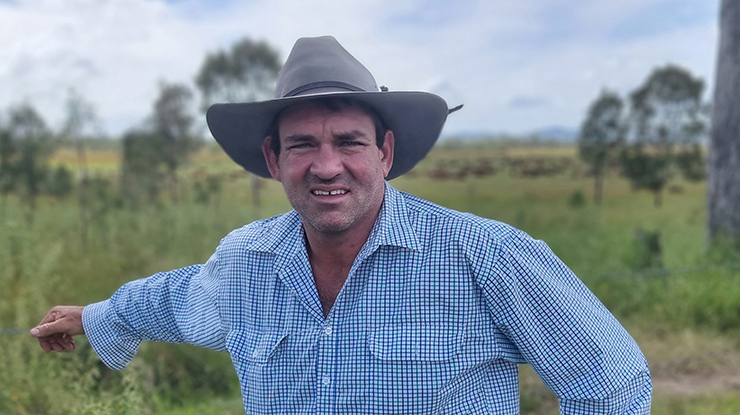 Will Wilson, ʻCalliope Station', Mount Alma, Queensland
Area: 40,000ha
Enterprise: Breeding and backgrounding cattle
Pastures: Predominantly native pastures planted with legumes
Soil: Ranging from alluvial undulating coastal to heavy wetland
Rainfall: 1,000mm
Central Queensland producer Will Wilson has embraced a new digital tool which not only helps strengthen the traceability and integrity of the red meat industry, but also overcomes connectivity challenges to deliver efficiency gains to his beef business.
The new electronic National Vendor Declaration (eNVD) Livestock Consignments app, developed by MLA subsidiary Integrity Systems Company (ISC), is the result of extensive testing by producers and supply chain members.
It's purpose-built to overcome internet connectivity issues which have plagued the industry's move from paper to digital NVDs. The app uses QR codes to transfer consignment details through the supply chain – making it fast, accurate and simple.
As an early adopter of technology, Will has been sending consignments from his 'Calliope Station' through the app since November, and can see the benefit it offers for on-farm assurance, traceability and integrity. It's a natural progression from when he ditched paper NVD forms and moved to the web-based eNVD system early on.
He now uses the app which interfaces seamlessly with the web-based system, meaning consignments can be started in the office and finished in the yards on a mobile phone or tablet.
"Our business creates around 30–50 NVDs a year. Moving information into a digital form through this app was essential for us to improve accuracy and data transfer," Will said.
"It really needs to happen faster across the industry, to add layers of integrity faster and with accuracy."
The eNVD app provides simple one-step completion for other forms, including:
Livestock Production Assurance NVDs
Meat Standards Australia (MSA) Vendor Declarations
National Health Declarations
National Feedlot Accreditation Scheme forms.


Tap into eNVD app benefits
1. Create a myMLA account and link your integrity system accounts.
2. Download the eNVD app from the App Store (Apple phones) or Google Play Store (Android).
3. Ensure your receiver and transporter are ready to receive eNVDs.
4. Create and submit an eNVD through the app, including your receiver and transporter details.
5. If you are offline, you can transfer the consignment through the generated QR codes. Generate a unique set of QR codes within your app, and have your transporter scan them through their app – this will sync the information.
6. The transporter completes their details and declaration via their own eNVD app.
7. On arrival at the destination, the transporter transfers the consignment to the receiver. If they are offline, they will do this via the QR code system.
Did you know?
You can easily switch between the eNVD website platform and the mobile app – new consignments created on the website will be available in the app, and vice versa. If transferring your consignments through the offline QR code system, the data will automatically transfer to the Livestock Production Assurance (LPA) database once you're back in range.
If you would still like to keep hard copies of your NVDs the consignments submitted via the app or online platform can be printed at any time. However, receivers of NVDs – such as saleyards, processors and live export facilities – can increase efficiencies by transferring data immediately and directly to their online databases through the eNVD system.
Download the eNVD app for free from the App Store or Google Play Store.