Back to

News & Events
Feedback data key to success for Tintinara producer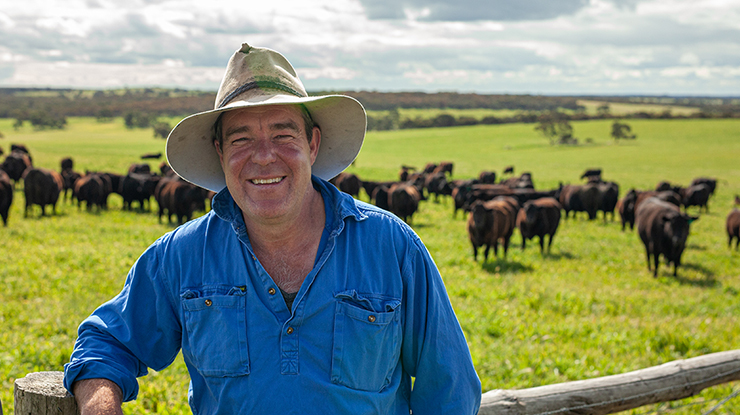 Andrew Johnson, Mount Boothby Pastoral Company, Tintinara
Using estimated breeding values (EBVs) and carcase feedback to build a refined herd has provided a solid basis for South Australian beef producer, Andrew Johnson, to achieve high rates of compliance to Meat Standards Australia (MSA).
Andrew is second-generation of the Johnson family to run 'Mount Boothby' near Tintinara, South Australia, with the mixed-farming business comprising beef, Merinos for wool production, self-replacing and terminals joined to White Suffolks, pig production and mixed cropping operations across an aggregation of 7,000ha.
A registered MSA producer for 10 years, Andrew was awarded the 2019 Most Outstanding MSA Producer in SA for Band 2 producers, having achieved MSA compliance of 92.7% and an average MSA Index of 64.69.
Andrew said the carcase feedback provided by MSA, accessed through www.mymsa.com.au has been a valuable business tool which he uses to improve herd management decisions, meeting supermarket specifications and consequently achieving outstanding compliance.
myMSA provides producers with the opportunity to benchmark their compliance and MSA Index performance with national, state and regional performances. It also provides a suite of easy to use reports to look at individual carcase attributes, with the functionality to download carcase data to import into on-farm systems.
"We run a self-replacing herd of 400 Angus females, turning off milk vealers early, targeting around 400kg liveweight, and weaning the rest to grow out and finish to a heavier carcase, and sold at 12 months," Andrew said.
"They're run predominately on improved lucerne-based pastures with a mix of clover and grasses, providing a combination of protein and energy. We supplementary feed hay when necessary.
"Matching pasture production and feeding regimes to manage lactation intervals in good seasons allows us turn off animals earlier and heavier."
Andrew believes that if everything goes right from an on-farm management perspective, and assuming there are quality controls throughout the supply chain, with feedback data, reaching 100% compliance can be achievable.
"We are constantly tailoring and targeting our breeding herd based on EBVs, with calving ease, eye muscle, development, weaning weights and carcase weights a key focus when selecting genetic stock," Andrew said.
"Previously, we would have selected breeding stock purely on subjective measurement of obvious traits, but this posed the risk of going too far with certain parameters, throwing other traits unknowingly into and out of the herd.
"Selecting stock for a range of traits allows for objective measurement and understanding this data from a fertility and growth rate perspective, allows us to make more informed decisions to ensure we meet performance targets.
"We use the myMSA platform to access this carcase feedback and subsequent tools to guide on-farm decisions."
In addition to genetics and nutrition, Andrew recognises the importance of well-handled cattle. Low-stress stock handling is another important element in their production system.
For Andrew, the key to managing cattle for MSA compliance is through adopting intensive agricultural principles.
"If we can adopt some of the principles of intensive agriculture including breeding plans, EBVs, feeding regimes, nutrition, growth rates and cashflow requirements throughout our extensive operations, we'll produce a more compliant product," Andrew said.
"The MSA program helps us see what cattle are meeting market specifications, allowing us to achieve performance targets, fostering a return on investment."
Andrew encourages other producers to get on board with MSA and make the most of the valuable information and feedback data that's provided to producers as part of the process.