Back to

News & Events
Kays putting processor feedback to work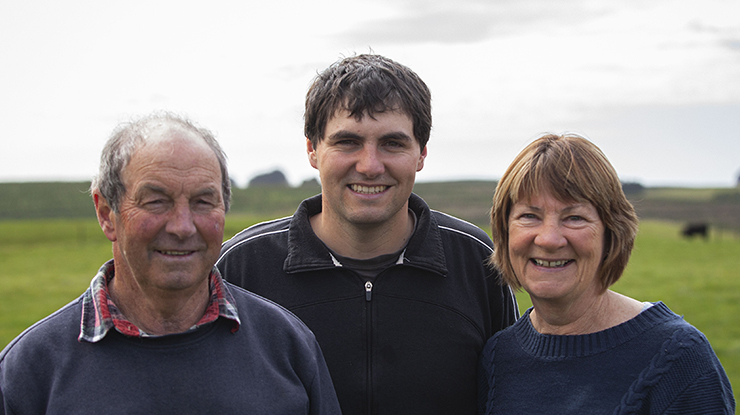 Michael, Mitchell and Donna Kay, Smithton.
Feedback from processors is a key driver of herd management for Michael, Donna and Mitchell Kay, winners of the 2019 MSA Excellence in Eating Quality Awards for Most Outstanding MSA Beef Producer, Band 1, in Tasmania.
The Kays run a 450-hectare cattle finishing operation near Smithton, Tasmania, where they turn off 600 steers each year at 600-700kg liveweight.
Their commitment to MSA has seen the Kays achieve a 99.4% MSA compliance rate and an average MSA Index of 62.07.
Selling into Greenham Tasmania for over a decade, and as part of the NEVER EVER and Global Animal Partnership (GAP) Programs, the Kays have been able to attract a premium of up to 45c/kg above what they would otherwise receive for their finished steers.
The Greenham NEVER EVER Beef Program only sources cattle that are MSA certified, 100% grassfed, and that have never been treated with antibiotics or hormone growth promotants (HGPs), and are free from Genetically Modified Organisms.
For Michael Kay, the key to success has been engagement with performance feedback and MSA data they receive from Greenham, which has led them to change their handling and grazing routines and to better target their cattle buying decisions.
"Our focus on meeting MSA and company specifications means we look closely at pH, fat and carcase indexes. This data influences both our buying decisions and our on-farm practices," Michael said.
"Our buying decisions revolve around consistency, and we always look to buy even lines of steers that are compliant with the NEVER EVER and GAP programs. We then graze them in an intensive rotational system, in small mobs of 20 to 35 head, rotated every two days across small paddocks.
"This keeps the cattle on a rising plane of nutrition, while also resting paddocks and avoiding over-grazing and pugging issues, particularly when they are near-finished and conditions are wet."
MSA grading and processor feedback has also allowed the Kays to draw clear links between stock handling and performance.
"By running in smaller mobs across tight weight ranges, we can avoid drafting and mixing cattle in the lead up to transport and slaughter. This means we keep a close eye on their performance, and avoid unnecessary separation anxiety and stress when they leave the farm," Michael said.
"The feedback and data proves that low-stress handling leads to better performance and better beef."
For the Kays, using the MSA program and engaging with processor feedback has enabled them to take the guesswork out of their operation, and consistently achieve excellent results.
"With the data and feedback we receive, we can clearly see which animals perform best and under which conditions. It's allowed us to be more targeted across the board, from buying, to handling, and selling decisions," Michael said.