Back to

News & Events
Kidding around in the kitchen
11 October 2019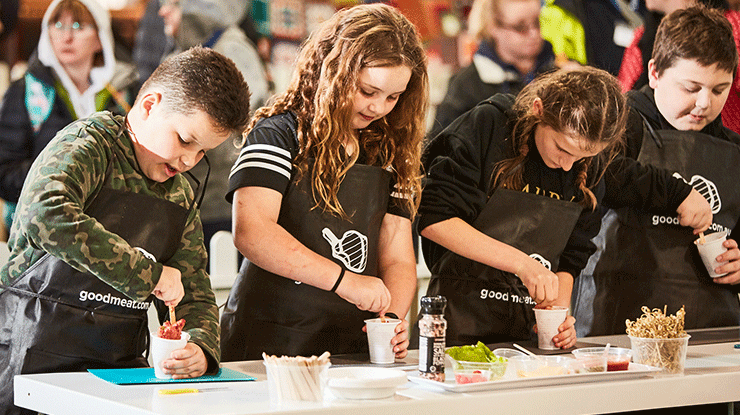 More than 2,000 kids tried their hand at cooking Australian red meat as part of MLA's community engagement activities at the recent Royal Melbourne Show.
More than 2,000 children had a taste of how to cook healthy, nutritious meal using Australian red meat when MLA teamed up with culinary experts Get Kids Cooking at the Royal Melbourne Show.
The interactive Get Kids Cooking events for children aged 5-12 were supported by MLA's community engagement platform, Good Meat.
The children put their cooking skills to the test, whipping up their very own Australian beef slider, while learning about red meat nutrition and its important role as part of a healthy balanced diet.
MLA's Community Programs communication manager, Fiona Young, said local beef producers were also on hand to explain how Australian red meat is sustainably and ethically produced.
"Participants and their parents not only walked away with a delicious meaty meal but also gained a greater understanding of Australian red meat's health benefits and production practices," Fiona said.
The children received a red meat recipe book and branded apron to encourage them to keep cooking Australian beef and lamb at home.
Following this success, Good Meat is looking to extend the Get Kids Cooking program as part of MLA's Community Engagement strategy for 2020.
Good Meat is an online platform created by MLA on behalf of the red meat and livestock industry. It provides important information about cattle, sheep and goat production in Australia, focusing primarily on animal welfare, protecting the environment and health and nutrition.