Back to

News & Events
Meet the LMO: Richard Bailey
14 November 2018
Twenty-six Livestock Market Officers (LMOs) currently work across Australia as part of MLA's National Livestock Reporting Service. Covering more than 3,000 markets a year and thousands of kilometres between them, LMOs attend and report on up to 70 of the nation's cattle, sheep and goat sales on a weekly basis.
This week, Prices & Markets talks to well-known Tassie LMO, Richard Bailey, about his sales patch and how the markets are tracking.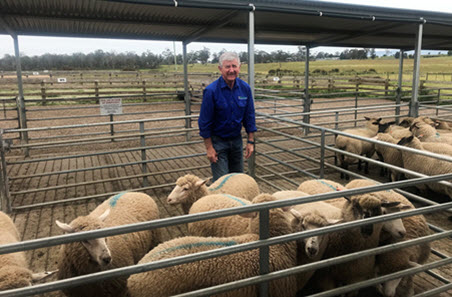 Where are you based and what regions do you cover?
I'm based in Launceston and cover the weekly Powranna/Killafaddy sheep and cattle sale, the monthly Powranna store cattle sale, as well as all of the autumn weaner calf sales.
What are some of the challenges or opportunities for livestock producers in Tasmania right now? There are great opportunities for all producers, particularly with the excellent farm-assured cattle programs reaping great rewards for producers. More and more livestock are now being processed in Victoria but that's now accepted as the norm.
What's a hot topic around the catwalks of the saleyards you cover at the moment?
The closure of JBS Australia's domestic abattoir at Devonport is a hot topic.
More generally, the good season and very good prices this year mean there are big smiles all round. During the year, we have seen the best heavy lambs make between $200 and $250/head, and we did see some very high mutton prices of around $130–150/head and around the same for rams, which is record-breaking territory.
Looking at the cattle market, our best prices are over-the-hooks for farm-assured cattle with prices of 590c to 630c/kg through much of the year for yearlings.
In the yards, the number of trade cattle and bullocks has been very low because of the farm-assured programs. Cows have made up 50% of the yards in most weeks.
What's the best part about your job?
Interacting with a wide variety of characters from all parts of the industry.
When you're not at the saleyards, where would we find you?
Selling residential homes in Launceston.
What's your favourite red meat meal?
Rolled beef brisket.