Meet the new crop of livestock consultants
13 June 2019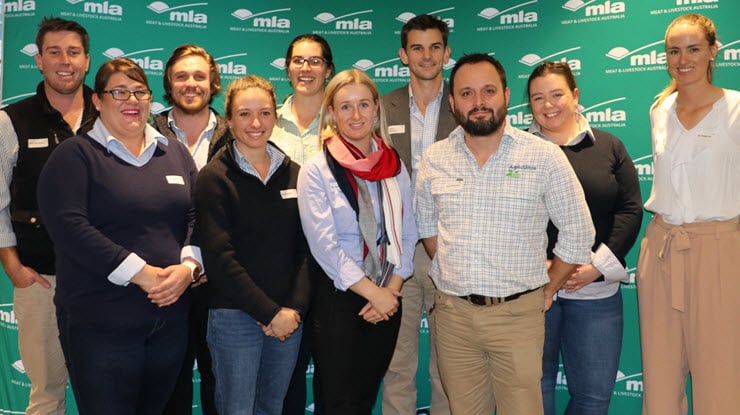 Will Clark-Dickson, Jackson Adams, Georgia Reid, Michael Wellington, Georgia McCarthy, Bec Clapperton, and front row: Tara Graetz, Jess Brogden, Hilary Beech, James Macfarlane.
The second class of interns to complete MLA's Livestock Consulting Internship program officially graduated from the program last week, with 10 interns completing two-year internships with participating livestock consulting businesses throughout Australia.
Consultants of the future
The Livestock Consulting Internship program is a partnership between MLA Donor Company (MDC) and participating consulting firms, managed by Meridian Agriculture.
The capability building program is designed to ensure the continuation of new livestock consultants for the private sector to support producer decision making, deliver industry extension programs and provide skilled one-on-one advice.
The 2019 graduates included:
Georgia Reid, AgPro Management, WA
Jackson Adams, University of Adelaide, SA
Bec Clapperton, RCS, Queensland
Michael Wellington, Bush Agribusiness, Queensland
Hilary Beech, Holmes Sackett, NSW
Georgia McCarthy, Macquarie Franklin, Tasmania
Will Clark-Dickson, Moses & Sons, NSW
Tara Graetz, Rural Directions, SA
James Macfarlane, Southern Dirt, WA
Jess Brogden, Southern Farming Systems, Victoria.
The Livestock Consulting Internship program was established to help address the decline in extension services offered by public agencies by supporting private consulting businesses overcome the substantial financial costs and time required to upskill graduates and, as a result, boost the number of new entrants to the livestock consultancy field.
As part of the program, interns are required to undertake professional hours and major industry research projects, to give them a real-world understanding of the implementation of research and development.
Overall, 469 red meat producers were engaged by the interns over the past two years.
Industry project topics included addressing barriers to producers benchmarking their businesses, comparing the different between long and short acting worm control in sheep flocks, and the impact of body condition score and genetics in northern beef herds.
MLA has committed to support round three of the program.
Join myMLA today
One username and password for key integrity and information Systems (LPA/NVD, NLIS, MSA & LDL).
A personalised online dashboard that provides news, weather, events and R&D tools relevant to you.
Customised market information and analysis.
Already registered for myMLA?