MLA's 2017-18 Annual Report in new online format
16 October 2018
Meat & Livestock Australia's (MLA) 2017-18 Annual Report has been released offering a detailed overview of MLA's program of work, performance and key financial information for levy-payers and the red meat and livestock industry.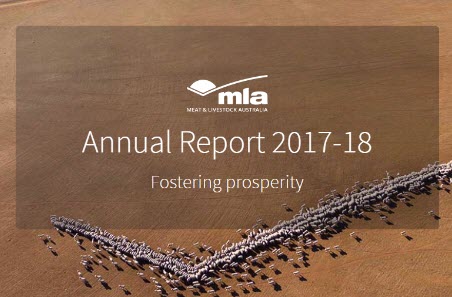 This year, the Annual Report is available for the first time in an easily accessible online format, ensuring it is readily available to more producers and stakeholders. This format complements the traditional print and pdf versions of the Report, which are also available.
MLA Managing Director Richard Norton said this Report is a critical component of MLA's open and transparent reporting of how MLA is investing levies to foster prosperity in the Australian red meat and livestock industry.
Mr Norton said the Report highlights some of the key achievements across both domestic and international marketing, as well as across significant research and development investment.
"With many of the Australian red meat and livestock industry's key supply regions in the grip of drought, 2017–18 has been a challenging year for many of MLA's stakeholders, particularly many producers," Mr Norton said.
"The common theme across MLA's work has been an ongoing focus on customer centricity – that is the customer is king and must come first in all that we do.
"Today, increasing numbers of consumers in our domestic and high-value markets expect that the red meat they buy is produced in a way that aligns with their values. They want to feel good about eating Australian red meat.
"The fact is, the Australian red meat and livestock industry has a good story and, in the past year, MLA has invested in a range of initiatives to share it. The Annual Report gives a comprehensive overview of all our activities during the past financial year."
MLA's total investment increased 35.8% in 2017–18 to $262.2 million. This included $171.8 million in research and development and $90.4 million in marketing, market access and insights activities.
This uplift in investment is primarily attributable to MLA Donor Company (MDC), which increased investment by $59.3 million (158.1%) to $96.8 million and resulted in the MLA Group using almost 99% of the Government matching funds available in 2017–18.
Importantly, the Report provides a summary of pillar and priority performance against MLA's Strategic Plan 2016–2020 and Annual Investment Plan 2017–18, as well as financial performance.
"This level of reporting, including how the organisation performed against our KPIs, highlights our commitment to being open, honest and transparent with our stakeholders," Mr Norton said.
"This information highlights the significant growth in investment in research and development – with the number of research contracts increasing from 458 in 2016–17 to 604 in 2017–18.
"Every day, MLA is investing to improve productivity, profitability and sustainability in our sector, and to lay down the foundations for red meat's continued success. MLA will continue to invest in activities and research that grow demand for red meat and enhance the reputation of our superior beef, sheepmeat and goatmeat."
To view MLA's 2017-18 Annual Report online or download a copy, visit http://annualreport.mla.com.au.
Join myMLA today
One username and password for key integrity and information Systems (LPA/NVD, NLIS, MSA & LDL).
A personalised online dashboard that provides news, weather, events and R&D tools relevant to you.
Customised market information and analysis.
Already registered for myMLA?