Back to

News & Events
MSA vital in helping producers set the agenda
01 May 2019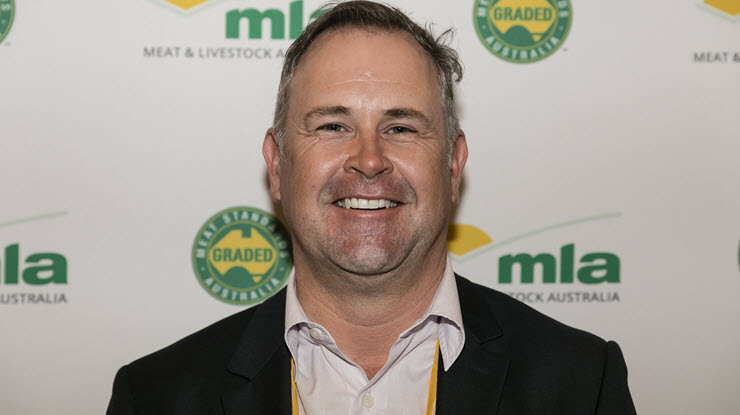 Beef producers' ability to quickly compare the performance of their cattle with others is a major drawcard for the Meat Standards Australia (MSA) benchmarking system and myMSA, according to Victorian producer Trent Osborne.
The feedback Trent receives from MSA benchmarking has guided major improvements to his production systems, and helped set a strategic agenda for the future of his operation.
Running around 300 head of predominantly Hereford cattle near Wodonga in north-east Victoria, Trent grows steers out to a target carcase weight of 330–360kg, supplying directly into the JBS grassfed Farm Assurance Program.
The past three years has seen him embrace individual performance and MSA benchmarking data as a means to enhance on-farm production systems and achieve better value for his beef.
myMSA: find out where you stand
"The data available today, and the ability to get a snapshot of where you stand, dramatically shortens the time it takes to make real improvements," Trent said.
"For us, the best part of myMSA is that it lets us quickly identify what's working and what isn't, and we can see what we need to focus on to get better results.
"The MSA grading data we get back is incredibly useful, as we can continuously improve on-farm practices and monitor the impact of those changes on the end product."
Reducing dark cutting
Using MSA grading data to guide on-farm changes, Trent has been able to significantly reduce the incidence of dark-cutting in his beef.
"Processors can discount you up to 50c/kg for dark-cutting meat, so from a financial perspective, it's clear that it's in your best interests to reduce that, and consistently ensure your cattle are MSA eligible," Trent said.
"By honing in on the instances of dark cutting, we were able to ask ourselves what we needed to be doing on-farm to get our beef to the level we wanted."
Trent said there's no silver bullet for preventing dark cutting, and found that addressing a range of on-farm factors helped manage it.
"Handling and nutrition are major focuses, from the time we buy young cattle to the time we truck them out. These principles are reflected in the design of our infrastructure and the preparation we put in before we load a truck.
"The process really starts from the day we receive the cattle, and the overriding principle is that every experience must be a positive one for them.
"The changes we made on-farm have been reflected in the end product, and we've seen a significant reduction in instances of dark cutting since we started tracking it using MSA feedback," Trent said.
Setting the agenda
Trent has been analysing the performance of his cattle against the MSA index and industry trends, which has enabled him to target particular criteria to improve the beef he produces.
"We started by looking at the MSA index and where we sat against the top and bottom 5% in our area for grassfed cattle. It showed we were tracking well in terms of carcase weight, and fat coverage which left ossification and marbling," Trent said.
"We combined this with feedback from the processor about their priority areas, and quickly identified marbling as the target. With that goal set, we're now in the process of working out how to improve the marbling performance of our cattle.
"MSA data and benchmarking is invaluable in terms of setting an agenda for your business. It's one thing to lean over the fence and compare yourself to your neighbour, but the ability to see where you sit using a bigger pool of data is a much more powerful thing."