Back to

News & Events
New Lot feeding brief shows record capacity
Key points:
ALFA survey results show capacity figures increased to the highest on record at 1,576,858, with utilisation holding steady at 80%.
Grainfed beef export records supported by growth in top export markets Japan, China, and South Korea.
Turn-off fell by 10%, to 618,017 head in the September quarter, the lowest quarterly turnoff figure since Q4 2013.


Results show good news, despite lower turn-off
On Tuesday, the Australian Lot Feeders Association (ALFA) and MLA released the September lot feeding brief, which monitors trends and provides an overview in the lotfeeding sector.
Survey results show continued growth in the industry. Capacity figures in each state were relatively steady, with small increases in major lot feeding states which boosted national capacity by 21,231, to the highest number on record at 1,576,858.
Numbers on feed continued to trend upward by 1,545 to 1,258,377 head, with utilisation rates remaining stable at 80%, just above the 5-year utilisation average (79%). This slight increase to numbers on feed made the September quarter the second highest cattle on feed volume on record, only behind Q1 2022.
Despite upshifts in capacity and number on feed, quarterly turn-off fell by 10%, to 618,017 head in the September quarter, the lowest quarterly turn-off figure since Q4 2013. This indicates a shift to cattle spending a longer time on feed.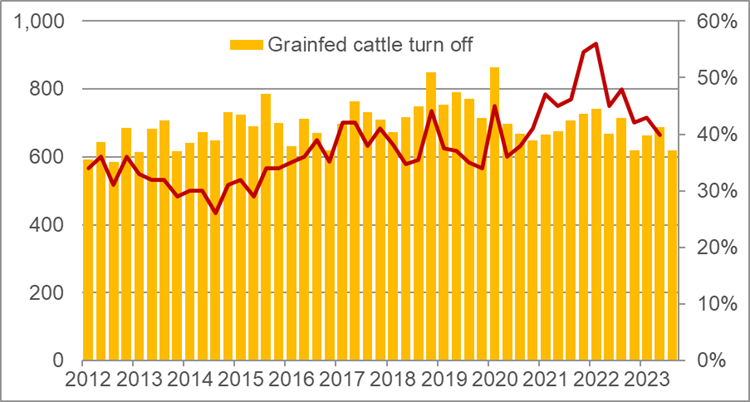 Prices and supply
Feeder steer price and supply has assisted the record quarter for lot feeders. In September there was a 46¢ drop on the NLRS feeder steer indicator quarter on quarter, a 42% decline year on year. Year on year yardings were up 23% to 80,397 head in the quarter, and weights have remained relatively stable at 408kg/head, 8kg lower than the June quarter.
Grain prices
Contrasting eased stock prices, wheat prices experienced their third consecutive price increase, growing by 8% to $439/tonne. This was a $49/tonne increase to year-ago prices. These trends continue to put pressure on overall ration costs, dampening the impact of reduced feeder prices for lot feeders.
Grainfed exports
Grainfed beef exports have been well placed in the national export of red meat, increasing by 10% to 85,050 tonnes, making the 2023 September quarter the largest quarter on record. This record was well supported by rising export volumes to the country's three top markets – Japan, South Korea and China.
After a slight easing in the second quarter, Japan and South Korea markets recovered, increasing by 3% and 10% respectively. Exports to China maintained growth for the third quarter in a row to 22,998 tonnes. The second largest volume of grainfed exports to China, below the record imports of 2019 driven by African Swine Fever (ASF), caused a protein shortage in the country.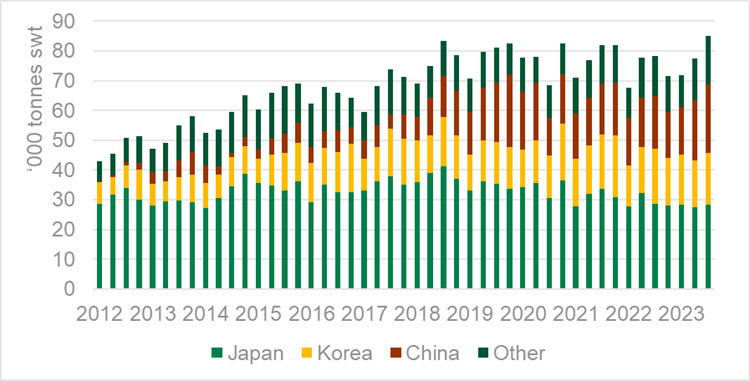 To read the full lot feeding brief, click here