Pete and Tweet go for beet
25 October 2018
Fodder beet has earned a spot in the Andre family's grazing enterprise after its performance in the MLA Donor Company-funded trial on their South Australian property.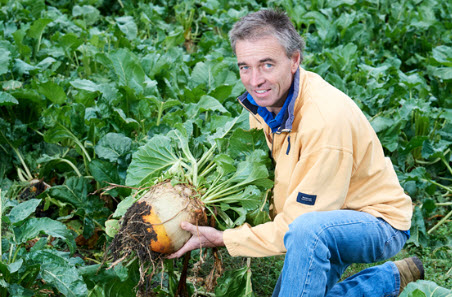 Pete and Tweet Andre use irrigated pastures to finish young cattle for Teys Australia's EU and Grasslands Premium Beef programs and prime lambs for the domestic trade, so Pete was keen to see how fodder beet stacked up.
The Andres, along with Pete's parents John and Sandy, run 3,200ha at Furner, in SA, which includes 143ha of irrigation used for growing pastures, fodder rape, millet and cereals. They run 900 Angus-Hereford cows and 6,500 Merino ewes.
After two years of growing the Brigadier variety of fodder beet in the trial, the Andres have now included the forage crop in their annual grazing program. They use it as a risk management tool to bridge the feed gap and hit price premiums for cattle. The two-year research project was funded by MLA Donor Company, University of Adelaide, Primary Industries and Resources South Australia and Teys Australia. A follow up project will extend the trial to grazing sheep.
While Pete is still fine-tuning the process, the current calving schedule for their Angus–Hereford breeding herd is:
autumn calving (650 cows): calves weaned in November–December, sold the following December–February.
spring calving (250–300 cows): calves weaned in February–March, sold the following April–May.
Fodder beet is used to finish the autumn-drop steers to 340kg carcase weight.
Performance
The 2017 crop produced 25t/DM/ha off 14.5ha; 140 yearling steers were put on the beets for 120 days (April–July) and averaged 1.1kg/day weight gains.
For comparison, steers grazing dryland perennial pastures achieved gains of 0.3–0.8kg/day during this period. Alternative irrigated forages such as leafy turnip have achieved 0.7kg/day.
Productivity of beets was 1,850kg live weight/ha, compared with 253kg for dryland and 600–700kg for irrigated turnip.
Importantly, the fodder beet provided a high quality feed source at a critical time of year.
"It means we can run more steers per hectare during the April–July feed gap, and then sell steers straight off the crop to grade for MSA," Pete said.
"We see the role of fodder beet as providing a guarantee that we can finish a portion of steers each year by a certain time."
Growing
The Andres have 143ha of black clay flats under two centre pivots, and planted 7.8ha of fodder beet in December 2015, 14.5ha in 2016 and 6.5ha in 2017. They plan to use a three to four-year rotation to reduce the risk of disease.
"Seed bed preparation and weed control are the keys to producing fodder beets," Pete said.
"Precision planting is important to ensure correct seed placement, as the bulbs will not grow properly if they encounter any interference, including from other fodder beet plants."
Weed watch
Australia currently has a limited selection of registered herbicides for beet crops compared with Europe and New Zealand, including:
pre-emergent: chloridazon, phenmedipham and ethofumesate
post-emergent: phenmedipham, ethofumesate and clopyralid
chlorpyriphos, biphenthrin and alpha-cypermethrin insecticides with standard snail-baiting procedures keep on top of the pests.
"The establishment costs and high input requirements might turn some people off, but even a small area of fodder beet can bridge the feed gap and take pressure off other pastures," Pete said.
He believes he can reduce input costs by planting a cereal crop before fodder beet to target broadleaf weeds in the system.
Grazing
The Andres started grazing fodder beets 16 weeks after sowing. They inducted stock gradually, the first year by hand-feeding beets and subsequently by limiting grazing intake for 14 days with fencing, and found that steers adjusted quickly to their new diet.
Proper measurement of dry matter yields is crucial to ensuring cattle are not overfed during induction feeding.
During the grazing period, stock had access to hay and water, and received a liquid mineral supplement containing cobalt, copper, selenium and phosphorus.
It took Pete around 10 minutes a day to move a portable, single-strand electric fence; he adjusted the distance of strip grazing based on crop utilisation and animal behaviour.
"We found it was important to provide enough space along the crop so shy feeders had room – for 60 steers, we aimed for a crop face of 100 metres to maximise utilisation and growth rates," he said.
Information:
Researcher Dr Michael Wilkes
Join myMLA today
One username and password for key integrity and information Systems (LPA/NVD, NLIS, MSA & LDL).
A personalised online dashboard that provides news, weather, events and R&D tools relevant to you.
Customised market information and analysis.
Already registered for myMLA?