Back to

News & Events
Serving up a sizzling feast in WA
08 November 2019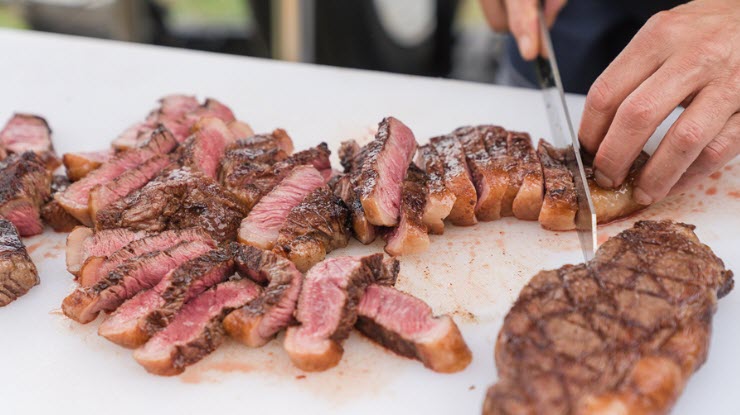 Using innovative methods to show consumers how to cook red meat is the aim of a new collaboration between Australian Good Meat and WA's biggest food event, Gourmet Escape.
MLA's Community Programs brand, Australian Good Meat, is a sponsor of the iconic food and wine festival, which celebrates locally grown produce, showcased by some of Australia and the world's leading chefs.
Events will be dished up across three of WA's most iconic regions - Swan Valley, Perth and Margaret River - from 8–17 November.
Connecting consumers, producers and chefs
MLA Community Programs Manager, Jax Baptista, said Australian Good Meat will present a number of events to provide a connection between consumers, red meat producers and top chefs, to showcase red meat and the production system behind what's on the plate.
"Australian Good Meat's sponsorship of Western Australia Gourmet Escape gives consumers an appreciation of the hard work that goes into producing our top quality Australian beef and lamb, as well as insight into the fine art of butchery and take-home innovative ways to roast, braise and grill some of the not-so-common cuts," Jax said.
What's on the agenda?
First stop will be in the Swan Valley at the Tex-Mex Takeover, hosted by Texas-based Chef and self-described 'Professional Hardcore Carnivore', Jess Pryles, at Mandoon Estate.
Guests will be seated under the stars to watch and taste as Jess Pryles combines the best quality local beef and lamb with open flame grilling techniques while guests hear from a local beef producer about sustainable and ethical red meat production.
The menu will include lamb ribs, chilli lime bavette steak cooked over fire and served with Jess' 'crack sauce'.
The Feast Fire Pit will follow as part of the Feast in the Valley event, also in Swan Valley. This event will host some of the hottest names in barbecue, where guests will watch culinary heavyweights such as Chefs Marco Pierre White and Jess Pryles, sear, sizzle and grill locally-sourced beef and lamb over open flames, which will be accompanied by butchery masterclasses and producer talks.
Further south, visitors to Margaret River will be transported into a Caribbean-Australian feast hosted by Barbados-born Chef Paul Carmichael, alongside like-minded food renegade Aaron Carr of Dunsborough's Yarri restaurant. Guests will meet with beef producers from WA's Pilbara region and enjoy a meaty menu inspired by its landscape and ingredients.
Last stop for Australian Good Meat will be The Butchers Block at Leeuwin Estate. English-born Australian chef Sean Connelly will be collaborating with local beef and lamb producers to deliver a series of informative cooking masterclasses where guests will learn the secrets behind cooking with secondary cuts while enjoying beef and lamb canapés right off the grill.