Back to

News & Events
Singapore emerging as red meat intermodal and re-export hub
04 September 2019
A range of potential intermodal and re-export business models are emerging in Singapore that present opportunity for the Australian red meat industry. While regulatory barriers to adoption currently exist for some models, there is significant value to be captured by leveraging Singapore's connectivity to Asia to increase speed to market and reduce transport costs of chilled beef and sheepmeat.
MLA, in conjunction with Enterprise Singapore and PSA, would like to hear from commercial partners interested in these alternative pathways, to understand the commercial feasibility and identify barriers to adoption that would need to be resolved (contact details below).
Singapore, the world's busiest container transhipment port operated by PSA, currently acts as a major artery for sea-freight Australian red meat exports into South East and North Asia. However, beyond ship-to-ship transfers and transhipping, there is further potential to more readily integrate into distribution, and even value-adding, centres within a Singapore free trade zone and re-export through the country's substantial network of air and sea-freight routes.
Now, more than ever, competitive pressure is heating up in Asia and Australia must leverage its competitive advantages. Proximity and leading shelf life standards have given Australia a significant advantage in tapping into high value Asian markets. As markets become more affluent, the demand for premium chilled product will only ratchet up.
Singapore is positioning itself as a food hub, with public-private-partnerships and commercial partners looking to invest in logistics and value adding infrastructure to capture growth in high-value food trade in the region. Two potential value chains are emerging.
Singapore as distribution hub for the region
While likely requiring changes to health certificates and the establishment of protocols, there is potential value to be captured from sea-freighting chilled beef or lamb into Singapore, storing in a distribution centre and re-exporting as air-freight across the region.
In 2018, 2.15 million tonnes of air-freight, across 386,000 flights, went through Singapore's Changi airport. In contrast, Australia had capacity for just 583,000 tonnes of air-freight exports, across 102,000 international flights.
Sea-to-air freight via Singapore could significantly reduce the cost of existing Australian air-freight and open up channels to additional, more remote, markets for chilled beef and lamb. Product stored in a central regional distribution centre could also be more responsive to demand. For instance, it could suit a regional hotel chain customer wishing to place weekly fresh produce orders, or it could integrate into the growing suite of e-commerce businesses delivering just-in-time fresh groceries across South East Asia.
Extending it further, portioning or value adding could also be incorporated into the model. For instance, in markets where cold chains are poor and butcher skills are limited, having a centralised portion cutting and retail ready packaging facility could be a way to improve product integrity and quality for a regional high-end retail chain.
At its simplest, leveraging Singapore's air and sea port networks could mean connecting inbound sea-freight to out-bound air-freight. At its more complex, it could incorporate significant value adding. Depending on the model, varying amendments would be required to the management of health certificates and protocols established between Australia, Singapore and the final destination country. Fortunately, precedent exists, with a protocol between New Zealand, Singapore and the EU, allowing for air-freight chilled lamb from New Zealand to be re-packed in Singapore and sea-freighted to the EU. This may pose a partial framework for Australian red meat to adopt.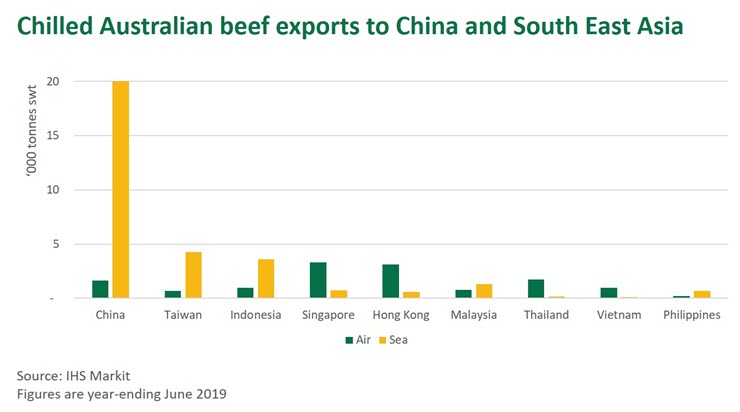 New Western China–SEA corridor
Under the 3rd China-Singapore Government-to-Government Initiative, Singapore has also been developing a new trade route to Western China, through which fresh produce could be sea-freighted from Singapore to Qinzhou and then rail-freighted to Chongqing or Chengdu over a 7-day period. To currently access Chongqing or Chengdu via Shanghai or Shenzhen by sea and rail takes 2-3 weeks from Singapore, vastly limiting the attractiveness of shipping chilled product to these inland cities.
In the China Attractive Cities Study, MLA identified Chongqing or Chengdu as among the top five most attractive cities for Australian red meat in China, with both hosting large pools of affluent consumers with a predisposition to purchasing red meat.
Accessing Western China could be achieved through conventional transhipping via PSA Singapore and would avoid the complexity of repacking containers through a distribution centre. While exports to China are booming at the moment, the market is increasingly crowded with cheap frozen South American beef. Being able to deliver higher-value chilled product provides an ability to differentiate and target segments in Chongqing or Chengdu the frozen trade cannot.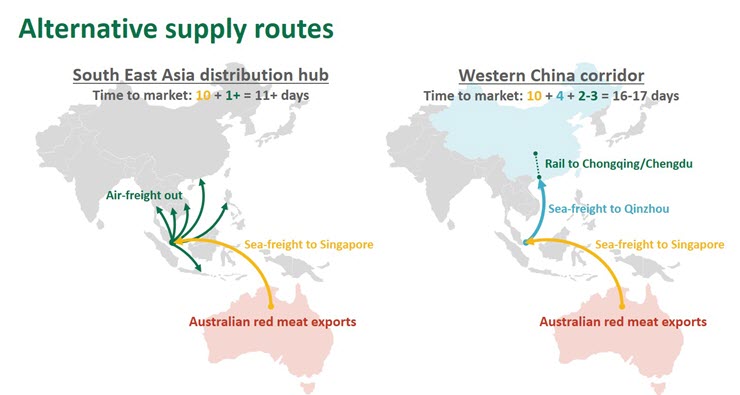 What next?
There is substantial opportunity to grow the value of trade in China and South East Asia – both are experiencing a burgeoning class of wealthy consumers and are strong growth markets for Australian red meat. However, chilled beef exports to China and South East Asia are proportionately less than other major markets, owing to logistical issues, technical access barriers, shelf life requirements, cold chains and consumer understanding. To resolve these issues and respond to evolving consumer demand, the Australian industry should consider alternative business models to allow the value of trade to grow.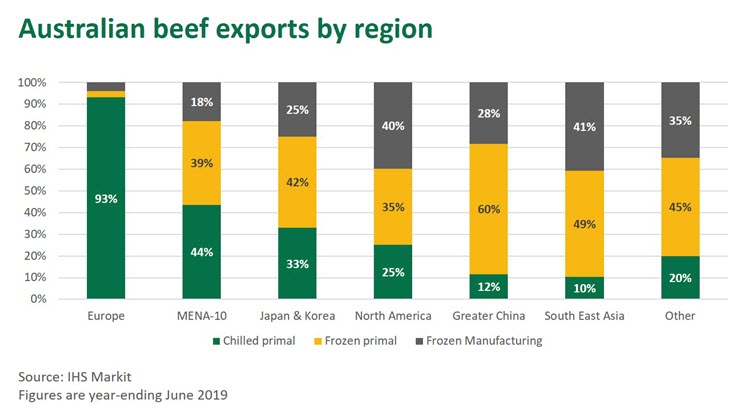 If you would like to discuss the range of opportunities emerging in Singapore or would like further information, please contact:
Tim Ryan
Meat and Livestock Australia, Singapore
Market Insights Manager
E: tryan@mla.com.au

Enterprise Singapore is the government agency championing enterprise development. The agency works with committed companies to build capabilities, innovate and internationalise. It also supports the growth of Singapore as a hub for global trade and start-ups, and builds trust in Singapore's products and services through quality and standards.
PSA International Pte Ltd (PSA) is a leading global port group and a trusted partner to cargo stakeholders around the world. With flagship operations in Singapore and Antwerp, PSA's portfolio comprises a network of over 50 coastal, rail and inland terminals in 18 countries. Drawing on the deep expertise and experience from a diverse global team, PSA actively collaborates with its customers and partners to deliver world-class port services, develop innovative cargo solutions and co-create an Internet of Logistics. As the partner of choice in the global supply chain, PSA is "The World's Port of Call".
Working together with the relevant government agencies and commercial partners from China and Singapore, PSA has played an instrumental role in enabling multimodal solutions for the International Land-Sea Trade Corridor (ILSTC), opening up new options for shippers to reach markets in Western China, Southeast Asia, and beyond via Singapore.